6 NFC North Players the Detroit Lions Must Contain to Win the Division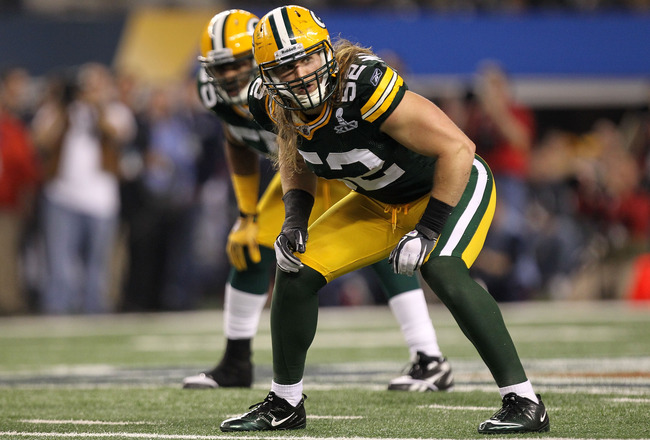 Ronald Martinez/Getty Images
The NFC North should once again be a hotly contested division.
The Green Bay Packers should be the favorite, while what appears to be a much improved Chicago Bears team will look to challenge the Detroit Lions for the No. 2 spot.
Anything can happen on any given Sunday in the NFL. As such, the Minnesota Vikings will be like a snake in the grass, ready to play spoiler and derail someone's trip to the post season.
Here are six NFC North players, one from each other team's offense and defense, that Detroit will need to contain in order to have success in the division.
Kyle Rudolph, Minnesota Vikings TE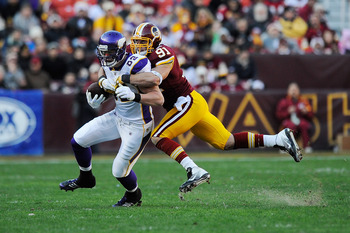 Patrick McDermott/Getty Images
Minnesota quarterback Christian Ponder is still developing as an NFL signal-caller. As that happens, he'll need a safety valve.
With Visanthe Shiancoe out of the picture, Kyle Rudolph assumes the role full time.
Detroit would be wise to do all they can to eliminate him from the Vikings' game plan.
Jared Allen, Minnesota Vikings DE
Gregory Shamus/Getty Images
Allen is the heart, soul and emotional leader of Minnesota's defense. The best way to contain him is to attack him—wear him down with power runs in his directions and pulling guards.
Once the rest of the defense sees his frustration, they will have been broken as a unit.
Matt Forte, Chicago Bears RB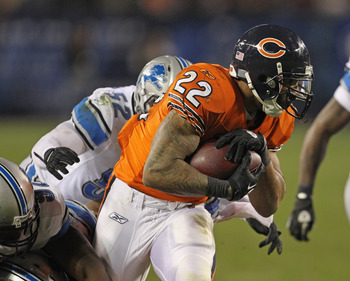 Jonathan Daniel/Getty Images
The Bears gave Jay Cutler some receiver help in the offseason, but make no mistake, this offense will still run through the multi-dimensional Forte.
Detroit needs to make sure someone is putting hands, pads, or helmet on him every play, whether he has the ball or not.
Julius Peppers, Chicago Bears DE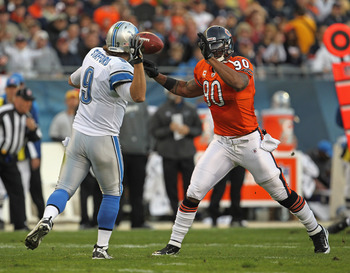 Jonathan Daniel/Getty Images
Peppers is still an elite pass-rusher in the league.
Detroit's offensive success is going to start and end with the passing game. The Lions will need to make sure Peppers isn't in Stafford's face constantly in order to be effective.
Mikel Leshoure's size and pass-blocking ability could be key, as he'd provide one more obstacle between Peppers and Stafford.
Jordy Nelson, Green Bay Packers WR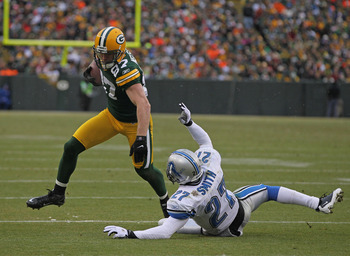 Jonathan Daniel/Getty Images
With so many weapons on offense for Green Bay, it's tough to pick just one to hope to contain.
Glancing at the Packers' game logs from last season, you'll notice Nelson totaled just five catches for 68 yards in Green Bay's two losses.
Taking him out of the game plan seemed to work for the Kansas City Chiefs and New York Giants.
In a copycat league, the Lions would be foolish not to attempt the same.
B.J. Raji, Green Bay Packers DT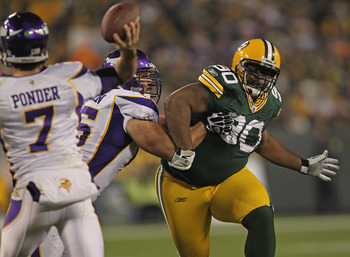 Jonathan Daniel/Getty Images
Green Bay's defense is at its best when Raji is disrupting opposing backfields and collapsing the pocket.
Like with Jared Allen, the best method for the Lions may be to bring the fight to him. Keeping him busy early could leave him gassed in the fourth quarter.
That would be ideal for Stafford and the Lions offense.
Keep Reading

Detroit Lions: Like this team?