USA vs. Argentina: Why Sunday's Exhibition Will Be America's Most Impressive Yet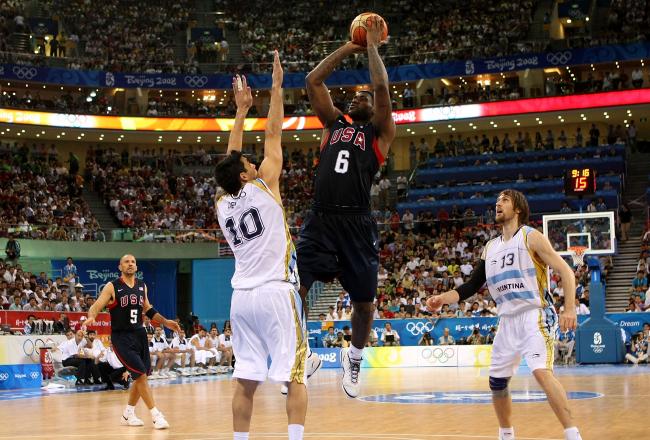 Jed Jacobsohn/Getty Images
Despite a close call against Brazil, Team USA has tepidly taken care of business in their first three pre-Olympic exhibitions. After a Sunday afternoon tilt with Argentina, however, the Americans will go from looking good to looking great.
The Argentinians are a talented bunch, probably the third best in the field, but they don't match up very well with the Americans. The whole situation creates one of those antithetical-to-the-transitive-property models.
That is, Argentina can beat Brazil, but Brazil has a better chance of beating the USA than Argentina does.
Why, you ask?
Size and Athleticism
Much ado has been made about Team USA's lack of size in the frontcourt, and for good reason. If any team beats America in London, it's gonna be a team with athletic, NBA-caliber bigs who can dominate the paint and protect the rim.
Argentina is not one of those teams.
The Argentinians have former and current NBA players down low, sure, but not the kind who can cause the USA problems like the Gasols, Serge Ibaka, Nene and Tiago Splitter can.
Scola and Oberto play good, fundamental basketball, but they're ultimately useless when the American wings come flying through the lane.
If you need a graphic demonstration of what I'm talking about, I BEG YOU to watch the 0:30 mark of this clip:
I rest my case.
Motivation
They might have been young, but Dwyane Wade and LeBron James were both a part of the disappointing 2004 Olympic team––the one that famously lost to Argentina in the semifinals.
Wade shot an unsightly 1-8 in the contest, while LeBron spent all but three minutes wasting away on the bench––a figure that, in hindsight, seems like grounds for arresting Larry Brown on treason charges.
The current iteration of Team USA may be swaggering around with a sense of invulnerability, but LeBron has his targets set on Argentina. He remembers how it felt to leave Athens in disgrace, and he will let his teammates know as well.
Age
Here's a side-by-side comparison of the two teams' rosters, ages included:
| | | | |
| --- | --- | --- | --- |
| USA Player | Age | Argentina Player | Age |
| Carmelo Anthony | 28 | Facundo Campazzo | 21 |
| Kobe Bryant | 33 | Carlos Delfino | 29 |
| Tyson Chandler | 29 | Manu Ginobili | 35 |
| Anthony Davis | 19 | JP Gutierrez | 28 |
| Kevin Durant | 23 | Leonardo Gutierrez | 34 |
| James Harden | 22 | Hernan Jansen | 34 |
| Andre Iguodala | 28 | Frederico Kammerichs | 32 |
| LeBron James | 27 | Martin Leiva | 32 |
| Kevin Love | 23 | Marcos Mata | 25 |
| Chris Paul | 27 | Andres Nocioni | 32 |
| Russell Westbrook | 23 | Pablo Prigioni | 35 |
| Deron Williams | 27 | Luis Scola | 32 |
| AVERAGE: | 25.75 | AVERAGE: | 30.75 |
Those are a long five years between roughly 26 and roughly 31.
Even if those age numbers were reversed (i.e. the USA was five years older than Argentina), the Americans would probably still be able to get up and down the court faster than Argentina. The way it stands now? You'll be able to hear Argentina's knees creaking from space.
This article is
What is the duplicate article?
Why is this article offensive?
Where is this article plagiarized from?
Why is this article poorly edited?