Faber vs Barao Results: Round-by-Round Recap and Analysis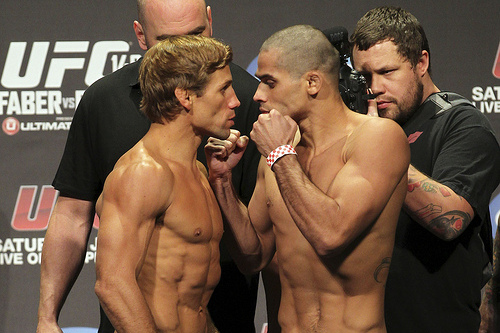 CALGARY, CANADA - JULY 20: Urijah Faber and Renan Barao square off at the UFC 149 weigh-in at the Scotiabank Saddledome on July 20, 2012 in Calgary, Alberta, Canada. (Photo by Jeff Bottari/Zuffa LLC/Zuffa LLC via Getty Images)
Renan Barao is your new UFC interim bantamweight champion! He met Faber in the main event of UFC 149 and walked away with a unanimous decision (50-45, 49-46 x2).
Faber was a game opponent, but Barao executed an expert gameplan, constantly battering Faber with leg kicks. The kicks quickly took their tole and Faber was unable to effectively shoot for takedowns and his mobility was also effected.
The whole bout was similar to Faber's loss to Jose Aldo years ago in the WEC—not surprising as Barao and Aldo train together.
Faber goes back to the drawing board and Barao goes on to face UFC bantamweight champion Dominick Cruz.
Begin Slideshow

»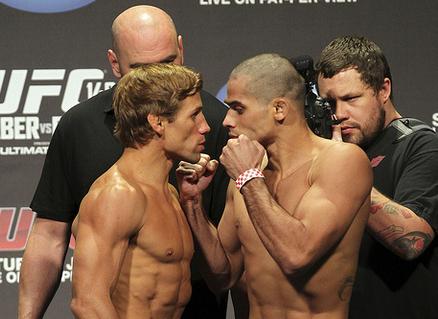 It's time for the main event. Hopefully it's a good fight. I think anyone who's been watching this card so far would agree that it hasn't exactly been the event of the year—in fact the Calgary crowd has spent the last three fights doing more booing than anything else. Both Faber and Barao look calm during their intros. They touch gloves and we're ready to go. Feeling out for the first ten seconds. Barao misses a high-kick. Another high-kick misses. Faber rushes in with a combo. Nothing lands clean. Barao is using a lot of kicks—clearly a big part of his gameplan. Fron kick from Barao misses. Little inside leg kick from Faber. Faber again tries to tush in and lands nothing much. Head kick from Faber misses. Barao gets a piece of a head kick. Spinning back kick from Barao misses. Both men moving well and not landing much. Barao lands an inside leg kick. Barao seems to be moving forward more. Spinning back kick attempt is close! Big knee to the body from Barao! Faber looks uncomfortable standing with him. Barao misses another kick—tons of kicks being thrown in this round. Nice right from Faber backs Barao up for a second. Surprising that Faber isn't going for any takedowns yet. Stiff jab from Barao. Follows it with an inside leg kick. Straight right from Faber. Round ends. 10-9 Barao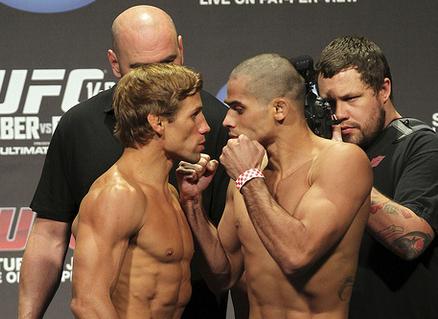 Faber lands a leg kick, but Barao answers with a slew of punches. Solid uppercut from Faber. Barao gets caught with an accidental eye-poke and is given time to recover. When action resumes, Barao lands a body kick. Barao throws a flying knee that sort of lands and follows it with some nice punches. Faber threatens with a takedown and then they break from the clinch with Faber landing a right on the way out. Uppercut from Barao. Faber throws a combination and every punch misses. Barao lands a right, but Faber answers with a right. Barao lands more leg kicks and these will take a tole in the long run. Barao is getting the better of almost every striking exchange and doing more damage. Another round for Barao. 10-9 Barao.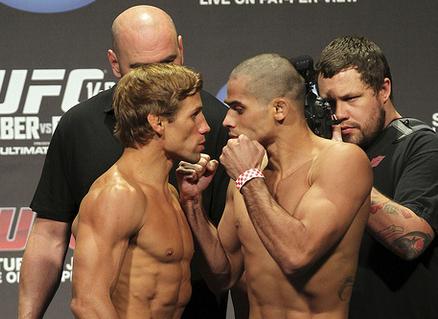 They touch gloves at the start of the third. Let's see if Faber switches anything up in this round. Faber gets hit with a leg kick and three solid punches, briefly threatens with a takedown and how he's out of trouble. Faber goes for a takedown, but it's pretty easily stuffed by barao. Good right hand from Faber. Faber starting to mix in some front kicks to the chest. Straight right from Faber. Big right from Barao backs Faber up. Another leg kick from Barao. And another to the inside. Jab from Faber comes up a bit short. Wild exchange, neither man lands anything clean. Solid uppercut from Faber, but Barao is unphased. Faber is being a bit more aggressive, at least. BIG leg kick from Barao. Faber should have shot takedowns early, his legs must be killing him at this point. Faber trys to catch a kick and use it for the takedown, but no such luck. Again he tries to catch the leg and again no. Some boos from the fans. Round ends. Closer round, but still edge to Barao. 10-9 Barao.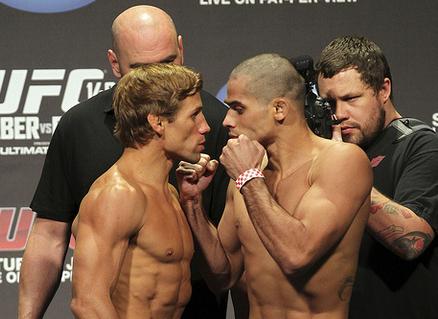 Much of the same here in round 4. Faber doing his best, but Barao getting the better of the exchanges and doing a better job controlling the cage. Faber gets poked accidentally. Nice right from Faber. He's not giving up, though he is likely three rounds behind. Faber tries to catch a kick, but Barao pulls away. Faber hs a golden opportunity to get a takedown after Barao tries a wild kick, but he can't get it. A testament to Barao's agility. A leg kick has Faber limping a bit. Nice knee to the body from Barao is they briefly clinch. Nice jab from Faber. Again the most significant damage is from Barao. 10-9 Barao.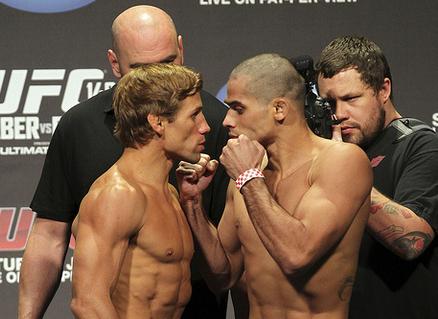 There is no doubt about it. Faber needs to finish this fight to win. Both men not throwing much at the start of the round. Not seeing the urgency from Faber. His leg might be jacked to the point that he really can't do much. Non-comittal punches from both men. jab from Barao. Faber tries to load up a right hand, but hits air. Jab from Faber, answered quickly by a right hand. Faber's jabs are landing well this round, but not doing any damage and he's no using them to set up big combos. Faber gets hit with a solid right. HUGE left hook from Barao, but Faber just takes it. Faber charges forward with a couple rights that land. Big leg kick from Barao. Faber needs to do something with only a minute left. Barao could coast, but is still moving forward. Spinning back kick from Barao misses. 20 seconds left. Faber lands a right. Spinning back kick misses again and that's the fight. 10-9 Barao.Should be 50-45 for Renan Barao.
Barao takes a unanimous decision (50-45, 49-46x2) and is the new UFC interim bantamweight champion.
Andrew Barr is a Featured Columnist for Bleacher Report and a stand-up comedian. Check him out on Twitter @AndrewBarr8.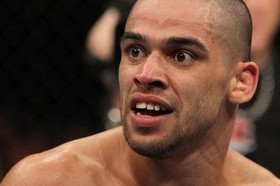 It's pretty obvious was next up for Barao—a title unification bout with Dominick Cruz.
However, Cruz is on the injured list right now and it's not yet certain exactly when he'll be back. There is always the chance that Barao will have to defend his interim title. Possibly against Michael McDonald.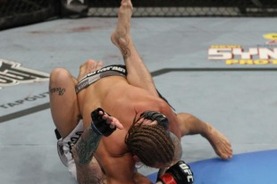 This was a tough fight for Faber, but he'll get back on the horse. He's starting to become old for a bantamweight, but likely still has a couple good years left in him.
The UFC usually likes to match losers with losers, so Miguel Torres or Scott Jorgensen could be next for Faber. If they go against the grain and match Faber with a fighter coming off a win, Brad Pickett is also a potential opponent.