British Open: 7 Most Memorable Moments of Championship Sunday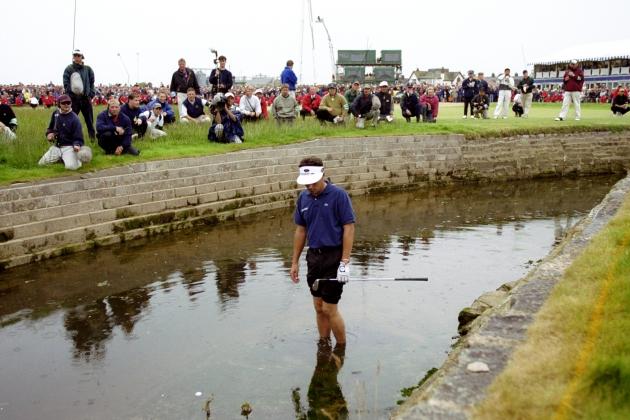 Ross Kinnaird/Getty Images

The British Open has a myriad of memorable moments in its long and noted history. From Nicklaus and Watson to Darren Clarke a year ago, the final-round moments have been eventful, fun and noteworthy.
Limiting them is difficult, but necessary. Here are the seven which stand out for me, a gen x'er.
Begin Slideshow

»
Perhaps it is just because it took place a year ago, but Darren Clarke's win in 2011 is quite memorable for golf fans of all ages and nations.
His battle for victory is memorable because of the sheer emotion he displayed, and the way the fans rallied around him, especially on Sunday.
In hindsight, with everything that has happened since, David Duval's 2001 win at Royal Lytham can now be seen in that much more special of a light.
It was his first, and only major, for a player of great talent level. He was and is a likeable guy. His downfall since makes fans want to remember his performance on Sunday at Royal Lytham with great fondness.
It is truly better to just watch the video from the 2009 British Open.
Tom Watson did what no one ever figured an elder statesman could do at a major; legitimately contend. He contended to the point he made a playoff.
No one remembers that Stewart Cink won, but they remember the magic of the legend Tom Watson.
Just watch the video, it will explain better than I ever could. Aside from the corny music, it gives you the whole picture.
It was disappointing for hardcore Sergio Garcia fans (like myself). But it was truly an epic finish.
This video doesn't capture the disappointment of Tom Watson, but fully offers the exuberance felt and expressed by the winner Seve Ballesteros.
Poor Tom Watson comes in as a loser on this list twice. Of course that doesn't compare to the great triumphs he experienced at the Open Championship. There's more on that to come.
Again, sorry for the cheesy music. But this video does a great job of illustrating the pain and torture golfers and fans alike had to experience in the 1999 Open.
No one felt that sting more than Jean Van de Velde. Luckily for him, the Frenchman was not blowing a World Cup victory for his France team, but the embarrassment and shame lives on to this day, one would imagine.
Thankfully this video does not go as in-depth with that particular moment. No one really needs to relive that, though this list would be remiss to not include it.
Most readers probably were not alive to witness this amazing final day theatre. I certainly wasn't. Tom Watson and Jack Nicklaus are two of the best to ever play. And the final round in 1977 was one of the game's finest moments ever.
Just watch the video. That should tell you everything you need to know as for why it is No. 1.