2012 NHL Free Agents: 5 Teams Who Should Submit an Offer Sheet for Jakub Voracek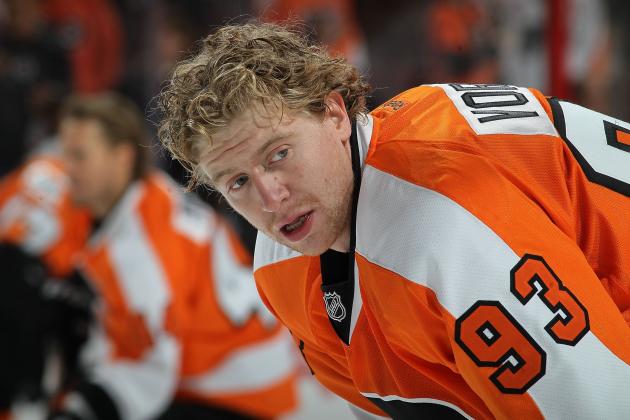 Jim McIsaac/Getty Images

For the first time in 15 years, the NHL free agent market is beginning to grow a new dimension.
Restricted free agents are now fair game.
With the Philadelphia Flyers' 14-year, $110 million offer sheet for Nashville Predators' RFA Shea Weber hitting the airwaves Thursday, the league's unspoken dam on offer sheets may have just been broken.
Since 1997, only eight RFAs have signed offer sheets during the offseason and only once has the player's original team not matched that contract. Now, 2012 has the potential to become the 'Year of the Offer Sheet'—and at least one of those could be directed towards the Flyers themselves.
If Weber's signing goes through, Philadelphia will stand approximately $50,000 over the salary cap with four RFAs left to sign.
One of those four is 22-year-old Jakub Voracek, a former seventh-overall pick who has missed just nine total games over his four-year career and tallied more than 45 points for three seasons running.
At only 22, his upside seems through the roof, and, even now, his playmaking skills are of clear-cut top-six caliber.
He's also due for a significant raise over the $2.25 million he made last season, but there's just one problem—Philadelphia might not be able to pay that much.
Any team that does sign Voracek away from the Flyers this summer would have to surrender some compensation—based on his projected value, that could well be both a first- and third-round pick in 2013—but, for a player of Voracek's ability, those rules shouldn't be much of a deterrent.
Hence, as the UFA market grows slimmer and slimmer by the day, a number of NHL teams could turn towards RFA Jakub Voracek as the unheralded solution to their playmaking problems.
Begin Slideshow

»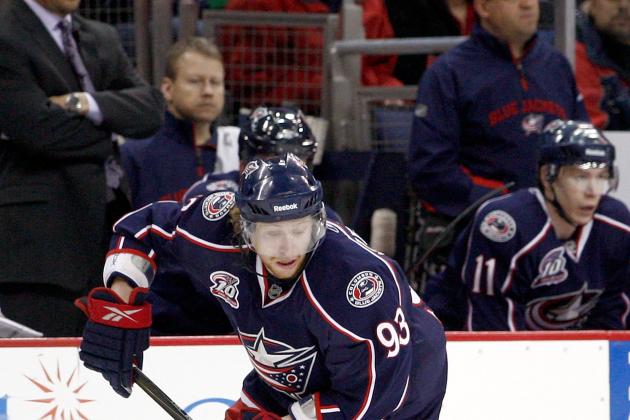 John Grieshop/Getty Images

The crumbling Blue Jackets' Jeff Carter trade from a year ago—the one that also sent Jakub Voracek and the draft pick that became Sean Couturier to Philadelphia in exchange—has proved beyond disastrous. How could the Jackets take a step towards easing the pain of that deal this time around?
Bring Voracek back.
Following his departure last June, Columbus tumbled to a 29-46-7 record—the worst in the NHL by a whole nine points. Offensive centerpiece Rick Nash posted his lowest point total since 2007, the team finished 28th in total offense and then GM Scott Howson used their second overall pick on a defenseman.
Now, even captain Nash is threatening to leave, but the re-arrival of Voracek could go a long way into solving those goal-scoring woes and potentially even give Nash a real reason to stay. Per statistics compiled by Jacob L. of the blog Driving Play, Voracek's presence was extremely beneficial to Nash in 2010-11:
Here is how Columbus did at even strength...with both Nash and Voracek on the ice, one of them on and neither of them:



| | | | | |
| --- | --- | --- | --- | --- |
| 2010-2011 ES | Corsi | Time (mins) | Corsi/60 | OppCorsi |
| Both | 67 | 690.2 | 5.824 | 0.499 |
| Nash only | -6 | 405.1 | -0.889 | -0.136 |
| Voracek only | 71 | 414.3 | 10.283 | 0.399 |
| Neither | -11 | 2453.9 | -0.269 | 0.214 |
With plenty of money in hand, an offer sheet carrying a cap hit of $4 million or more would give the Blue Jackets strong chances of bringing Voracek back to Ohio. For now, though, the odds are fairly low.
Odds: 25-1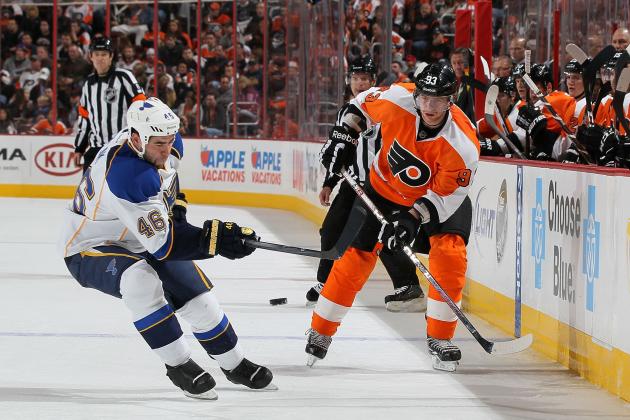 Jim McIsaac/Getty Images

Per a report by The Fourth Period:
As much as the St. Louis Blues are looking to add another defenseman to their backend, the team is also in the market for a second-line scorer. TFP has learned the Blues have tried to add extra scoring depth via free agency last week...[they] pitched an offer to center Olli Jokinen, but came up short.

The Blues are not necessarily looking to add a second-line pivot, but could aim to acquire another right winger.
There would be no better solution to that issue than Jakub Voracek.
The winger has never registered fewer than 29 assists in a season and has racked up more than 30 for each of the last three years.
He plays with a finesse style rather uncommon among St. Louis's cast of hard-hitting forwards, and his 6'4", 214-pound body would fit in beautifully alongside big centers David Backes and Patrik Berglund.
Odds: 20-1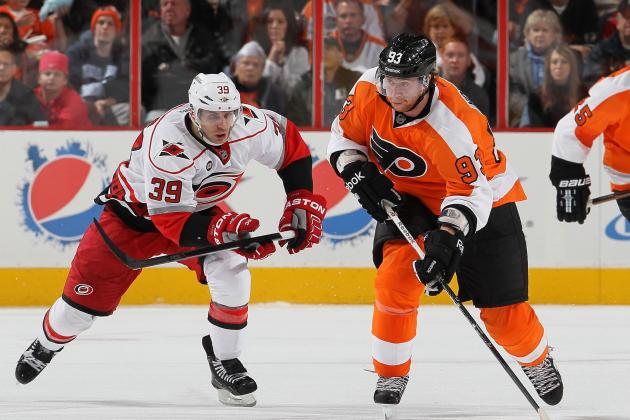 Jim McIsaac/Getty Images

After swinging and missing on Rick Nash, Zach Parise, Ray Whitney and a number of others, the Carolina Hurricanes and GM Jim Rutherford are currently throwing every chip they can find at UFAs Shane Doan and Alexander Semin.
But, sitting quietly in the shadows, Jakub Voracek could soon sneak onto the 'Canes radar.
He has the soft hands and great playmaking capabilities that first-line brothers Jordan and Eric Staal are longing to see in their future linemate, and would also bring much-needed defensive awareness (the 'Canes recorded 30 more giveaways than takeaways last season) and size (only three Carolina forwards stand taller than 6'1") to Raleigh.
Furthermore, Voracek has proven his worth as an excellent neutral-zone puck carrier—an important skill for a 'Canes offense transitioning from Paul Maurice's dump-and-chase method to Kirk Muller's more aggressive tactics.
According to Eric T. and Geoff Detweiler of NHLNumbers.com (articulated by SB Nation's Fear the Fin blog), Voracek's zone-entry statistics are fantastic:
When carrying the puck through the neutral zone at even-strength in 2011-12, Voracek was able to retain possession while gaining the blueline 66% of the time, third-best on Philadelphia behind only Jaromir Jagr and Claude Giroux.

Voracek was also extremely efficient once he was in the offensive zone compared to his teammates, with only Brayden Schenn generating more shots per controlled entry among Flyers forwards than Voracek.
Voracek would be an absolutely brilliant addition to the 'Canes restructuring offense.
Odds: 8-1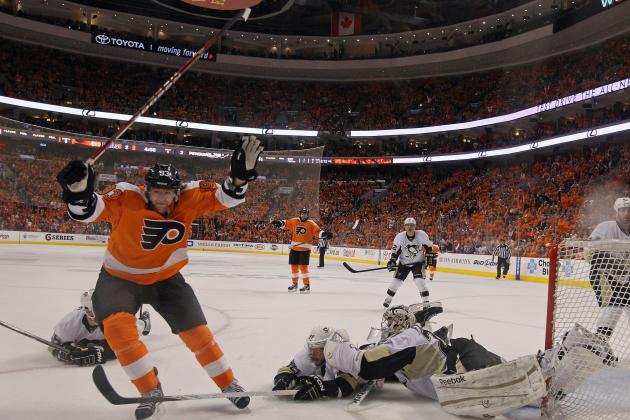 Bruce Bennett/Getty Images

If Jakub Voracek were to head to a new team this summer, it would be fitting for it to be the very team he ate alive during the 2012 playoffs—the cross-state rival Pittsburgh Penguins.
Penguins' GM Ray Shero has been reportedly talking with star UFA winger Alexander Semin, but Voracek is younger, cheaper and far more defensively responsible than Semin.
In 2010-11, Voracek finished third on the Columbus Jackets with 38 takeaways, and followed up that performance by ranking fourth on the Flyers with 35 last season. Interestingly enough, Pittsburgh finished among the league's two worst teams in takeaways both times.
Voracek also tallied four goals and ten assists in the Flyers' twelve total meetings with Pittsburgh last year, including two goals and five assists in Philadelphia's six-game series victory over the Penguins in April. His consistently-strong performances against the Pens highlighted a respectable 31-assist, 49-point campaign for Voracek in 2011-12.
Alongside star centers Sidney Crosby and Evgeni Malkin, Voracek would have the potential to develop into a top-notch passer and playmaker for Shero & Co.—and there's no GM who would enjoy snatching Voracek away from the Flyers more than Shero himself.
Odds: 4-1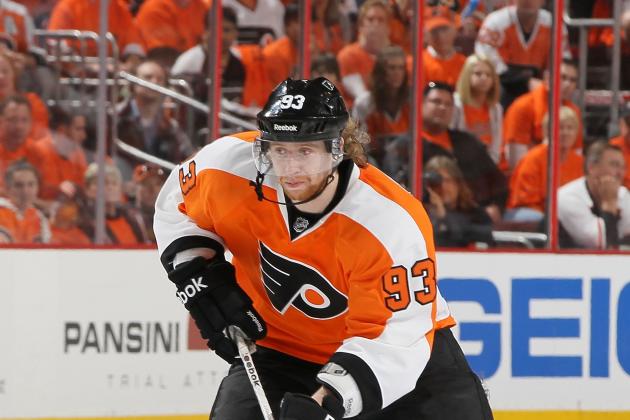 Jim McIsaac/Getty Images

Shea Weber's offer sheet signing has put the cash-strapped Nashville Predators in a rather undesirable situation.
They can let Weber walk and receive four first-round picks in exchange, but that would leave the Preds out of playoff contention for years while goaltender Pekka Rinne's prime years slip away.
They can match the offer and keep Weber for eternity, but there is serious doubt whether the team could actually pay Weber the $27 million he will earn in the first 13 months of his contract.
Or they can turn the tables on the Flyers and attempt to get completely fair return value for Weber, their [former] captain and undisputed best player.
Step One in that plan would likely involve finding a way to snatch either Brayden Schenn or Sean Couturier from the Flyers.
But Step Two could very well include Jakub Voracek, whether that involvement be in a trade or with a juicy, $4.0 million-plus offer sheet.
Voracek would provide a big boost to a low-profile offense with guys like Martin Erat, Mike Fisher and Patric Hornqvist on its top two lines. In fact, Voracek's 49 points last season would've ranked fourth on the Preds—and within nine points of the team lead.
As the entire Weber saga continues to unfold, Voracek's name may begin to appear in increasingly large numbers.
Odds: 3-1