UFC 149 Fight Card: Power Ranking Every Fight on the Card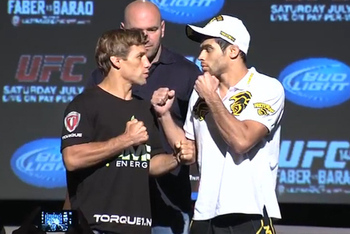 Photo by mmamania.com
UFC 149 is set for Saturday, July 21, from the Scotia Bank Saddledome in Calgary, Alberta, Canada.
The show will be headlined by Urijah Faber and Renan Barao, who will contest one another for the UFC interim bantamweight title. UFC 149 will also feature the long-awaited debut of former Bellator middleweight champion Hector Lombard.
Here, we will take a brief glance at every fight on the card to determine what we can expect from each in terms of entertainment value.
Read on to find out which fights promise excitement, and which risk failing to deliver.
11. Ryan Jimmo vs. Anthony Perosh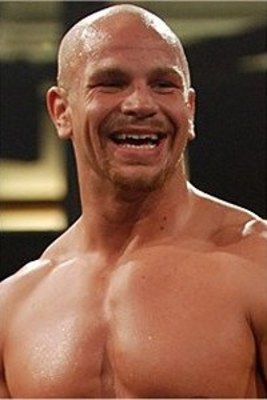 Photo by Sherdog.com
The sole light heavyweight bout to be contested at UFC 149, Canadian Ryan Jimmo will take on Australian Anthony Perosh.
Perosh is on a three-fight win streak that has garnered little fanfare, while Jimmo is an underrated fighter in his own right.
A lack of talent is not what makes this contest the least intriguing of the night. The stylistic matchup does that.
Perosh is a grappler who will want to take his fight to the mat. Jimmo is a fairly well-rounded guy who will look to keep the fight standing, and the chances are decent that he'll be able to do so for most of the fight.
But instead of all this shaping up to produce a knockout, more likely than not it will produce 15 minutes of brief exchanges and circling.
10. Mitch Gagnon vs. Bryan Carraway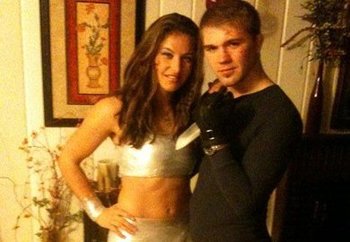 Photo by bjpenn.com - can you feel a post fight Tweet coming?
The strength of both Carraway and Gagnon is in the submission game, Carraway having scored 14 of 16 wins via submission, Gagnon eight of eight.
So the potential is there for this to be a high-level grappling exhibition. Unfortunately, it probably won't be.
Instead, expect a lot of clinching and jockeying for position. And don't be surprised if you see a lot of Carraway smothering Gagnon on the mat.
This one could be a sleeper, but I, for one, doubt that it will wake up.
9. Mitch Clarke vs. Anton Kuivanen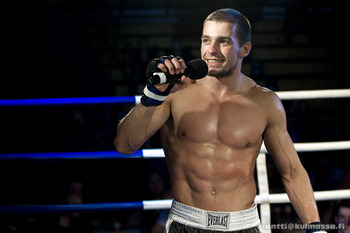 Photo by kulmassa.fi
Both Kuivanen and Clarke are 0-1 in the UFC, though Kuivanen was at least competitive in his debut.
Clarke is a submission specialist and will attempt to take the fight to the mat. Though Kuivanen should have an advantage on the feet, he may look to score a takedown or two of his own.
If Clarke feels comfortable throwing hands with Kuivanen, this fight may turn out alright. If not, both guys will have to implement their game plans cautiously, which may lead to a dull contest.
8. Court McGee vs. Nick Ring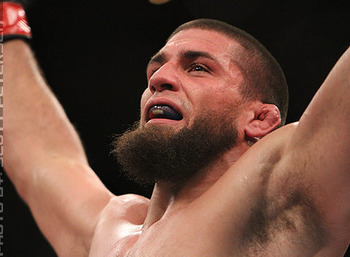 Photo by mmaweekly.com
This contest includes two opponents with good enough submissions and striking that they pair with strong wrestling.
Such a description suggests that the fight will end up being one of four things: a good enough kickboxing match, a good enough grappling match, a wrestling stalemate with a ton of clinching or a fluid bout that touches on all elements of MMA.
If it turns out to be the latter, we will be in for a real treat. But that is a big "if."
Ultimately, this fight should be mildly entertaining, but chances are it won't be a barn-burner.
7. Chris Clements vs Matt Riddle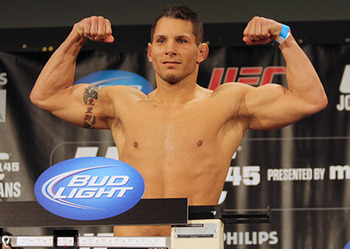 Photo by mmajunkie.com
Most of Riddle's fights are pretty entertaining and Clements turned in a nice performance for his promotional debut, so this one should be a good fight.
The only threat to spoil the potential action is if Riddle decides to keep Clements on his back, and Clements is unable to do anything about it.
If that doesn't happen though, this contest should produce some good exchanges and, more likely than not, a little bit of gore.
6. Brian Ebersole vs. James Head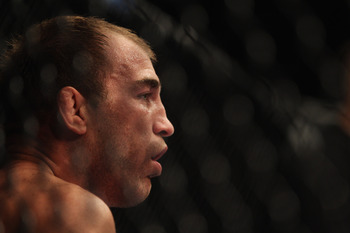 Mark Kolbe/Getty Images
Though Ebersole is a pretty fun guy to watch, there is a distinct possibility this fight ends up being characterized by prolonged struggles against the fence.
There is some potential for an exciting contest—a fair amount actually. But for now, I look forward to Ebersole-Head with cautious optimism.
5. Antonio Carvalho vs. Daniel Pineda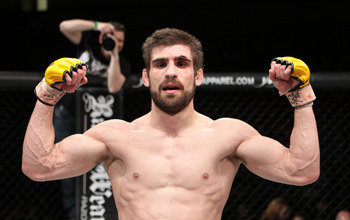 Photo by fcfighter.com
Pineda is a very aggressive fighter and Carvalho hasn't been in a whole lot of boring fights during his career. Ergo, a little bit of excitement this way comes.
Given that Pineda has gone the distance just twice in 25 career fights and has scored all of his victories by stoppage, and that Carvalho is a capable finisher as well, the chances are very good that this one ends before the 15-minute mark.
Perhaps its mediocre rank on this list doesn't do the fight justice, but in all fairness, it does have some stiff competition.
4. Roland Delorme vs. Francisco Rivera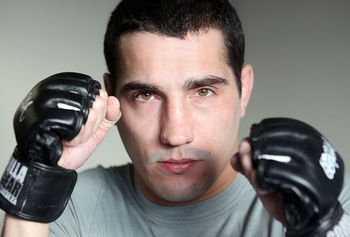 Photo by calgarysun.com
Roland Delorme's last fight was the embodiment of excitement. Granted, Delorme's fight against Nick Denis lasted just one round, but that round was outstanding.
His opponent at UFC 149, Francisco Rivera, likely won't shy away from the pace Delorme will set, so this one could turn into a real gem.
I have my suspicions about Delorme's cardio, so if there isn't a whirlwind of action culminating in a first- or second-round finish, the bout might lose a bit of luster. The potential is there for it to look a little bit sloppy as well.
But if both guys come out hard and fight to their ability, the result should be exhilarating, if brief.
3. Cheick Kongo vs. Shawn Jordan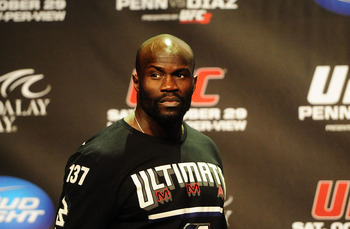 Mark J. Rebilas-US PRESSWIRE
Cheick Kongo's striking is a beauteous thing to watch. Even when he loses, his strikes are just so technical.
Shawn Jordan debuted in the UFC opposite Oli Thompson in what was a very fast-paced bout. Especially for the heavyweight division.
Both guys like to strike and if they follow that inclination, this contest will be one to watch. There should be no shortage of good exchanges, and probably a knockout to cap it all off.
On the other hand, Jordan may look to use his superior wrestling in order to keep Kongo on the floor. Jordan has some nice ground-and-pound—even some decent submissions—but if he has Kongo down he probably will loathe to risk losing dominant position.
If that's the case, this fight could end up being mediocre. On the other side of the coin, it has a ton of potential.
2. Hector Lombard vs. Tim Boetsch
Photo by sherdog.com
Perhaps I am caught up in the giddy excitement of Hector Lombard finally making his UFC debut, but I expect a lot from this fight.
Lombard is a guy who loves to stand and throw power punches. The exact same thing can be said about Tim Boetsch.
Both guys are also capable of planting most opponents on the mat—Boetsch with his wrestling, Lombard with his judo—but both are also hard to take down.
I expect the grappling elements of this fight to cancel each other out, which should produce a good old slugfest.
1. Urijah Faber vs. Renan Barao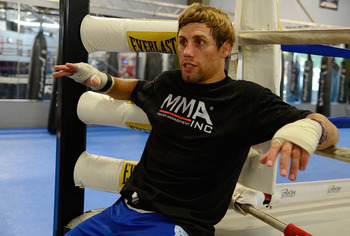 Thearon W. Henderson/Getty Images
It's actually pretty rare that the main event of a fight card produces the night's most entertaining contest, but that just might be the case at UFC 149.
The fight will probably contain a mix of standup and grappling, both of the high level and quick-paced variety.
The skill level and style of each fighter, and the fact that a championship title is on the line, may very well make Faber-Barao the best fight of the night.
Keep Reading