5 Reasons the Pittsburgh Pirates Are for Real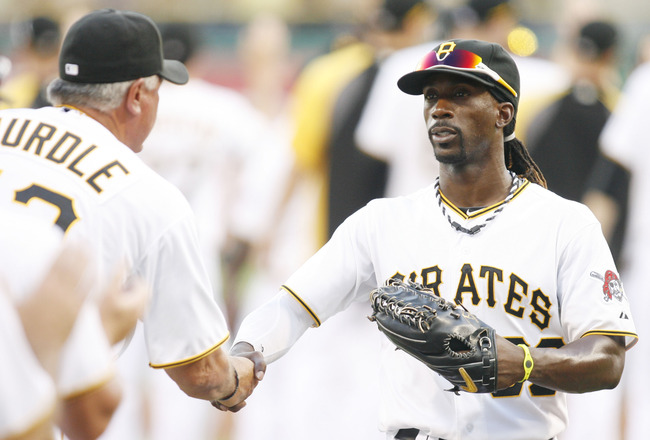 Clint Hurdle and Andrew McCutchen have the Pirates competing for a playoff spot.
Charles LeClaire-US PRESSWIRE
Going into Friday night's play, the Pittsburgh Pirates are a half-game behind the Cincinnati Reds for first place in the NL Central. Last year, the Pirates were in a similar position, only to fall into a crater and tumble to an eventual fourth-place finish, 24 games back.
That has some people skeptical about the Pirates' chances this season.
Are we looking at another year of false hope for Pittsburgh? Is this team teasing its fanbase, along with any other baseball fans looking for a great story? Should we really be getting excited about a possible Pirates playoff team?
Get excited.
This isn't last year's team. The starting pitching is better. The defense is improved. The front office is looking to bring in outside help. And the center fielder is building off last year's success and is now an MVP candidate.
Last year, the Pirates were six games over .500, staving off mediocre, underperforming competition. One year later, this team is 11 games over .500 and keeping pace with a Reds club that once looked as if it might begin to establish a strong first-place lead.
Can the Pirates keep this up? Absolutely, and here are five reasons why this team is going to compete for a division title and a spot in the postseason all the way through September.
Keep Reading