Miami Football: What You Need to Know About Hurricanes' Offensive Line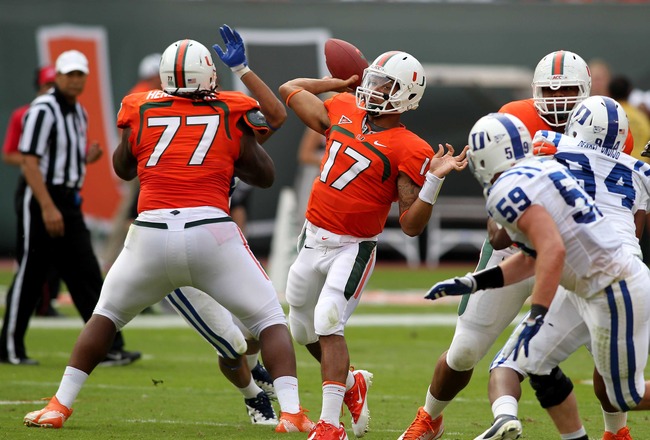 Robert Mayer-US PRESSWIRE
During their years of dominance, the Miami Hurricanes offensive line was spectacular as many of them went on to play in the NFL. It was the key component to all five National Championships.
Lately, though, it has been less than stellar.
Although a few of them, Orlando Franklin, Eric Winston, Jason Fox, etc., had great seasons and are starters in the NFL, the unit as a whole has struggled.
This season there are plenty of solid offensive linemen that could help Miami get a step closer to the ACC title.
Here is what you need to know about this year's offensive linemen.
Lost Four Key Offensive Linemen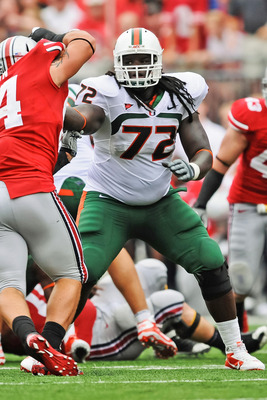 Jamie Sabau/Getty Images
Miami took a big hit as four key players from the offensive line either graduated or declared themselves eligible for the NFL draft.
The first Hurricane was left tackle Brandon Washington, who decided to forgo his last year of eligibility for the NFL and he got drafted by the Eagles in the sixth round.
In June, Washington actually stated that if he would have known he would have gotten drafted that low, he would have stayed for one more year at Miami.
There is no doubt he would have been the Hurricanes starting guard this year if he would have decided to stay.
Next to leave was tackle Joel Figueroa. The six-year player (earned medical hardship in his senior season) only started one game last season, but his experience will be missed. Figueroa was a four-year letterman.
Figueroa signed as an undrafted free agent with the Miami Dolphins earlier this summer.
Next was Harland Gunn, guard, who was a 30-game starter for the Hurricanes over the last four seasons. He graduated last fall and was a terrific player as he didn't even allow one sack all season long.
Gunn signed as an undrafted free agent with the Dallas Cowboys.
The last of the four is center Tyler Horn. The senior All-ACC team member was the most consistent and best offensive lineman on the team last season. He had 25 starts with Miami over the last four years.
Like Figueroa and Gunn, Horn was picked up as an undrafted free agent by the Atlanta Falcons.
Need to Gel Together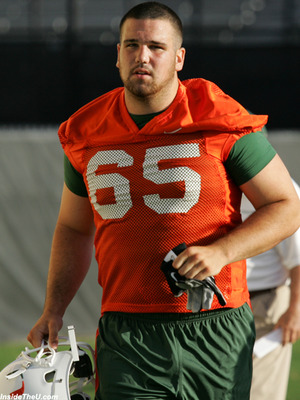 If there was one thing missing from last year's play at the offensive line position was teamwork. Although there was some good individual play at times for Miami, as a unit, it struggled.
Now I will give them the benefit of the doubt, injuries to Seantrel Henderson forced a major positional change in which Brandon Washington move from guard to left tackle.
I thought Washington was an All-American type player at guard and was definitely not the right guy to move to the most important position on the offensive line: the quarterback's blind side.
He struggled at times even getting a verbal media lashing from head coach Al Golden. I was a little disturbed by the comment because Washington was in no way a tackle.
Besides the injuries, the remaining players were unable to play together. At season's end the offense ranked 71st in rushing offense and 63rd in scoring offense.
I understand you can't put all the blame on the offensive line, but if you watched the games last season, you would have noticed the offensive line, which was supposed to be strongest unit on the field, struggled far too many times.
If it can stay healthy and work as a unit, this offensive line could be the best Miami has had in years.
Ereck Flowers Is the Real Deal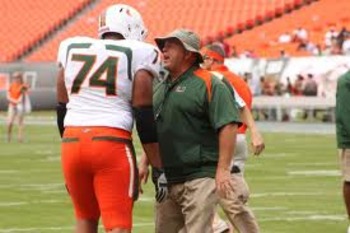 If you were unable to watch any of the spring session, you probably didn't hear much about the offensive linemen, but if you were lucky like me, you saw the offensive play of true freshman Ereck Flowers.
The 4-star recruit from Miami Norland was the most impressive player to watch on the offensive line. He has amazing feet for a guy standing 6'6", 315 pounds.
Along with great movement, his rush-blocking skills are terrific as there were countless times in which he pushed defensive players all over the field.
My only knock on Flowers is his pass-blocking skills. He tends to stand too upright at times allowing the defense to overpower him.
There is no doubt that over time he will improve, and when he does, Flowers may be an All-American in the making.
Young Group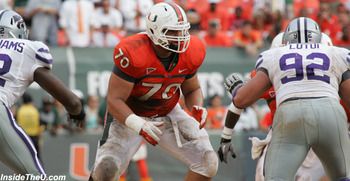 Besides true freshman Ereck Flowers (see previous slide) the Hurricanes have some young talented linemen across the board.
After attending Fork Union Military Academy, sophomore Taylor Gadbois has had a spectacular offseason for the Hurricanes.
The 6'8", 310-pound lineman out of Georgia has showed promise all spring long. Besides his great size, his footwork and hands have proven to be some of the best on the line. I can see Gadbois getting on the field a lot this season.
Another true freshman, Danny Isidora, hasn't played one down at Miami but is already being talked about across Hurricane nation. The 4-star recruit (according to ESPN) is a physical player that can be dominant at both pass- and run-blocking.
Although he played tackle at high school, his 6'4", 345-pound frame may land him on the depth chart at guard.
Besides the above mentioned players, Malcolm Bunche, Jon Feliciano and Shane McDermott are all redshirt sophomores that will either start or be second-string on the depth chart this season.
In fact (according to the current depth chart) the Hurricanes entire starting five offensive linemen are underclassman.
Seantrel Henderson Will Live Up to Lofty Expectations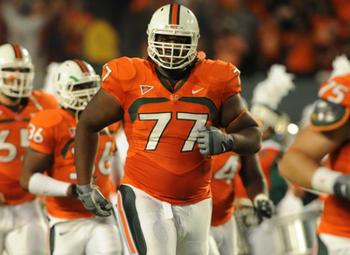 First and foremost, I know there have been rumors of his possible suspension when he missed classes and a summer session earlier this year, but that doesn't take anything away from his ability to play on the offensive line.
Henderson is an absolute monster, and when he isn't injured, he is one of the best offensive linemen in the country. If you don't believe me, go check out some game film and focus on his play, you will be amazed on how he destroys defensive linemen at will.
During his freshman season, Henderson earned nine starts and was voted on to multiple Freshman All-American teams.
Last season was a bit of a disaster as Henderson underwent back surgery before the season started. He missed the first three games, but came back to play in eight games and even got starts against South Florida and Duke.
If Henderson can stay healthy this season, I truly believe he could land on the All-American team. He has amazing size (6'8", 350 pounds) and superb movement for someone that big.
Keep Reading

Miami Hurricanes Football: Like this team?