Alabama Football: 5 Projected Starters with Most to Prove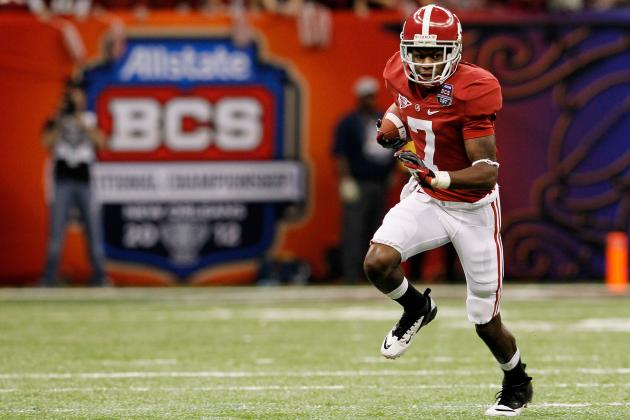 Kevin C. Cox/Getty Images
Kenny Bell will be one of several new starters expected to take on a considerably larger role this season.
Alabama is a team many expect to contend for the national title this season—mostly due to the belief that several newcomers will step in and play at a high level for the Crimson Tide this fall.
After all, Nick Saban has been recruiting at a level that few have seen over the last three years—with members from previously stacked recruiting classes (their last three classes have been ranked in the top five nationally) filling the majority of the holes on the roster.
While no one can deny that Alabama will still have a talent advantage over nearly every team on their schedule, some of the newcomers are lacking from an experience standpoint or they will have to step up and carry a heavier load than in any previous part of their college careers.
So which players will fall under that category?
Here are five projected starters with the most to prove heading into the 2012 season.
Begin Slideshow

»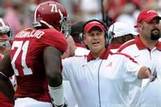 Kouandijo will be trusted to protect QB A.J. McCarron's blind side.
Kouandjio is in the unenviable position of being the only newcomer to the Crimson Tide's starting lineup in the trenches.
Plus, he will take over at left tackle for reigning Outland Trophy winner Barrett Jones, who will start at center this year.
On a group that has the potential to be the best offensive line in the country, Kouandjio represents the biggest question mark at arguably the most important position on the unit.
Even though he is a 5-star talent—and Saban felt comfortable enough with him to entertain the thought of moving Jones—Kouandjio will still be charged with the task of keeping the most menacing defensive ends in the SEC off of quarterback A.J. McCarron.
His ability to answer that challenge will play an enormous role in the success (or lack thereof) of the offense in 2012.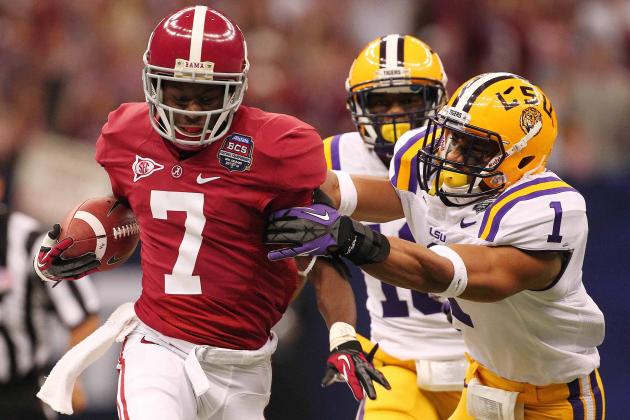 Marvin Gentry-US PRESSWIRE
Bell will get the first crack at being McCarron's main target heading into the season.
Whether it is a fair assumption or not, Bell is viewed as the leading candidate to become A.J. McCarron's top option from a largely untested group of receivers.
The junior from Rayville, LA has posted modest numbers—19 receptions for 281 yards and two touchdowns—as a spot contributor in his first two collegiate seasons.
The good news for Bell and the Tide offense is that the receiver unit on the whole appears to possess the most potential of any pass-catching group since Saban has been at Alabama.
Heading into fall practices, Bell is the closest thing the Tide has to a No. 1 option at receiver, which means he will be expected to step his game up a few notches this fall.
Marvin Gentry-US PRESSWIRE
Hubbard was the team's most dominant defensive player in the spring.
Hubbard is one of the newcomers that most fans and media scribes are predicting to carry on the Tide's recent tradition of nasty and athletic pass-rushing monsters coming off the edges in Saban's 3-4 scheme.
The 6'6", 248-pounder's dominating effort in the spring game—where he was unblockable and recorded three sacks—seems to validate those assumptions.
However, Hubbard still only has one year of experience on the field—yet he's the unquestioned leader of a relatively young group of outside linebackers.
His talent is unquestionable, but with the Crimson Tide losing its top three leaders in quarterback sacks from 2011, Hubbard cannot afford to have anything less than a dominant season.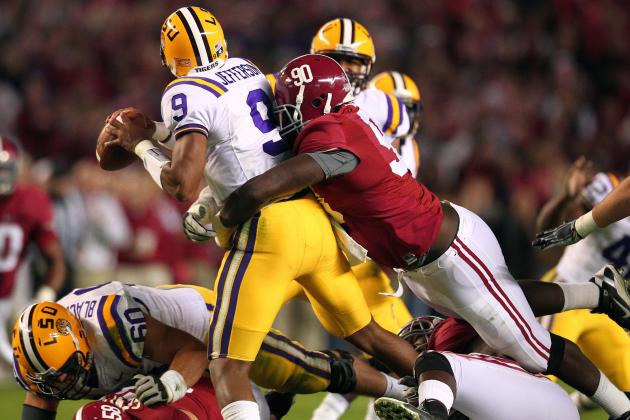 Marvin Gentry-US PRESSWIRE
Dial is part of a trio of seniors that will make up Alabama's starting rotation on the DL.
Heading into fall camp, Dial looks to have the inside track on landing the defensive end spot opposite fellow senior Damion Square.
The 6'6", 304-pound former JUCO import was a solid contributor in the Tide's three-man front last season, and he capped a strong spring by racking up five tackles and a sack in the spring game.
However, Dial is not as polished as fellow JUCO defensive lineman Jesse Williams and he doesn't have the experience that Square and backup Ed Stinson have on this level.
That said, he is a wide body who has the ability to be a physical presence capable of generating a push up front and helping the Tide's defensive line establish a new line of scrimmage.
Last season, the Tide got a huge boost on the defensive line from senior Nick Gentry, and Tide fans are hoping for a similar final campaign from Dial this season.

Belue's adjustment from the JUCO ranks to the SEC will be one of key factors to watch in the Tide secondary.
Belue is yet another player that Saban recruited from the JUCO ranks to fill an immediate need—this time in the secondary where Alabama must find replacements for departed corners Dre Kirkpatrick and De'Quan Menzie.
Belue and Travell Dixon were both JUCO stars that enrolled in January to go through spring drills, and the 6'0", 178-pound Belue has emerged as the favorite to start at the corner spot opposite junior Dee Milliner.
With Saban being a noted hands-on defensive back coach, Belue will be prepared to step in and play at a high level.
Belue's ability to become a steady presence opposite Milliner will be a huge factor in helping the secondary maintain their dominant standards.