Texas Football: What You Need to Know About Longhorns WR Depth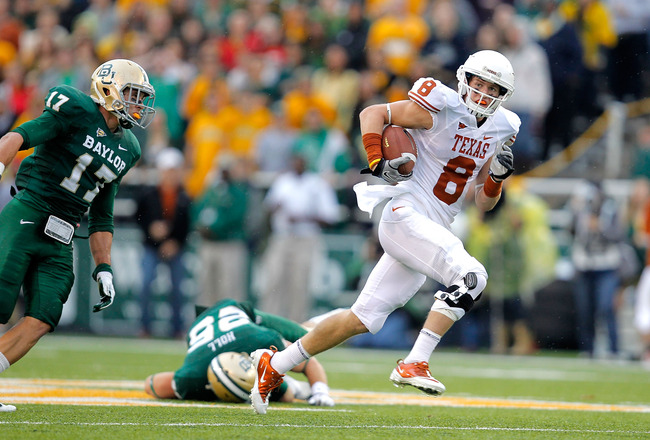 Sarah Glenn/Getty Images
With quarterback still very much a question mark heading into the 2012 season, the pressure is on this group of wide receivers to make things easier on their sophomore signal-caller David Ash.
Coming off a season in which drops and inconsistent play caused this group to greatly underachieve, this group of wide receivers has a lot to prove this season. The Longhorns' switch to a run-heavy style of play this season should make things easier on this group as opposing defenses will have to really buckle down on the inside. Still, this group is going to have to make plays in big spots if this team is going to realize its full potential in 2012.
Who will be the go-to guy? Who will be Mr. Reliable? And which of these guys can have a breakout season? Read on for answers to these questions and more as we examine the Longhorns depth at wideout.
Jaxon Shipley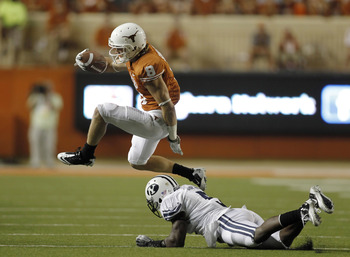 Erich Schlegel/Getty Images
After an electric freshman season, expect Jaxon Shipley to emerge as the Longhorns No. 1 receiver—and possibly their best offensive player—in 2012.
Shipley made an immediate impact as a freshman in 2011 with 44 receptions for 607 yards and three touchdowns, all good for top-three all-time among Texas freshmen. Even more impressive were the four touchdowns Shipley threw from the wide receiver position, most notably a 41-yarder in the nail-biter against A&M. With all of this considered, it is no surprise that Texas' two lowest-scoring games of the season came in two of the games he missed with a knee injury.
One thing you have to love about Shipley is that he has the audacity to make big plays, which was very apparent in his freshman season. Having the best hands on the team and game-breaking speed are one thing, but Shipley does not shy away from putting them to good use in the big game.
Shipley's ability to make plays from all over the field as a receiver, returner, runner and thrower will be essential to this team's success in 2012, and his presence alone should open things up for the running backs. The backs will do most of the heavy lifting this season, but Shipley is this team's most explosive offensive weapon and will have his hand in many of the team's big plays this season. Expect him to lead this team in receptions and all-purpose touchdowns en route to an All-Big 12 Second Team selection.
Mike Davis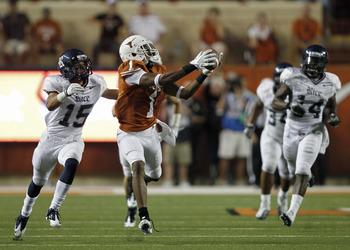 Erich Schlegel/Getty Images
After a record-setting freshman year, Mike Davis hit a major sophomore slump last season after family issues and immaturity set him back in 2011. This season, he is determined to right the ship.
Davis may have led the team last season with 45 receptions and 629 yards, but he was not the dominant pass-catcher fans and coaches expected after his breakout freshman season as he was only able to reel in one touchdown catch. Davis was solid to start the season, but was almost non-existent over the last seven games of the season with only 20 catches for 145 yards and a few costly drops.
Expect Davis to bounce back this year. He has been working very hard to get back to where he believes he should be and has improved as a runner such to the point that he has been looked at as an option to return punts this season. Davis is expected serve as the team's deep threat this season and should re-establish himself as one the premier receivers in the conference, though his place on the Biletnikoff watch list is a bit much.
Marquise Goodwin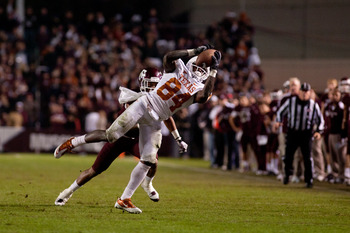 Darren Carroll/Getty Images
Over the second half of last season, few players stepped up quite like 5'10" track star Marquise Goodwin, who has improved steadily every year he has donned the burnt orange.
Let's go ahead and say that Goodwin was the exact opposite of Mike Davis last season. Goodwin started off painfully slow and then did a bulk of his damage in the second half of the season to the tune of 30 receptions for 383 yards and only two touchdowns. He was especially effective in the bowl victory over Cal, hauling in a 47-yard touchdown from David Ash and ripping off a career-long 37-yard run on an end around.
The main concern with Goodwin is how long he takes to get back into football shape after missing basically the entire offseason to compete in the Olympics. He has stated time and again that he is still very much committed to football, so hopefully it is more a matter of when rather than if he will be able to be an effective weapon for the offense. All in all, Goodwin is probably good for around 35 receptions and 450 yards along with whatever he gives us in the return game.
D.J. Monroe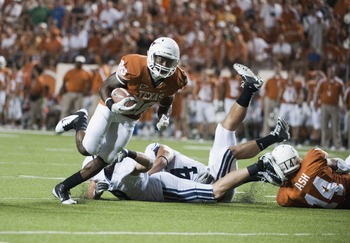 Brendan Maloney-US PRESSWIRE
After spending his first three seasons as a spread running back, senior D.J. Monroe has been officially converted to wide receiver. And the jury is very much out on whether this will work out.
The reason Monroe's move to the wide receiver position has been met with such skepticism is this: He did have a single catch in 2011. While his hands are suspect at best, there is no doubting Monroe's electric 4.3 speed and his ability to turn what should be a modest gain into a breakaway score.
Because of his lack of experience at the position and the slippery nature of his hands, Monroe is most likely going to catch his passes off the screen or underneath in a soft spot in the coverage. This way, Monroe will not have to catch passes in traffic and will simply need to use his speed and quickness to pick up yardage. You can also expect to see him returning kickoffs.
There is no telling what we will get from Monroe this season, especially if he proves under-qualified to play receiver. Luckily for him, his speed makes him impossible for offensive coordinator Bryan Harsin to leave on the sidelines so he will get his chances.
Daje Johnson
Similar to Monroe, freshman speed back Daje Johnson is another wild card in the passing game whose speed and quickness could translate into big plays for the offense.
No doubt that when the 'Horns effectively snatched Johnson away from TCU, they were looking at him to fill the senior Monroe's role in the offense after he graduates. Johnson, like Monroe, is 5'9" and 180 lbs with absolutely electric 4.3 speed. Also like Monroe, the coaches have eyes to use that speed in the screen game to get him out in space.
Johnson is very difficult to project heading into this season. In addition to being utilized as a RB/WR hybrid, Johnson is also being considered to take on Fozzy Whittaker's role in the Wild formation and in the kick return game. Johnson's speed will undoubtedly get him on the field early, but where he fits in is still very much up in the air.
Cayleb Jones
Coming in as the top true receiver in Texas' 2012 class, freshman Cayleb Jones has a lot to prove in his first year as a Longhorn.
The biggest thing working in Jones' favor is that he was around for the entire spring and has gotten a chance to get familiar with the position. There are some concerns about his speed, but most of what he will be asked to do will be in matchups with linebackers and along the sideline where he can just outsize his defender.
Jones will probably serve as a back up to Jaxon Shipley and will run many of Shipley's inside routes when he gets in the game. Jones' playing time will be entirely dependent on his ability to succeed in this type of role; otherwise he will see guys like Marcus Johnson or John Harris step into his role. At best we can expect maybe 15 to 20 catches out of him this year, but he could be very good in years to come.
The Rest
Marcus Johnson
Johnson is a very promising freshman with good size at 6'1" and very respectable 4.4 speed on the outside. The main problem with Johnson is that he is not an accomplished underneath route-runner, and there is not a lot of room within the offense to throw it to him deep. He comes in as a backup, but could see action in the screen and return games.
John Harris
After a promising start to 2011, Harris' career has taken a hit after a foot injury caused him to miss 10 games and half of the spring. At 6'3" and 211 lbs, Harris still has great potential as wideout but unfortunately looks like he could be a career backup.
Kendall Sanders
Converted wide receiver Kendall Sanders has a ton of potential at the wide receiver position. He is fast (runs a 4.4 40), good size (6'1" and room to add muscle), and is a very natural pass-catcher. However, he is a converted cornerback and has had little to no experience playing receiver. Sanders will take some time to develop but could end up filling Goodwin's role in the slot as early as next season.
DeSean Hales
It has been the same old song and dance for the senior Hales, who once again has had another solid offseason. Spring and summer have never been the issue for Hales. It is performing in the fall that has plagued his entire career. The coaches seem to have lost patience with Hales, and he will have to earn every single second of playing time he gets this season over this crop of talented freshmen.
Miles Onyegbule
Onyegbule saw some action as a freshman last season, but a torn pectoral that will keep him out until August makes 2012 a gigantic question mark for him. That said, he will probably be redshirted and have his role reevaluated once he returns. At 6'4" and 216 lbs, he could be headed for a role as either an H-back or possibly a pass-catching tight end.
Bryant Jackson
Jackson was moved from corner to wide receiver prior to last season when Marquise Goodwin was thought not to return to the team. Goodwin returned, and Jackson was relegated to a backup/special teams role, where he will likely spend the rest of his career.
Keep Reading

Texas Longhorns Football: Like this team?