Why Fans Will View Jeremy Lin Miss as Move That Killed New York Knicks Franchise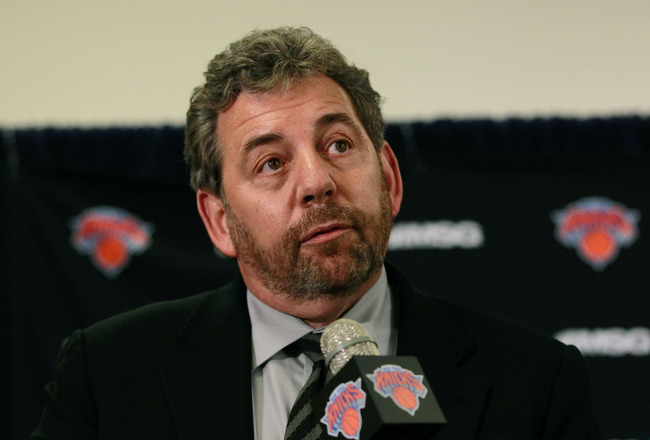 Did Knicks owner James Dolan seal his fate as the worst in the NBA?
Chris Trotman/Getty Images
Few saw this one coming. Yes, we'd heard of the "poison pill" contract option and the possibility that it had become too pricey for even the New York Knicks to match.
And yes, we knew a number of teams would do just about everything within their power to pry Jeremy Lin from the greedy grasp of those Knicks.
But surely owner James Dolan would find a way to make it happen, right?
Apparently, wrong.
After spending a salary cap's worth of money on just Carmelo Anthony, Amar'e Stoudemire and Tyson Chandler, the Knicks simply couldn't afford to keep the guy who changed this outfit from a hodgepodge collection of ill-fitted stars into an actual team.
Money wasn't the only factor according to the New York Daily News' Frank Isola:
The decision was both financial and emotional since Garden chairman James Dolan was upset over Lin restructuring his deal with Houston last week to include a third year salary of $14.9 million. Dolan, according to sources, felt he was deceived by the 23-year-old Lin.
You can imagine what the average Knicks fan is thinking. Among the few sentiments appropriate for mixed company, you can rest assured "Suck it up and pay the man!" ranks at the very top.
Lin averaged 14.6 points and 6.2 assists in 35 games with the Knicks, performing even better in the games he started. It was a season to remember, and a season fans won't let Dolan forget if the Knicks come up short.
Raymond Felton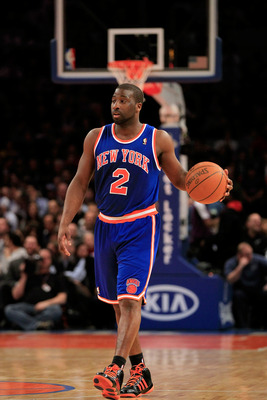 Chris Trotman/Getty Images
The New York Knicks acquired point guard Raymond Felton in a sign-and-trade deal with the Portland Trail Blazers, who were all-too-happy to say goodbye.
The last time Raymond Felton played with the Knicks was also the last time he played especially well.
Don't count on an encore performance.
Mike D'Antoni was the coach in those days, and he's the kind of guy who can make just about any point guard look good.
Even then, though, Felton wasn't especially efficient. He made just 42 percent of the 14.8 field-goal attempts that came his way. When asked to take fewer shots, Felton has consistently scored less effectively.
That doesn't bode well for this instantiation of the Knicks.
With Carmelo Anthony and a host of scoring options that weren't around the last time Felton was in town, the pint-sized point guard will have to learn to take fewer shots while also making more of them.
If and when he comes up short, fans will be pining for Jeremy Lin.
Jason Kidd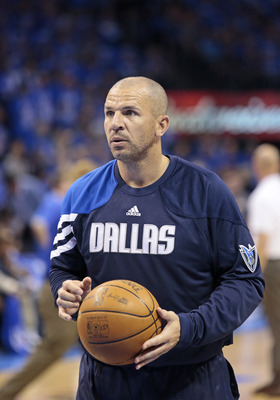 Brett Deering/Getty Images
As disappointing as Raymond Felton may be in his next stint with the New York Knicks, Jason Kidd could be just plain depressing.
He's already off to a brilliant start after wrecking his Cadillac and landing DWI charges.
The 39-year-old point guard decided to sign with the Knicks after having the worst season of his career. His fourth-consecutive season with the Dallas Mavericks (and seventh overall) ended with a first-round sweep at the hands of the Oklahoma City Thunder.
Kidd looked as old and ineffective as ever, so it's no big secret why the Mavs passed on his services.
He would have been a valuable mentor for Jeremy Lin, at least in terms of on-court skills. If relied upon to make significant contributions, however, Raymond Felton may start looking better and better.
That's a scary thought.
Chemistry Gone Awry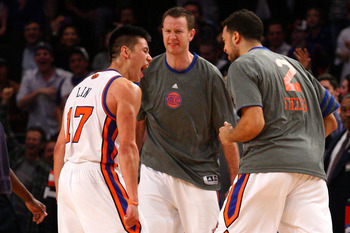 Chris Chambers/Getty Images
It took Jeremy Lin no time at all to become a vital binding agent for the New York Knicks.
His ability to inspire teammates was surpassed only by his penchant for giving them the credit and doing his best to share a spotlight that followed him relentlessly.
There aren't many guys like him, and that's why team leaders like Carmelo Anthony want him around. Lin brings a set of intangible qualities to the table that bring out the best in everyone else, making role players like Steve Novak look like go-to scorers in the process.
Even if NYC could land a comparably talented point guard, it's unlikely it could find one who makes his team truly feel like a team.
With Anthony and Amar'e Stoudemire struggling to attain balance and chemistry on the court, fans will wonder if Lin could have made the difference. If the offense breaks down and the right passes aren't made next season, fingers will most certainly be pointed.
Just Another Team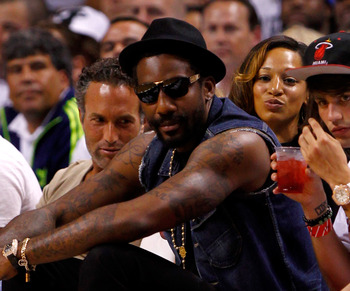 Mike Ehrmann/Getty Images
It didn't take the New York Knicks long to become just another ordinary team once again.
The only thing extraordinary about the roster at the moment is how absolutely clueless Amar'e Stoudemire appears in every possible way. He dresses like he's relevant but plays like the end is nigh.
Carmelo Anthony remains a dangerous scorer, but there's no telling how much of this burden he can shoulder when faced with clubs like the Miami Heat, Boston Celtics or a healthy version of the Chicago Bulls.
But, this isn't just about success on the floor.
The Knicks just feel mundane now.
They feel like a retirement party for Jason Kidd or a group therapy session for Stoudemire. There won't be any magic in Madison Square Garden this year. Unless Steve Novak makes the All-Star team or J.R. Smith finally lives up to his potential, there won't be many good stories this time around.
There will just be another playoff team destined to drop in the first or second round, a glorified version of the Atlanta Hawks.
He Was the Final Piece of the Puzzle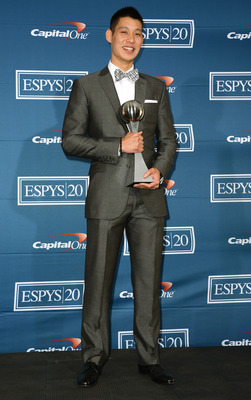 Frazer Harrison/Getty Images
The New York Knicks are set at every position other than the point.
Tyson Chandler and Amar'e Stoudemire create a more-than-capable duo in the paint, and Carmelo Anthony is one of the very best small forwards in the business. The combination Iman Shumpert and J.R. Smith gives New York solid options at the 2-guard spot as well.
The remaining area of need, of course, is someone who can run the offense.
Lin had his faults to be sure. He turned the ball over far too frequently and sometimes forced his offense at bad times.
But, this was also the guy's first real taste of consistent action. Of course he'd have some kinks to work out.
His body of work otherwise spoke for itself, though. And, he won't be easy to replace.
Keep Reading

New York Knicks: Like this team?