4 Things Manchester United Fans Would Like to See Against Cape Town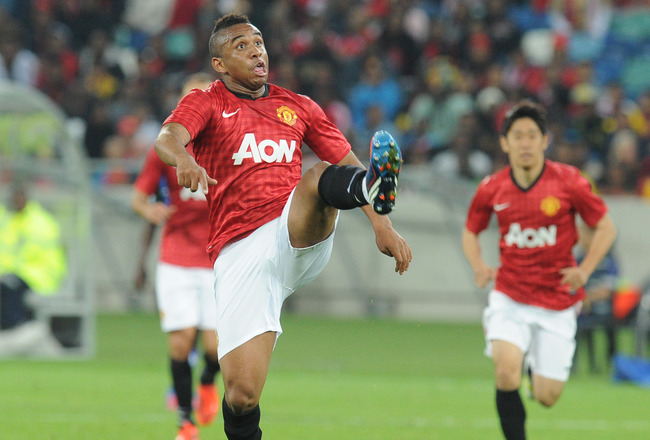 Gallo Images/Getty Images
With Manchester United's first preseason friendly for the 2012-13 season now behind us, it's time to look ahead to their next clash against Ajax Cape Town this Saturday.
The 1-0 victory over Amazulu was satisfying enough, but their are certainly areas for the United side to improve upon come this weekend's clash. It's not a disaster (very far from it) if these slight problems are not corrected in the next game. Remember, this is a preseason tour after all.
That being said, United fans perhaps have a few more things on their South Africa 2012 checklist that they would like to see before the end of their time abroad.
Much More Kagawa
Gallo Images/Getty Images
OK, so perhaps playing Kagawa from start to finish would have been a huge ask (and in a game of this variety, somewhat anticlimactic) for his Manchester United debut. But five minutes of injury time?
Was I the only one who thought it more worthwhile by that stage to simply not bring the Japanese International on at all? It's great to see Kagawa finally donning the red of United in the field of play, but it just seemed like a really odd time to bring someone who you expect will be in the battle for first-team football this season on for his first ever appearance.
If Kagawa was ever going to get a run out in this game, I expected it to be around the 70-minute mark, allowing him to make a small impact in the match without exerting himself too much. I understand that Sir Alex may be wary of one of his transfers for the summer getting injured in a relatively unimportant game, but bringing him on in the 90th minute just seemed downright odd.
Against Cape Town, it would be great to see Kagawa playing for 20, maybe even 30 minutes. United fans who perhaps aren't quite so familiar with the former Borussia Dortmund player will want to see exactly what the club has paid all that money for. Games like this are a great opportunity to do that. It's not a massive faux pas by any standard, but it just would have been great too see Shinji properly get involved in the match.
On a side note, it feels great (and a tad strange) to finally be able to use a photo of Kagawa properly kitted out in the colours of Man United.
Any Nick Powell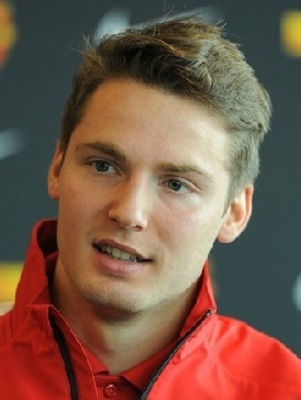 Again, I found it bizarre that Nick Powell didn't receive a single minute of playing time. Yes, I'm aware that Powell is, unlike Kagawa, not a player that will be making many regular first-team appearances for United in the near future. However, with the greatest of respect to the South African sides, the level that Nick has become acquainted to in Football League 2 is of a similar standard to both Amazulu and Cape Town.
Nick would have by no means been out of his depth in this game, and yet again it could have been a great chance to showcase the "wonder kid" that United fought so hard to sign ahead of the likes of Arsenal and Liverpool.
Hopefully against Cape Town, Nick will get on the pitch, and hopefully not as a 90th-minute substitute. (Sorry to bang on about it, but seriously, what is the point of bringing someone on at that time in a friendly match?) Having watched this young man net two fantastic goals for Crewe Alexandria at Gillingham's Priestfield Stadium last season, I can truly say he should live up to the potential.
Nick stripped out in a Red Devils shirt next match would be a great sight!
More Dominance (And Goals)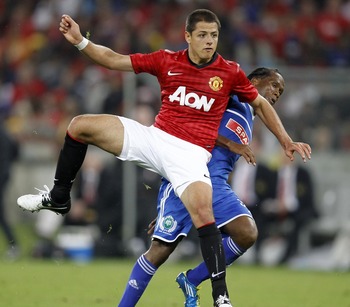 Gallo Images/Getty Images
Yes, it was a United side which consisted mainly of youth and first-team fringe players. Yes, it's only a preseason friendly in a continent that the majority of players aren't used to playing in. Yes, they were the away side. But it wasn't as if United were taking on Sao Paulo in Brazil.
It was Amazulu.
Again, no disrespect to the South Africans, but even a United reserve and youth team should be able to comfortably beat their opponents over 90 minutes—after all, the Red Devils are one of the best teams in the world. It was slightly disappointing how little of a choke-hold the inexperienced United side took over the game. But then that's just it (hopefully)—inexperience.
Still, a win's a win.
Having said that, the team should really go on and be looking to comfortably deal with Ajax Cape Town FC in their next match. I'm not expecting a mauling of any variety, but a victory by two or three goals would just be a lot more pleasing. It was also somewhat worrisome how many chances Amazulu had (especially considering Michael Carrick and Rio Ferdinand, two of United's defensive first-team players from last season, were playing for most of the game).
Again, I know it's only a friendly, but it's always nice to show the world why you're as respected as you are with a masterful performance, even if it is against "lesser" opponents.
The Same Mix of Youth and Experience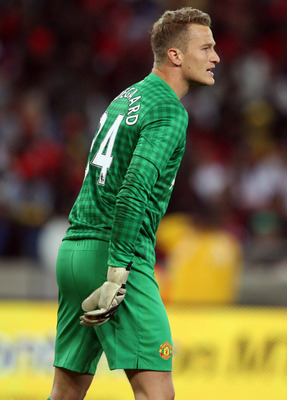 Gallo Images/Getty Images
One thing that was great was the amount of young talent on show (although this did again confuse me as to why Powell played literally no football). These games are the perfect chance to let the younger boys get a feel for the game, playing in the United first team.
What was even better was the fact that some regular first-teamers were also given a spell on the pitch to lead and guide the less experienced players in the United school of football. Remember, the majority of these young players could one day make a real impact in the history of Manchester United, and so it's crucial that they dabble in first-team football from an early age (even if it is just a friendly).
Don't be surprised to see a lot of the youth players from yesterday's game making up the first team for this year's Carling Cup side. Particular starlets from the match included Jesse Lingard in the midfield, and the already proven (and frustratingly similarly named from a sports journalist's point of view!) Anders Lindegaard in goal.
Hopefully, these players, among others, will be given a lot of playing time against Cape Town.
Keep Reading

Manchester United: Like this team?