Josh Koscheck vs Jake Ellenberger: Head-to-Toe Breakdown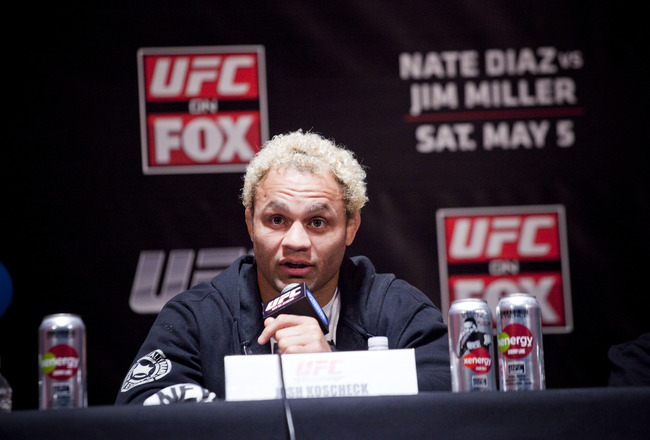 Michael Nagle/Getty Images
A showdown between two of the top welterweights in MMA is set to go down at UFC 151.
Former title challenger Josh Koscheck will look to get back into the mix at 170 when he takes on a fellow top contender in Jake Ellenberger at the September 1st event, and the winner will find themselves right back in the title picture with guys like Georges St-Pierre and Carlos Condit.
Both Koscheck and Ellenberger are coming off of tough defeats in the their last appearances inside the Octagon, but the fighters are still ranked near the top of the weight class and the winner should be considered a serious threat to whomever holds the UFC welterweight belt by the end of the year.
Striking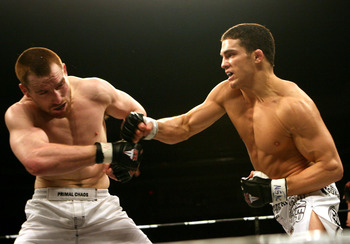 That's a ridiculously young "Juggernaut".
Ethan Miller/Getty Images
A fight between two high-level wrestlers can often lead to a striking match, and since Koscheck and Ellenberger both love to throw down on the feet, it seems very likely that this fight will spend a decent amount of time standing.
As long as the fight remains upright, neither fighter will find themselves with much of an advantage.
Koscheck's striking has improved by leaps and bounds over the course of his UFC career, but he's still a sucker for his overhand right and he seems to look for the finish more often than he looks to score points.
Ironically, a lot of the same points can be made about Ellenberger.
"The Juggernaut" has become a legitimate threat to knockout just about anyone on the division, but despite his striking improving on a fight-by-fight basis, his power is still his greatest asset on the feet.
Overall, I think these two are pretty even in the striking department and the fight should be close if it remains on the feet.
Advantage: Toss Up
Grappling
Richard Wolowicz/Getty Images
It's always fun when two of the best wrestlers in the sport face off, and the welterweight division gives us more of these types of fights than any other weight class.
In a division that features talented grapplers like Jon Fitch, Johny Hendricks, Mike Pierce and Georges St-Pierre, both Koscheck and Ellenberger have to be considered on par with all of those guys, which makes this fight so intriguing.
Koscheck has the better credentials and has shown off his wrestling attack more often than Ellenberger has during their UFC careers, but more importantly he has proved he can shut down some of the top guys in the division when they attempt to take him down.
In Koscheck's last two fights, he almost flawlessly shut down the wrestling of both Mike Pierce and Johny Hendricks and was able to score a few takedowns of his own against a couple of the toughest grapplers in the division.
Ellenberger is no slouch on the ground, but after watching Koscheck have the edge against Pierce and Hendricks in his last couple of bouts, it's hard not to give him the advantage.
Advantage: Koscheck
Cardio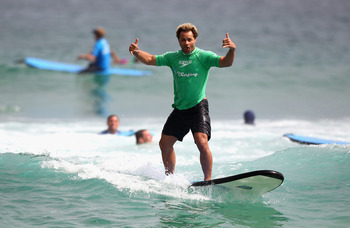 He also owns an airplane. I swear to god.
Ryan Pierse/Getty Images
This is where Koscheck could win the fight.
Ellenberger's cardio has come into question a few times when he's entered the later rounds, notably in his bouts again Diego Sanchez and Carlos Condit.
Koscheck has cardio for days, and he won't have any problems going the distance if needed.
Making matters worse for Ellenberger is that Koscheck is a notoriously tough fighter to finish, having suffered some serious beatings at the hands of Thiago Alves and Georges St-Pierre and was still able to stand at the end of the bout.
Simply put, the longer this fight goes, the harder it's going to be for Ellenberger to get the victory.
Advantage: Koscheck
Final Prediction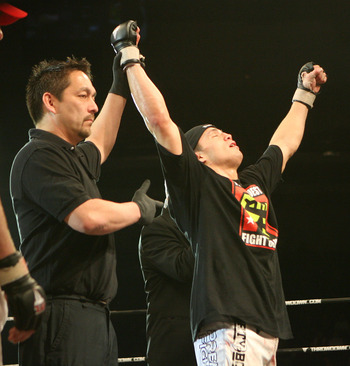 Ethan Miller/Getty Images
Even though Koscheck got the nod in two of the three categories, I've got to go with Ellenberger here.
Ever since he defeated Matt Hughes at UFC 135, Koscheck has been stuck with the undesirable mission to take on the best unknown welterweights on the roster.
Tough fights against Pierce and Hendricks ended in mixed results for Koscheck, but both bouts were extremely close decisions and this fight will likely end up being the same.
In the end, I think Ellenberger will catch Koscheck with a big punch or two that gives him a slight advantage in the striking department over the first two rounds. The wrestling will end up being a non-issue for both fighters and despite a late surge from Koscheck late in the fight, Ellenberger will escape with a decision.
Jake Ellenberger by Unanimous Decision (29-28, 29-28, 29-28)
Keep Reading