Boise State Football: Will Matt Miller Be One of BSU's All-Time Top 25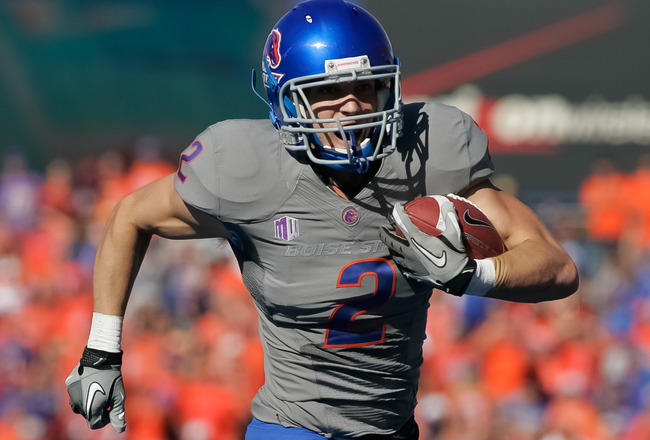 Otto Kitsinger III/Getty Images
What, in the scope of a football team, constitutes a "star player"? Is he the guy that is on the Heisman watch list, or any of the college postseason watch lists? Is he the guy that leads by example, or simply quietly goes about his job while performing in an exceptional manner? Yes, yes, and yes.
When considering the star players of the distant past, or those of the more recent past, there are a few qualities that stand out. They went out, did their jobs on the gridiron and did them well. They were impact players, and other teams were marking them on game day.
In considering the returning players on the Boise State football roster and who might be a player remembered after his playing days are done, different names jump to mind on both sides of the ball. Narrowing it down was tough, but there is a player that has made an immediate impact as a redshirt freshman and if he continues to improve, he could be one of those Broncos long remembered after his days in the blue and orange are done.
Meet Matt Miller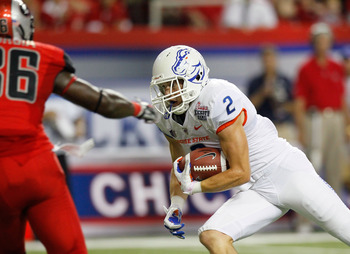 Kevin C. Cox/Getty Images
Miller was a hot commodity coming out of high school and had numerous offers from colleges. He ultimately chose Boise State. One reason cited, in addition to his desire to play football and work on academic endeavors, was the proximity to Miller's hometown of Helena, Mont.
According to a story on Helenair.com, Miller was immediately taken by BSU. He was quoted as saying, "I thought it would be a good fit for me. I was happy when I was down there and felt comfortable immediately. They win a lot of games and I want to be a part of something like that."
He sat out the 2010 season as a redshirt, but made an impact when he got the chance to suit up in 2011.
His Redshirt Freshman Year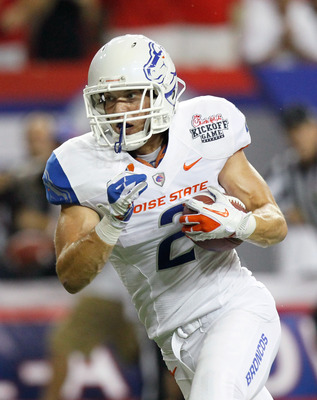 Kevin C. Cox/Getty Images
At 6'3", 210 lbs, with 4.55 40-yard speed, Miller can be a big target. In 2011, he hauled in 63 passes for 679 yards and nine touchdowns. He set the Boise State freshman receiving record in receptions, yards and touchdowns, had touchdown catches in eight games of the 13 he played in, and was named First Team FWAA Freshman All-American and Yahoo Sports Freshman All-American Second Team.
On the Watch Lists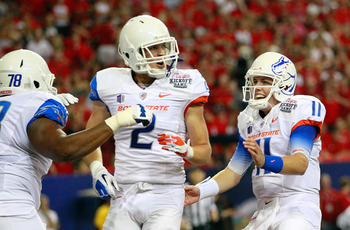 Kevin C. Cox/Getty Images
Miller is no stranger to accolades. In Montana he was the 2009 Gatorade Football Player of the Year. On Tuesday, he was named to the 2012 Biletnikoff Award Preseason Watch List. He is one of four Broncos to be named to that watch list in the past three years and is the only sophomore on the list. He is also featured on the regional cover of Phil Steele's College Football 2012 Preview magazine.
The Catch
The game was knotted at 7-7 with the first half coming to a close. Boise State was playing less than stellar against Wyoming. With time left for one more play, BSU quarterback Kellen Moore takes the snap, rolls to his left and launches a 46-yard pass toward the end zone. Wide receiver Matt Miller is knocked down as he attempts to cut back to the middle of the field. Wyoming defender Tashaun Gipson goes up to pick off the pass, but the ball is out of his reach. Instead, improbably, the ball goes through Gipson's hands and lands on Miller, who is laying on his back in the plane of the goal line. Touchdown, Broncos. It was the spark BSU needed to run over the Cowboys, 36-14.
Inasmuch as it may have been luck, that Miller caught the pass while laying on the blue turf speaks to his focus and ability to make a momentum-shifting play. He may be called on to do that much more in the upcoming season.
Future Bright
Any number of things can happen over the course of the next three years, but there is little doubt that Miller has a bright future if he stays healthy. The pending season will be particularly important. Miller will have to get off to a fast start, and be a dominant factor in the Bronco passing attack.
He has help from other wideouts and tight end Gabe Linehan, but Miller is hardly a secret now and teams will be keying on him. If Miller can continue to improve on the stats he put up as a redshirt freshman, then he has a chance of becoming one of the best to have played the position for Boise State.
Keep Reading

Boise State Football: Like this team?