Vegas Summer League 2012: Breaking Down Thursday's Games to Watch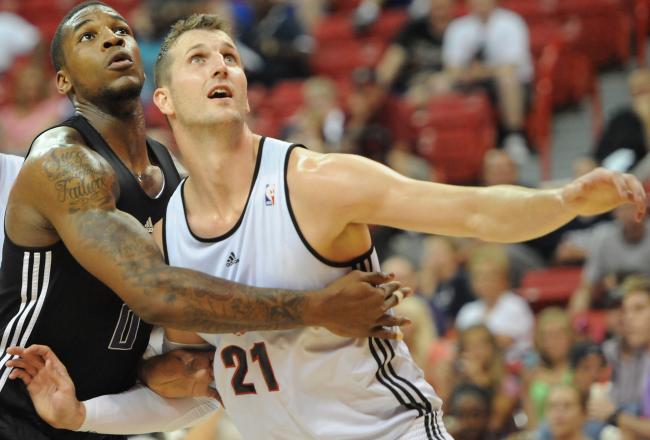 Jayne Kamin-Oncea-US PRESSWIRE
As the Las Vegas portion of the NBA Summer League winds down, some of Thursday's games are going to be incredible to watch. From a city rivalry to a battle of two young squads to one of youth against experience, these are games that all of you NBA fans out there should watch on NBA TV if you can.
There are seven games on Thursday, all of which should be very enjoyable. However, at least in my living room, I'll be tuning in to these three for what is sure to be some eye-popping action.
Cleveland Cavaliers vs. Minnesota Timberwolves, 8:00 pm ET
The Cavs and the 'Wolves are two teams that could potentially make a lot of noise in the coming season, and some of the youngsters they'll have playing Thursday night could play a large role when that time rolls around.
In particular, I'm excited to watch Tyler Zeller and Dion Waiters of the Cavaliers. Both were first-round picks at the draft this year and have been tearing it up in the Summer League. Zeller has averaged 14.3 points and eight rebounds a game to go with 1.7 blocks, and he's looking like he's going to be a great big man. Waiters has only shot 30 percent from the floor, but his 12.3 points are respectable nonetheless.
However, the real man to watch is on Minnesota's end. I'm talking about forward Wes Johnson, who has yet to make a major impact in the NBA after being taken fourth overall in 2010. Since the team now has fellow small forward Chase Budinger aboard, Johnson put himself to work this summer and is averaging an astounding 20 points per game on 41-percent shooting. He's out to prove something and in this environment, he'll have plenty of opportunity to shine.
Needless to say, I'm excited to watch the online stream of this.
Los Angeles Lakers vs. Los Angeles Clippers, 8:30 pm ET
In the battle for city pride, the young guns of the Lakers and Clippers will face off Thursday night, and it will be broadcast on NBA TV. I love watching both of these teams during the regular season, so I'm even more excited to see the prospects face off.
On the Lakers' end, second-year player Darius Morris is averaging 16.3 points per game and is starting to look like he may have potential as a scoring point guard or even a solid shooting guard. If he keeps it up in this game, chances are he could open the season as Steve Nash's backup.
However, I'm more excited to watch the Clippers, as they currently have two players on their roster fresh from the NBA's version of the Island of Misfit Toys. That's right, fans, I'm talking about Hilton Armstrong and Adam Morrison.
Armstrong is starting to look like the dominant force he was his senior year at UConn. In just one game in Vegas, he scored 11 points, pulled down nine rebounds and had an astounding four blocked shots. Morrison, a former No. 3 pick who most of us have probably banished to NBA bust-land, also scored 11 points and has added some athleticism to his game, pulling down five rebounds.
No matter who wins, this is a matchup that's going to get a lot of press.
NBA D-League Select vs. Milwaukee Bucks, 10:30 pm ET
Nothing is more fun than seeing the pros take on the Joes, and while I have nothing but the utmost respect for players who toil away in the D-League, I enjoy seeing them take on their NBA counterparts. That said, I'll definitely be tuning in to see the Summer League's team of D-Leaguers take on the Milwaukee Bucks.
Leading the D-League crew is former Knicks guard Mardy Collins, who has averaged 10 points per game in Vegas. Helping him with the scoring load is Leo Lyons, who has averaged 11.5 points off the bench and is shooting 40 percent from long range.
On Milwaukee's end, look no further than former Kentucky Wildcat and rookie Doron Lamb. The sharpshooter has lived up to his reputation, as he scored 20 points on 6-of-12 shooting and showed that he could drive to the basket as well as he can shoot threes, not taking one shot from long range.
Lamb wasn't alone in the scoring as second-year man Tobias Harris scored 19 points and showed that he could make a great impact entering next season.
That all being said, if you're a fan of high-scoring games, be sure to stay up late and tune in to this one!
This article is
What is the duplicate article?
Why is this article offensive?
Where is this article plagiarized from?
Why is this article poorly edited?