US Olympic Gymnastics Team: Gabby Douglas and Women with Shot at All-Around Gold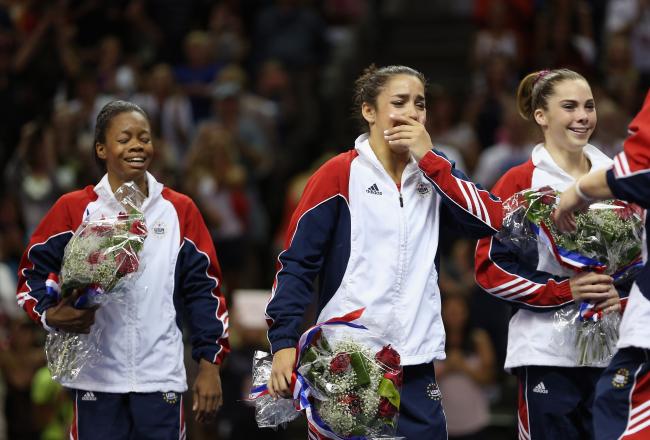 Ezra Shaw/Getty Images
The United States women's gymnastics team is creating plenty of buzz on its way to London, and a few members will compete for the coveted individual all-around gold medal.
In 2008, Nastia Liukin and Shawn Johnson took gold and silver, respectively, and Americans certainly have a chance to occupy the two tallest podiums once again.
There will be monumental pressure on these young athletes, but there is an endless amount of talent on the team.
Here are the three United States women who will compete for gold in the individual all-around competition.
Gabby Douglas
Douglas pulled off an incredible upset by winning the United States Olympic Trials.
Jordyn Wieber was favored, but Douglas' incredible skills on the uneven bars, as well as her overall talent, allowed her to come out on top.
Liang Chow, the same man who tutored Shawn Johnson to a silver medal four years ago, coaches the 16-year-old Douglas. She will have the best advice possible all the way through the tournament.
Douglas is unfathomably talented and she broke out as a star at the Olympic trials. She is a sure bet to medal in the all-around competition in London, and she will be a serious contender for gold.
Jordyn Wieber
Who wil win the all-around gold?
Wieber won the gold medal in the all-around competition at the 2011 World Championships and will be looking to add to her hardware collection this summer.
The 17-year-old was considered the top female gymnast in the country heading into the trials. Some now feel Douglas holds that title, but Wieber is still a world-class talent.
She and Douglas will lead the United States in the team competition, but will fiercely battle for all-around gold.
Wieber has the skills and experience to win the coveted medal, and it is likely that she and Douglas will have the two most impressive finishes in London.
Kyla Ross
Ross is just 15 years old, but took silver in the all-around this year at the Pacific Rim World Championships. She finished behind Wieber at the event.
Douglas and Wieber are the two clear favorites heading into London, while the rest of the Team USA members will be long shots in terms of the individual all-around competition.
But Ross, more than any other Team USA member besides the two stars, has a chance to come out on top.
She is certainly talented and her true potential is relatively unknown because she is in the first season of her senior career. While she will be an underdog, look for her to impress in London.
This article is
What is the duplicate article?
Why is this article offensive?
Where is this article plagiarized from?
Why is this article poorly edited?