WWE Raw: 7 Tag Teams Who Should Be on the 1000th Episode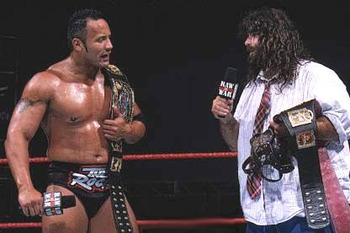 sundaynightheat.tumblr.com
A long time ago, tag teams were just as important as singles competitors in the WWE.
Great tag teams like Demolition, The Legion of Doom and the Hart Foundation ruled the federation and fans loved to cheer on their favorite wrestlers in twosome action.
Oh, how times have changed.
Today, tag teams are almost obsolete and the need to bring back the all-important division is ever present.
Here are a few tag teams we would love to see appear on Raw's 1,000th episode.
Maybe seeing the old guard will help establish the new one.
The Rock and Mick Foley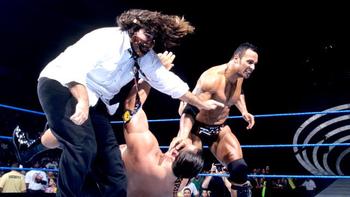 wwe.com
Nothing said cheesy like the Rock and Sock Connection.
Never were two wrestlers polar opposites who worked as well together as The Rock and Mick Foley.
While they were great opponents fighting over the WWE Title, when they came together as a tag team, it worked surprisingly well.
Paul London and Brian Kendrick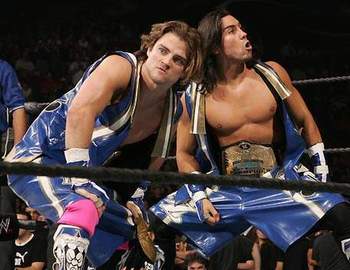 obsessedwithwrestling.com
Their style and ability was great in a time when the WWE needed a really good cruiserweight tag team.
They set the tone for other smaller tag teams, which is now a lost art form in the WWE.
I would love to see them come back for the celebration and stay around for a while.
Batista and Rey Mysterio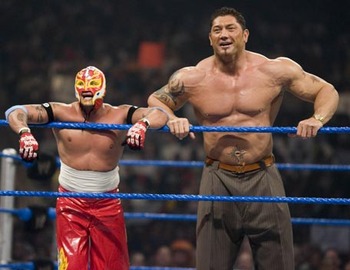 wwephotos.org
Power and speed. They were very successful because they took advantage of their strengths.
As Batista beat the hell out of their opponents, Mysterio used his legs and size to outsmart and out-quick his opponents.
i liked watching them, but today, I am not sure they would work in the WWE.
APA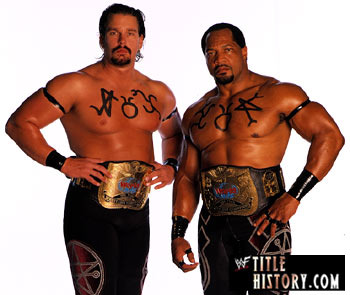 backstagebusiness.wordpress.com
DAMN!
Was there a bigger and badder tag team? Bradshaw and my favorite FSU alum, Ron Simmons, were one tough team that plowed right through opponents.
I would love to see them in a match with some team like Beer Money.
Unfortunately, that will never happen.
Too Cool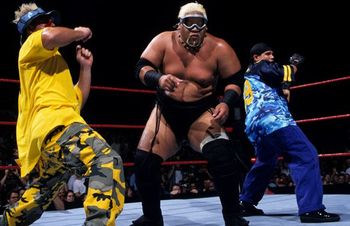 catch-americain.wifeo.com
One of the most misunderstood tag teams and the most flamboyant.
Brian Christopher and Scotty 2 Hotty were "odd" to say the least.
Add Rikishi to the mix and they were downright bizarre.
But watching Rikishi dance after a match was worth its weight in gold.
Edge and Christian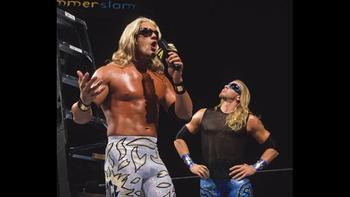 wrestling-match.com
Again, bringing the past to the present.
No team in the WWE personified success like Edge and Christian.
And when they faced The Hardyz or The Dudleyz, it was awesome.
Especially in a TLC match.
Evolution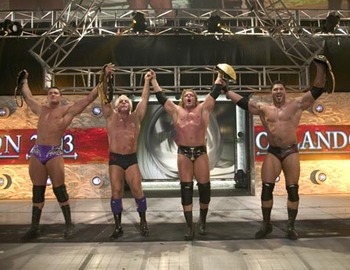 wrestling-match.com
The WWE's version of the Horsemen.
And it could still work today.
Ric Flair, Triple H, Randy Orton and Batista were a great clique who all owned titles, much like the Horsemen of old.
This time, Ric Flair was the elder statesmen of the group and Triple H was the "Flair."
Still, we miss seeing all them in action.
Keep Reading