What Training Camp Can't Teach Us About the Cincinnati Bengals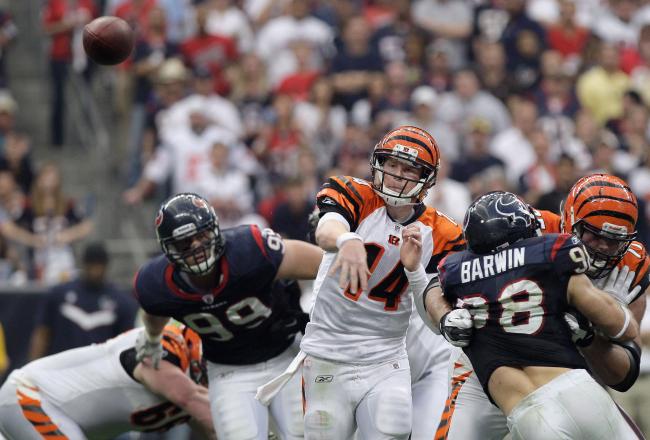 The Bengals ended the 2011 season with a 9-7 record and a playoff berth, but training camp won't provide any hints as to whether they'll do it again this year.
Thomas B. Shea/Getty Images
NFL training camps teach us a lot about teams and their upcoming seasons. We can learn who has improved his standing to make it to the 53-man roster, whose stocks have dropped, a general idea of a given team's offensive and defensive strategy, and whether someone injured last year can return to full health and effectiveness in the next.
However, there are a host of things that training camp cannot teach us, and that's what I am focusing on today. Here are three things that we simply cannot learn about the Cincinnati Bengals by looking at what they do on the field in their upcoming training camp.
Whether Quarterback Andy Dalton Will Suffer a Sophomore Slump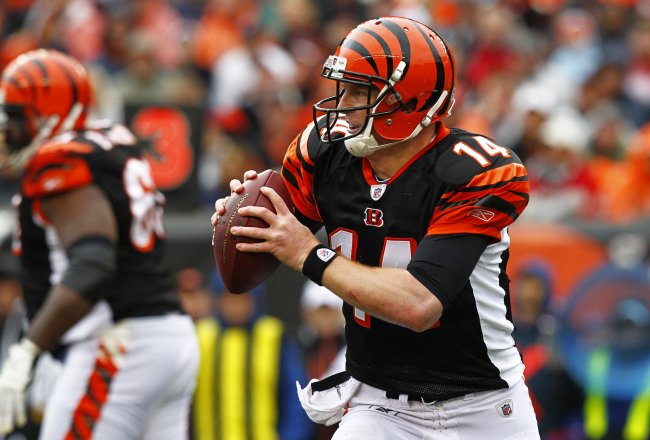 Can Andy Dalton avoid the sophomore slump? We'll have to wait for the regular season to start to figure that one out.
Tyler Barrick/Getty Images
Andy Dalton's arm will get quite the workout in training camp as he continues his progress as the Bengals starting quarterback and as the battle between wide receivers for roster spots heats up even further.
Though Dalton will have ample opportunity to display whether or not he's taken a step forward or backward in the time between his rookie and second seasons, it won't truly be until the regular season starts that we can accurately evaluate whether Dalton will suffer the dreaded sophomore slump.
There seems to be many a reason why this shouldn't be the case for Dalton—A.J. Green, for one; the rest of the young receiving corps, another; and the fact that he performed so well while being thrown into the very hot frying pan that is a starting quarterback job after coming off of no offseason preparation.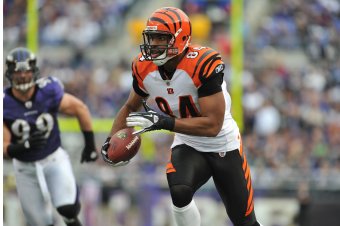 With weapons like tight end Jermaine Gresham, the offensive lineup is certain on the side of Dalton continuing to improve.
Larry French/Getty Images
Dalton had a strong rookie year, completing 58.1 percent of his passes for 3,398 yards, 20 touchdowns and 13 interceptions. He also ran with the ball 37 times, good for 152 more yards and another score. However, he hit some speed bumps in the second half of his inaugural season, with under 200 passing yards in each game between Weeks 13 and 16.
NFL Films' Greg Cosell believes that arm strength is a weakness for Dalton—but that it's practically his only weakness, and one that offensive coordinator Jay Gruden has worked hard to minimize. It shouldn't cost Dalton this year either, with the array of weapons at his disposal and the increased attention he will be paying to his accuracy, timing and overall confidence.
But what happens on the practice field—and even in preseason games, where starters get limited reps—cannot fully predict how Dalton will handle the pressure that accompanies a quarterback entering his second season. Only once the season starts will we know if Dalton could be taking a step back.
How the Running Backs Will Split Carries
The ways in which Bernard Scott, BenJarvus Green-Ellis and Brian Leonard split carries in practice won't tell much about how they'll do so in the regular season.
Joe Robbins/Getty Images
Chances are, in training camp, the three Bengals running backs most likely to see regular on-field action this season will get various amounts of carries and targets every day, which doesn't truly indicate the team's ultimate plans for them in the regular season.
Heading into camp, it seems like BenJarvus Green-Ellis and Bernard Scott will be splitting carries evenly, but once the season begins it could evolve into more of a hot-hand approach. And don't forget about Brian Leonard—though he's more valuable in passing situations and as a blocker, he will also snag himself at least 20 carries this season as well.
It'll be interesting to see if the Bengals choose to increase Brian Leonard's carries this year.
Andy Lyons/Getty Images
Green-Ellis is more valuable as a goal-line and short-yardage back while Scott is better between the 20s, but that doesn't mean that will be the set in stone template for their usage this year.
Much depends on the in-game situation. If the Bengals find themselves with a high number of short-and-goal situations, Green-Ellis could find himself used more heavily. If the Bengals have well-established leads in the second half of games, both men should get an increased workload.
Camp and preseason games will likely be more of a test-and-learn platform for the running game this year, rather than an indicator on just how heavily they'll rely on one back over another. So much will depend on in-game situations that little hints about how the Bengals plan to use Green-Ellis, Scott and Leonard will be found via camp performance alone.
Whether the Bengals Can Keep Up the Momentum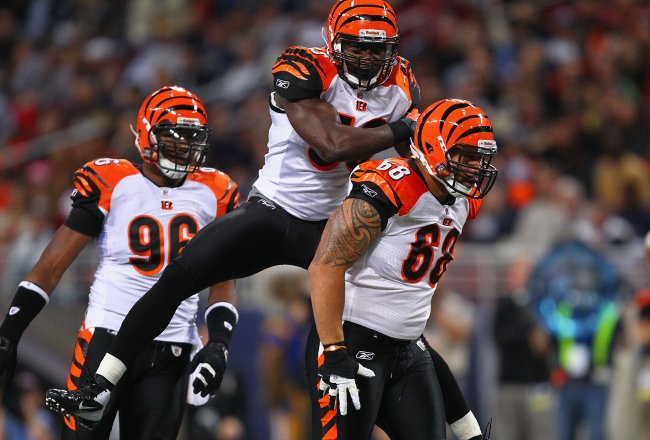 Whether the Bengals have something to celebrate at season's end will depend very marginally on what happens in camp.
Dilip Vishwanat/Getty Images
Every team's training camp generally goes well—some players look good, some don't; some make the active roster, and some don't; and, ultimately, there's a sense of optimism in the air among all of the hard work, inevitable stifling heat and ever-present worry that a valuable starter may suffer a season-ending injury before even taking the field.
Within this pressure cooker, one simply cannot tell how a team is going to ultimately perform when it comes to the regular season. There are hints, of course,—if the starting quarterback completes only 40 percent of his passes in practice, for example, that's not a good sign—but camp is a time for preparation that can only hope to vaguely simulate what a team will experience throughout a season.
For the Bengals, this is an interesting year, one that can cement that they are a team transformed or one that personifies the concept of "the more things change, the more they stay the same." The Bengals haven't had back-to-back winning seasons since the strike-shortened 1982 season—and not since 1977 if we're talking full seasons.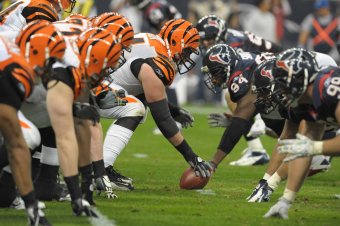 A good training camp is not much of an indicator of whether the Bengals can repeat their 2011 success.
Kirby Lee-US PRESSWIRE
In 2009, they won the AFC North with a 10-6 record and immediately followed it up with a fourth-place, 4-12 year. So, the Bengals won't truly know if things have turned around from the up-and-down years of yore until the regular season begins.
Since 2005, the Bengals have often looked like a team on the verge of greatness, only to respond disappointingly. Though there is much reason for optimism this year—and though they are likely to have a very good and productive training camp—only their year-end record will determine if the Bengals can shake off the stigma of the past and truly move forward. No matter how well camp goes, that's just not where games are won or lost.
This article is
What is the duplicate article?
Why is this article offensive?
Where is this article plagiarized from?
Why is this article poorly edited?