Arsenal Transfer News: Robert Lewandowski and the Latest Buzz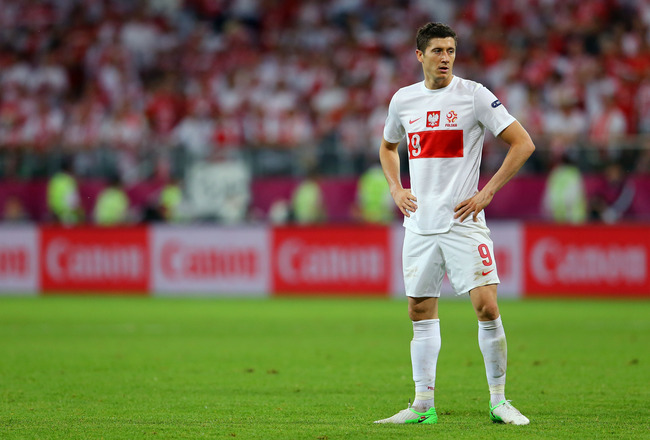 Christof Koepsel/Getty Images
Arsenal has already had one of the best summer transfer windows among all Premier League teams, and could be adding more pieces soon.
After acquiring forwards Lukas Podolski and Olivier Giroud, one might think that Arsene Wenger and the Gunners may be content. However, Arsenal has reportedly shown interest in multiple other players, including Robert Lewandowski, M'Baye Niang and Lewis Holtby.
Let's take a look at the latest rumors surrounding these players and Arsenal.
Robert Lewandowski Looking to Move to 'Greater Heights'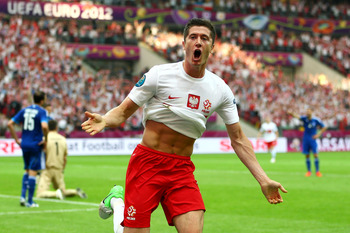 Michael Steele/Getty Images
According to Goal.com, 23-year-old Polish striker, Robert Lewandowski has stated that he wishes to play in the English Premier League:
This [the Premier League] is a league in which I would like to play and I hope to manage that at some point, he told Polish television station TVP.
Lewandowski's current club, Borrussia Dortmund, is now in a situation similar to Arsenal, as the Gunners are dealing with their own superstar who wants out—Robin van Persie. Dortmund is desperate to sign their star player to an extension.
At the very least, Dortmund would like to see Lewandowski stick around for the upcoming season, as they hope to win a third straight Bundesliga title and make a strong push in the UEFA Champions League.
The young striker has helped his club to consecutive German titles and a German cup victory. Lewandowski scored 30 goals last season in 46 appearances for Dortmund, and added two goals in his five Euro 2012 games.
Lewandowski's comments are likely to start a bidding war among the top premier league clubs—Arsenal, Manchester United and Chelsea to name a few. If Arsenal is able to land him, they could conceivably cut ties with van Persie without losing much scoring.
Arsenal Told to Up Offer for Niang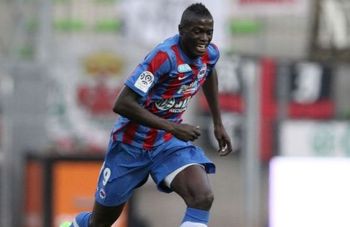 AFP/Getty Images
Another young striker whom Arsenal have shown immense interest in is 17-year-old, M'Baye Niang.
Arsenal made an offer to Niang's current club, Caen, of approximately £6 million. However, according to Goal.com, Caen has rejected that offer. Club president Jean-Francois Fortin has this to say (via Goal.com):
It [the bid] is not derogatory, but it's not what we want.
Niang has reportedly been urged to stay in France and develop his game further before taking his talents to the Premier League. After all, he is just 17 years old and already shows excellent scoring ability.
Other Premier League teams, including Tottenham and Manchester City, have shown interest in the phenom. Niang would be a great addition for the Gunners because he can play as a winger, attacking midfielder or central striker, his preferred position.
Gunners Eyeing Lewis Holtby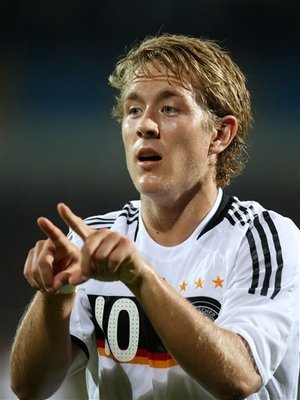 Courtesy: Arsenalinsider.com
If you are up-to-date on Arsenal rumors, this wouldn't be your first time hearing that the Gunners are interested in the Schalke midfielder Lewis Holtby.
Back in February, it was rumored that Arsenal had arranged to acquire Holtby, having already set up a pre-contract with the 21-year-old. However, nothing ever came of those rumors.
Now, it's being reported by The Mirror that the Gunners are going after Holtby to replace Theo Walcott. Contract talks with Walcott have reportedly broken down, and Arsenal is apparently going in a different direction.
Holtby has been considered a very promising young talent for many years, and would be a great replacement for Wolcott.
This rumor seems to have some real legs to it, so don't be surprised if Arsenal acquires Holtby sooner rather than later.
Keep Reading

Arsenal: Like this team?