Arkansas Twitter Reaction and Analysis from SEC Media Days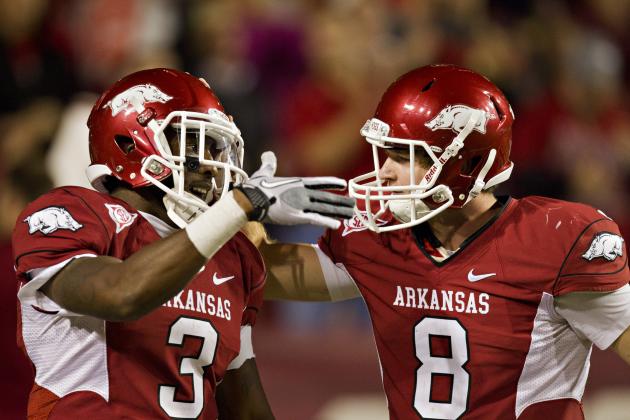 Wesley Hitt/Getty Images

The Arkansas Razorbacks are one of the more intriguing teams from SEC media day. The talent is there to compete with the best of the best teams in the country, but there are certainly questions heading into fall camp.
Things such as is Knile Davis fully removed from his ankle injury? How will this team replace three key wide receivers? And is interim head coach John L. Smith truly ready to lead this team to an SEC title, after losing a coach such as Bobby Petrino?
With SEC media day underway, here are some of the latest updates on your Arkansas Razorbacks.
Begin Slideshow

»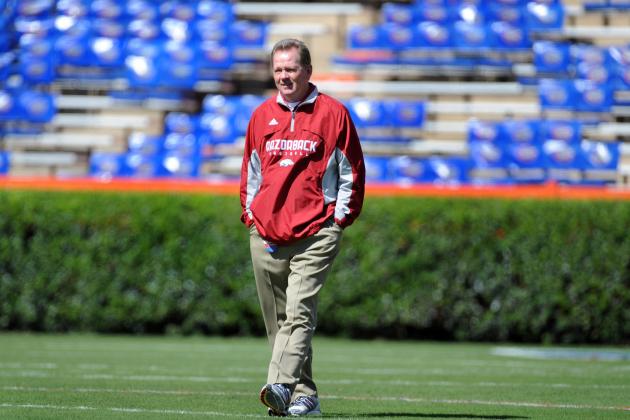 Al Messerschmidt/Getty Images

Interim coach, John L. Smith said he recently met up with former head coach, Bobby Petrino and had a chance to catch up on things.
"It's one of those things that you just pray for him and hope that the very best can take place," Smith said. "A mistake has happened, and hopefully it can be something that can be remedied." (Via the Orlando Sentential)
Petrino was fired in April of last year, due to a motorcycle accident that revealed he had hired his mistress on the Arkansas staff.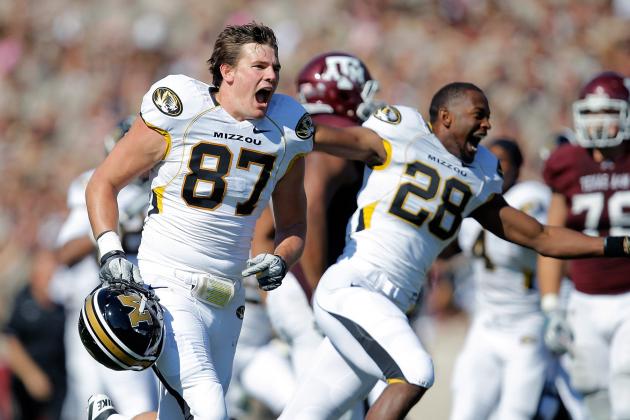 Sarah Glenn/Getty Images

With two new teams in the SEC this season, Arkansas running back Knile Davis would like to greet both the Missouri Tigers and Texas A&M Aggies with a warm welcome. (Via WTVY-TV, Matt Harris)
#Arkansas RB Knile Davis: (Referring to Mizzou and A&M) "I hear the rookies been talkin noise. Sayin the SEC ain't all that. They'll see."

— Matt Harris (@MattHarris_WTVY) July 18, 2012
Nothing like trash talk from both sides to build the tension heading into the season. College football season is here!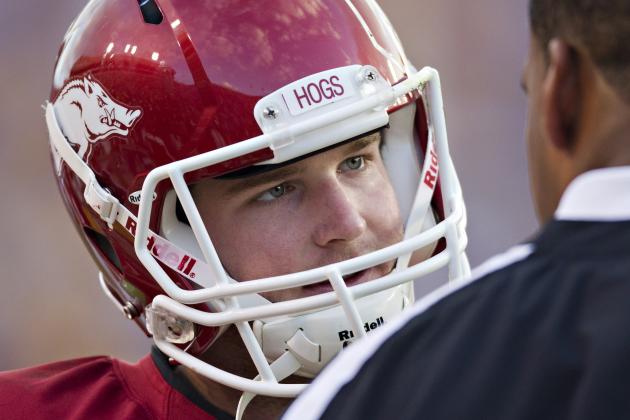 Wesley Hitt/Getty Images

If there is anything to take away from the Arkansas press conference, it is that this year's squad is full of confidence, despite all of the obstacles they may have to overcome. (Via Courier-Journal's, Kyle Tucker)
John L. Smith: "We have one goal, and we're not bashful in reiterating that. ... Our goal is to be a national championship team."

— Kyle Tucker (@KyleTucker_CJ) July 18, 2012
With a stacked offense returning, a favorable schedule, and many key players on the defensive side of the ball, Arkansas could very well be heading into the right direction.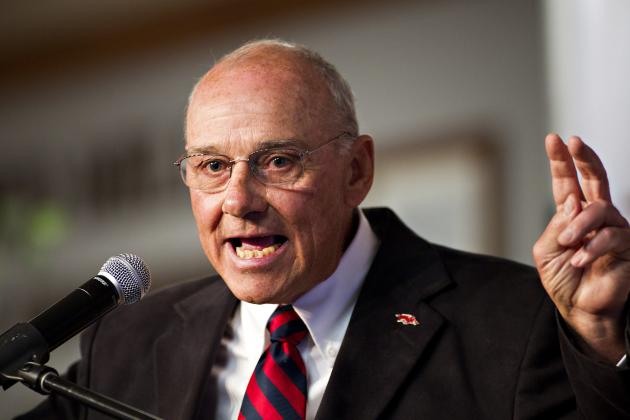 Wesley Hitt/Getty Images

John L. Smith is only the interim head coach, which means he is not guaranteed anything beyond this season. When asked if he would like to coach past the 2012 season, he answered a question with a question. (Via The Register-Guard's, George Schroeder)
Does he want to be Arkansas coach next year? John L. Smith: "Well, certainly. Do I look stupid? -- Don't answer that!"

— George Schroeder (@GeorgeSchroeder) July 18, 2012
Looks like the SEC has another great coach for the media to eat up.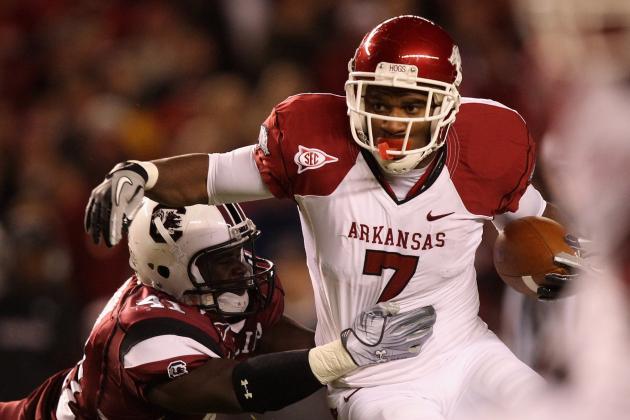 Streeter Lecka/Getty Images

We haven't Arkansas running back Knile Davis sense 2010, when he suffered an ankle injury. But don't think that has affected his confidence in any way heading into 2012. (Via ESPN's Edward Aschoff)
#Razorbacks RB Knile Davis: "I'm still the best running back in this league." strong statement

— Edward Aschoff (@AschoffESPN) July 18, 2012
Davis rushed for over 1,300 yards in 2010, but missed all of the 2011 season. Hopefully this means that he is healthy, and ready to go for the season opener.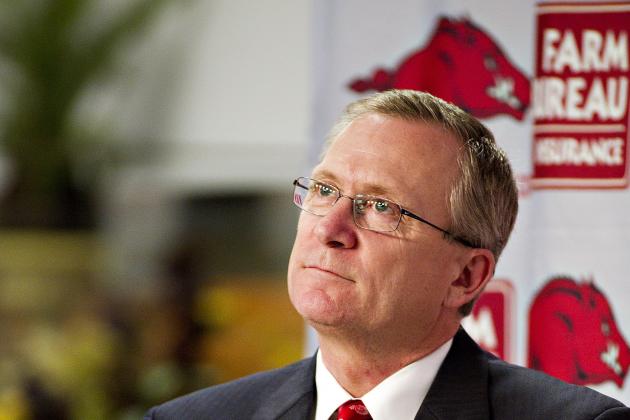 Wesley Hitt/Getty Images

There will be a total of six head coaches speaking today at SEC media day, with two of them down already, Arkansas coach, John L. Smith is the next to take the podium. (Via Hog Blog)
John L Smith up at 11:50 today, right after Dan Mullen. Coverage is on ESPNU.

— HogBlog (@WoooooPigSooie) July 18, 2012
This may be one of the longer press conferences of the day, due to the amount of questions surrounding this football team heading into 2012.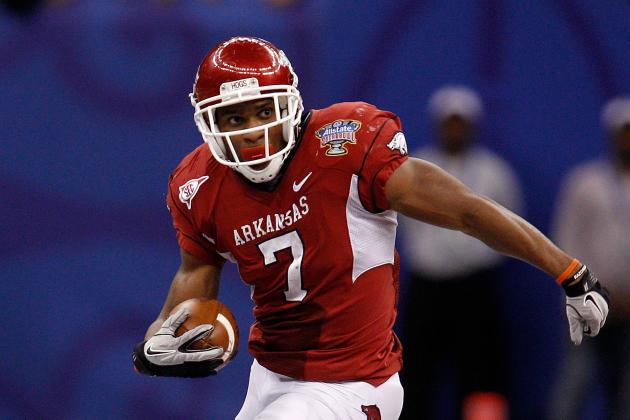 Chris Graythen/Getty Images

While running back Knile Davis continues to rehab from his ankle injury, at least he is able to stay upbeat and enjoy a good laugh through the rough time. (Via Arkansas/Saturday Down South)
"I set off metal detectors when going to airports." -Knile Davis on previous injuries

— Arkansas Razorbacks (@Razorbacks) July 18, 2012
Hopefully Davis didn't experience too much trouble making it to SEC media day.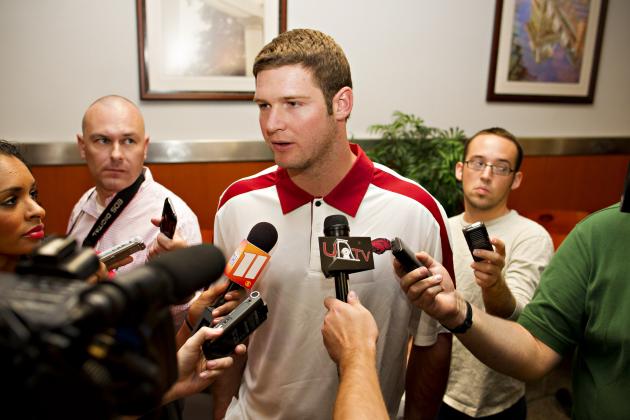 Wesley Hitt/Getty Images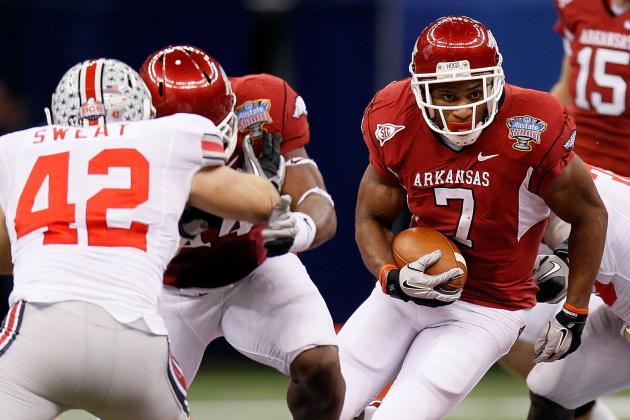 Kevin C. Cox/Getty Images

One of the more interesting questions for the Razorbacks, which everyone wants to know the answer to, surrounds the health of running back Knile Davis. He is dressed to impress, and has posted images via his Twitter account, but will soon have to answer a bunch of questions about his health.
Wheels up!!! instagr.am/p/NOcsx6AQ7z/

— Knile Davis(@BoobieKnile_Era) July 18, 2012
Davis was a 1,000-yard rusher in 2010, who ended up missing the entire 2011 season due to an ankle injury. If he is able to get back onto the field this season, he will certainly give the Razorbacks a key offensive weapon and possible Heisman candidate.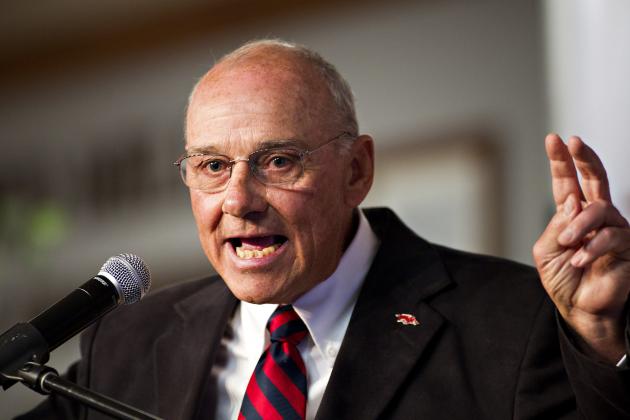 Wesley Hitt/Getty Images

We all know about the incident that took place with former head coach Bobby Petrino during the offseason. John L. Smith is now the interim coach, who will take over for this team for the 2012 season.
How will the players respond to him? How will the move affect the team during its possible SEC title run?
It will be interesting to see how the players respond around Smith and if it plays a major factor in this season's success.