It is widely believed that Luka Modric is very close to securing his move to Real Madrid.
Andre Villas-Boas, in his first press conference as Tottenham manager, signalled his resignation to the fact that the Croatian is leaving.
According to The Daily Mail, the fee is circa £30 million, with add-ons worth between £3-5 million. This, clearly, is a block-buster move during this summer's transfer window, so how can Jose Mourinho utilise his soon-to-be new acquisition?
Mourinho's Madrid
Jose Mourinho has always been a careful coach. He might play some expansive, attractive football at Madrid, but when it comes to facing the big boys, his side is compact and cagey.
He's tried several different strategies in order to beat El Clasico rivals Barcelona, each of which were careful, pragmatic and safe.
Mourinho moved from his expansive, overpowering 4-3-3 at FC Porto to a safe, solid 4-5-1 at Chelsea. Both were very different formations and both generated huge success, but it's important to note Porto's compact nature against the bigger sides in the UEFA Champions League.
Mourinho even famously declared in his biography that he realised he'd need 12 players to beat Manchester United on the way to their European triumph.
His pragmatic nature shows through at Real Madrid too, as the 4-2-3-1 he employed against Bayern Munich last season was significant of his approach to football.
How does Luka fit?
Take the 4-2-3-1 as the template for next season, as that's what Madrid will play. It allows Mesut Ozil freedom in the centre and Cristiano Ronaldo freedom on the left due to the two holding midfielders.
The holders—usually Xabi Alonso and one of Lass Diarra or Sami Khedira—are not exclusively destroyers, as a lot of their good play and accurate, direct plays come through Alonso.
I expect Modric to come in and play Alonso's role. No, he's not going to overtake him in the pecking order, but it has become abundantly clear that Diarra, Khedira nor Nuri Sahin can play the Hollywood ball Alonso can.
Modric would slot into this holding duo with ease and quickly put to the bed the widespread misconception that he plays the same offensive role that Kaka or Ozil would.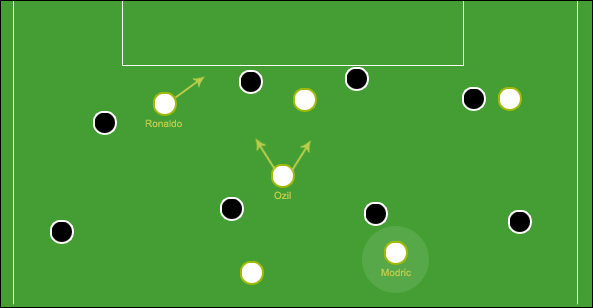 Conclusion
Alonso isn't slowing down; he's only 30; and he's got several years left in him, considering the role he plays.
Mourinho does seem concerned, however, that should Alonso not play, Real Madrid would stutter.
Sahin was brought in to perhaps lend support in this role, but he has failed to impress—so much so that his name is a much-fancied swap-deal possibility to actually land Modric (via Yahoo!.)
Modric won't play behind the front man as Ozil does; he'll slot into the two-man central midfield.
He'll do well there, too.