Chicago Bears: 4 Reasons Fans Should Be Excited for Camp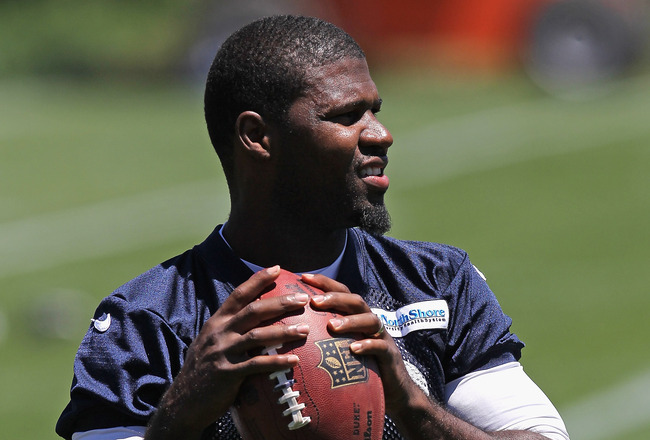 Jonathan Daniel/Getty Images
With training camp just one week away, Bears fans are excited that the long awaited football season is just around the corner, and for good reason.
The 2012 Chicago Bears are contenders for the Super Bowl, and the management have been major players in the offseason, re-signing key players such as Matt Forte, and bringing in elite talent such as Brandon Marshall.
There is a lot to be smiling about if you're a Bears fan, and the 2012 roster is filled with promise.
Lets take a look at four reasons to be excited for the Chicago Bears' training camp.
Improvement Along the Offensive Line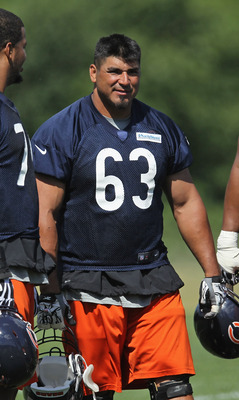 Jonathan Daniel/Getty Images
In recent years, the Chicago Bears offensive line has been the sore thumb of the offense, and Jay Cutler has been pummeled because of it.
In fact, just recently in an article by windycitygridiron.com, the Bears offensive line was ranked 29th in the NFL.
However, with the addition of a healthy Gabe Carimi to the fold, the line has to show improvement from the 2011 campaign.
Also, Mike Tice will help the big fellas up front by employing more double tight end sets, as well as eliminating seven-step drops, the staple of a Mike Martz offense.
If the Monsters of the Midway hope to reach their true potential in 2012, the offensive line has to improve.
Good thing for Bears fans they can't get much worse than they have been over the past few seasons, as Cutler has been sacked more than any QB in the league.
The key to success in the trenches will be consistency. During the middle of the season, the O-line did a much better job of protecting Cutler, and it resulted in wins.
The coaches need to help out players that consistently struggle like J'Marcus Webb, who is arguably the worst tackle with a starting job in the NFL.
This is where the double tight end sets will come in handy with big-body players like Matt Spaeth and Kellen Davis helping out the slow-footed Webb on sure passing downs.
Employing fewer deep drop backs and a consistent running game will only improve the protection in 2012, and that in itself is cause to celebrate heading into the season.
How the Rookies Will Impact the Team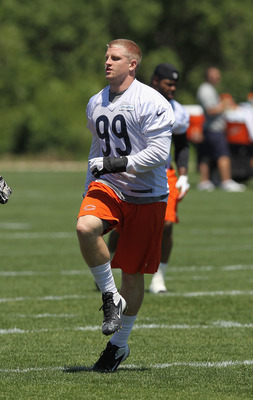 Jonathan Daniel/Getty Images
With their first two picks in the NFL draft, the Bears made two very solid selections with Shea McClellin out of Boise State and Alshon Jeffery from South Carolina.
McClellin will benefit from playing behind Julius Peppers as well as Israel Idonije in his rookie season, but that doesn't mean he will not make an impact.
In fact, when he sees the field this season, look for the first-year player from Boise to make a very solid contribution due to his versatility.
McClellin is a freak athletically, and he has the ability to play outside linebacker, defensive end and even defensive tackle if necessary. Talk about bang for your buck.
He will be primarily used at end, but the fact that he can play so many different positions is tremendous.
As for Jeffery, his potential is off the charts and should be a big problem for defenses once he grasps the playbook.
Jeffrey was a stud in the SEC, and if not for a few character questions prior to the draft, he likely would have been a lock in the first round.
The sleeper of the draft class will be Brandon Hardin at safety. He is very athletic, but has had a problem staying healthy through the years, missing the 2011 college season with a shoulder injury.
If he can stay on the field, Hardin will have a chance to challenge for significant minutes when the season starts.
Will the Defensive Line Improve?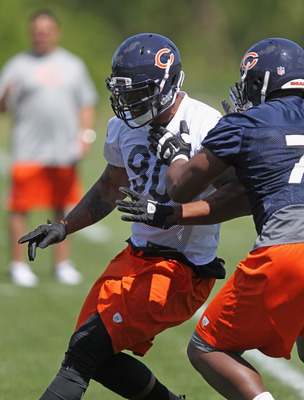 Jonathan Daniel/Getty Images
This slide has nothing to do with Julius Peppers, yet everything to do with his supporting cast.
Bears fans should be more concerned with rookie Shea McClellin, veteran Israel Idonije, Corey Wootton and Stephen Paea, because a big season out of any of these players will result in immediate dividends.
Chicago was in the middle of the pack in terms of sacks a year ago, registering 33 on the year.
Of those 33 sacks, 11 belonged to Julius Peppers, and he needs help in 2012 if Chicago aspires to improve their sack totals.
For the Bears to see more success defensively, the rest of the fellas on the D-line need to step up.
One of those players who fans will be anxious to see healthy and playing will be Corey Wootton, who, because of injuries, hasn't lived up to his potential thus far.
As for Paea, year two in the NFL should do wonder for his game, and if the Bears can get a solid season out of him at DT, that will make everyone's lives much easier.
Idonije has been very serviceable as a veteran lineman for Chicago, and the tandem of him and McClellin has the potential to be very solid for the Bears in 2012.
The Chemistry Between Jay Cutler and Brandon Marshall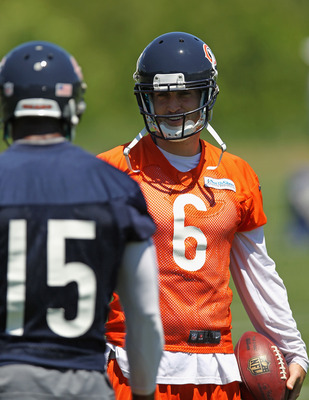 Jonathan Daniel/Getty Images
What Jay Cutler wants, Jay Cutler gets. Well, at least it seems that way.
Cutler didn't like Mike Martz (who did?), boom, Martz is replaced with Mike Tice as offensive coordinator—along with his favorite position coach Jeremy Bates.
The gunslinger also made no secrets about his desire to play with Brandon Marshall, and the next thing you know the talented receiver is a Bear.
Now Mr. Cutler, it is time to put it together on the field for a full season.
One thing that will make this very likely is the chemistry with Brandon Marshall, and as any great quarterback and wide receiver tandem will tell you, that is arguably the most important factor for success.
These two players have it, and there is no denying that. While playing together in 2007 and 2008, both players had their best performances, particularly Marshall, who had back-to-back 100-catch seasons.
Chicago fans are hoping that this transitions to the Windy City, and if that happens, this team will be very dangerous offensively.
If you're in your mid-twenties or older, you have seen enough Bears football to know that Chicago hasn't exactly been known as an offensive juggernaut through the years. Before Jay Cutler, the QB position was a revolving door, and don't get me started on wide receiver.
Hell, if the Bears had any type of QB during their run to the Super Bowl in 2007, they likely would have won the championship that year.
With that said, the acquisition of Brandon Marshall injects plenty of optimism heading into training camp.
Adding a receiver of that quality will make all of the other pass catchers much better, and players such as Earl Bennett and Devin Hester will be able to step out of the spotlight and play ball.
The Bears now have a much more complete team on both sides of the ball, but with an aging defense the window to make another run to the Super Bowl is closing.
Do they have what it takes?
Only time will tell.
Keep Reading

Chicago Bears: Like this team?