How USC Football Is Quietly Building a Potential Dynasty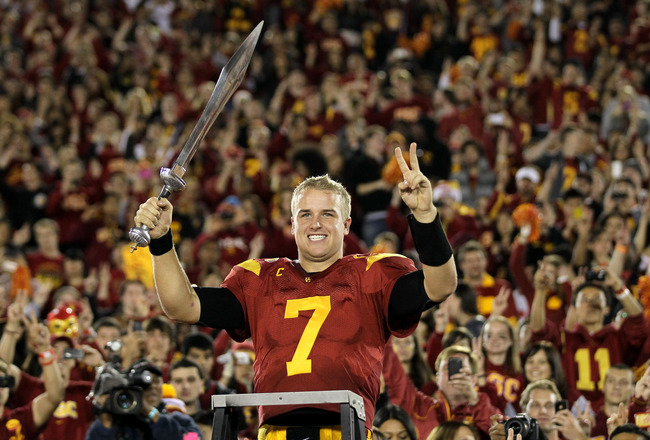 Stephen Dunn/Getty Images
The USC Trojans are still over a month away from starting their 2012 season against the University of Hawaii, but it is the recruiting class of 2013 that is making headlines.
After 4-star recruit Jalen Ramsey committed to USC earlier this week, the Trojans moved into the No. 1 spot for their 2013 recruiting class.
The Trojans are also boasting another No.1, as ESPN's College Football Live ranked the 2012 squad as the preseason No.1.
The Trojans are not only looking at potential greatness this season, but next season and for years to come. So, let's take a look at some of the best 2013 potential recruits, who can help to build and carry on USC's football dynasty.
QB Max Browne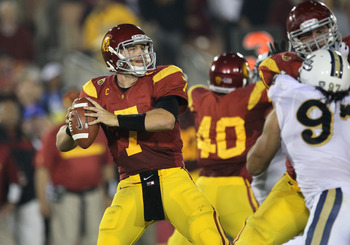 Stephen Dunn/Getty Images
After Matt Barkley announced that he would be staying for his senior year in December, the Trojans' current quarterback was named as a Heisman-favorite. It's hard to imagine who could replace Barkley for the 2013 season, but it seems like USC fans will be rooting for Max Browne.
Browne, the 5-star recruit, has committed to USC, and will most likely start in the 2013 season. Rivals.com ranks the 6'5'' and 202-pound Washington-native as the No. 1 quarterback of his year.
Browne's incredible size and arm strength would definitely help lead the Trojans offense, and though he may need to develop his footwork a little bit more, he has the raw potential to replace Barkley and continue the legacy of strong USC quarterbacks.
DB Su'a Cravens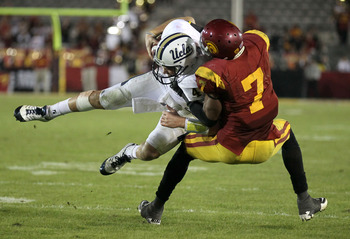 Stephen Dunn/Getty Images
The Trojans are planning to start senior free safety T.J. McDonald in 2012, and with 163 career tackles and 6 interceptions, McDonald has made a big impact on USC's defense. However, he'll be leaving after this season, and the Trojans will need a powerful safety to fill his spot. This is where Su'a Cravens comes in.
Cravens is a 5-star recruit and ranked as the No. 1 safety of 2013 according to Rivals.com.
Although Cravens has played linebacker in high school, he has recently switched to safety and it's a good thing he did. It's hard to find a weakness in Cravens, with his quick footwork, play-making skills and competitive spirit. Cravens should quickly take to a leadership role for the Trojans defense and help grow that Trojan football dynasty.
RB Justin Davis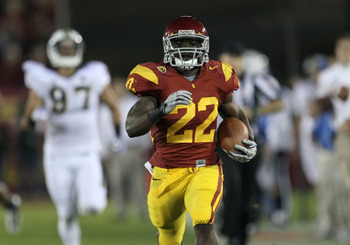 Stephen Dunn/Getty Images
The Trojans have struggled against the Stanford Cardinal for the past three seasons, but last season running back Curtis McNeal scored on a 61-yard touchdown run that gave USC a 13-10 lead over the Cardinal. It was the first time all season that Stanford had been down in a game. Although the Trojans went on to lose in an epic triple-overtime battle, McNeal's carry was one of the highlights of the game.
McNeal will be starting again in 2012, but the redshirt senior will be leaving after this season, and the Trojans will have to fill that gap at running back. Their best option may be their new 2013 recruit Justin Davis.
The 5-star recruit from Stockton, Calif. is currently ranked the No. 2 running back in the country according to Scout.com, and his 6'1'' and 195-pound frame would be a welcome addition to the Trojans' offense. Davis is great at maneuvering down the field, and again, his size is a definite plus for the Trojans.
In 2013, USC will still have the great wide receiver duo of Robert Woods and Marqise Lee, and with Davis in the mix; the Trojans will have more options on offense.
Keep Reading

USC Football: Like this team?