Top 10 'Charlie Sheen' Moments in Professional Sports History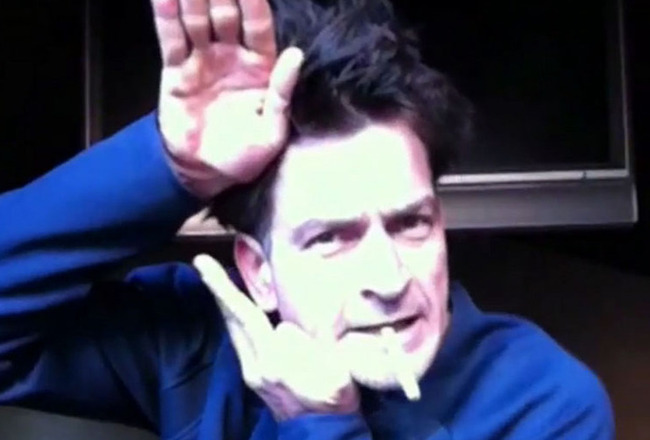 Charlie Sheen found his way into America's hearts with a slightly unorthodox method. Will the athletes on this countdown find their way into your heart the same way?

Grace is something that comes naturally for many athletes. Getting up in front of a microphone, being out in the field of play and even being out in the public eye all require some degree of professionalism to keep your sporting integrity, and for the most part it's not a problem for athletes.
Then you've got the others; a small minority of people who, for whatever reason, choose to deal with the pressure in their own way that is totally out of the box—or out of their minds.
In easily the wildest and perhaps funniest countdown that I've ever been a part of, I give to you the 10 most off-the-wall moments by athletes who have just chosen to lose it, in whatever capacity that may be.
Enjoy, and don't forget to comment and be a part of this one.
Honorable Mention: Michael Phelps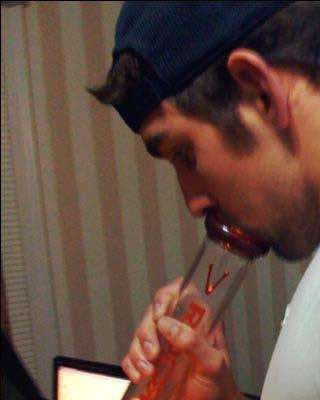 In 2009, this photo came out of U.S. swimming sensation Michael Phelps smoking marijuana.
In the grand scheme of things, he never hurt anyone.
But that is the mantra of people who enjoy a good pot smoke from time to time.
Michael Phelps will always be remembered for his historic accomplishments in the Olympics, and rightfully so. But if you think this picture is going to be forgotten, you can keep dreaming.
Phelps supporters are extremely vocal about the idea that someone can be a productive individual and partake in the drug. His critics slam him as a terrible role model who is sending an awful message to children.
In either event, being a professional athlete carries with it the sad reality that any leverage you give someone with a camera will be exploited for the sake of a slick buck.
Phelps may not have been wild enough to be included inside the top 10, but his lack of judgement at the wrong time at least got him considered to be in the mix.
No. 10: Serena Williams US Open Final 2011
Serena Williams has talent on the court like few others, in a game where class is one of the high standards.
But in the final of the women's 2011 U.S. Open, Williams lost her cool.
After playing a ball to her opponent Samantha Stosur, Williams screamed "come on" before the ball was returned, a very blatant violation.
After being called for her infraction, Williams verbally unloaded on the match official, as seen in the video above.
Normally a very level-headed competitor, this blowup moment was mostly a surprise to those in the tennis world. She has since apologized and as of today, it appears to be an isolated incident.
No. 9: Dennis Rodman Kicks Cameraman in Groin
Dennis Rodman was the NBA's "bad boy."
Despite being an amazing rebounder, his firecracker attitude got him in to trouble on multiple occasions.
On January 15, 1997 in a game against the Minnesota Timberwolves, Rodman's said attitude spilled off the boundaries of the court and into someone not playing the game.
After a physical play that left him on the floor, Rodman was tangled up with a cameraman on the baseline underneath the Chicago basket.
What he did next was not only a poor decision game-wise, but it left an innocent person with an injury that any man will tell you violates an unwritten rule of manhood—you don't go after another man's jewels.
Eugene Amos, the cameraman who was employed by the Target Center, received a whopping $200,000 settlement from Rodman days later.
No. 8: Carlos Zambrano Meltdown vs. Pirates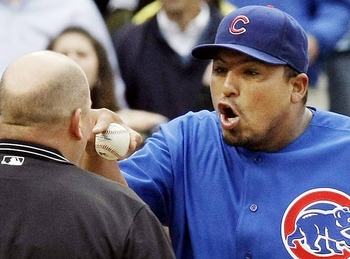 After a close call at the plate, Cubs pitcher Carlos Zambrano is ejected from the game for bumping the umpire.
There are a variety of debacles that could be considered for this countdown that Carlos Zambrano was a part of, but there is one that stands above them all.
In a game against the Pittsburgh Pirates in 2009, Zambrano was covering the plate when he received the ball and was involved on the wrong end of an extremely close play.
Feeling the displeasure that most of the crowd was also upset about, Zambrano turned to argue with the home-plate umpire, which quickly turned into a chest-bump and an ejection from the game.
After mocking the umpire and acting like he was throwing him out of the game in return, Zambrano launched the ball into the bleachers at Wrigley Field.
When he got to the dugout, he grabbed a bat and promptly assaulted the Gatorade fountain machine, reducing much of the casing to broken plastic.
No. 7: Mikhail Youzhny Makes Himself Bleed
Tennis players are always under a tremendous amount of pressure to do well, usually from themselves.
Mikhail Youzhny, however, probably wishes he could go back in time for just a second and not react the way he did.
After a very competitive point was lost by him returning a ball into the net, Youzhny began beating himself in the face with his racket.
After blood began pouring from the wound, he tries to clean it up with a towel. The match had to be stopped so that his trainer could give him treatment—physical treatment, that is.
No. 6: The Zinedine Zidane Heatbutt
There is no bigger moment for a world footballer than to be in the final game of the FIFA World Cup representing your home nation.
In 2006, French legend Zinedine Zidane forever left a rotten apple on his legacy by headbutting Italian player Marco Materazzi in the chest during the extra-time period.
After a verbal exchange between the two players, Zidane acts as if he is casually walking away from the incident, then turns and inexplicably nails Materazzi with his head.
Zidane was ejected from the game, which left the French team with 10 men on the field for the remainder of the contest.
No one scored in the roughly 10 minutes that remained in the game, and Zidane was unable to participate in the subsequent penalty shootout, which France lost, conceding the World Cup to the Italians.
No. 5: John McEnroe's Stockholm Meltdown
Former No. 1-ranked men's tennis player in the world John McEnroe has a library of short-fuse explosions on his resume.
But this one easily tops them all. In the final tennis moment of this countdown, McEnroe loses it like no one else in tennis has.
Reminding you of an angry sibling growing up, McEnroe first blows up on the match official. When things still aren't going his way, he comes back at the official and even asks for someone yelling at him from the stands to be removed.
His request was denied.
He then takes his racket and uses it to hit everything in his path, including sending a water bottle flying at his opponent, although hitting his opponent was not his intention.
McEnroe has several loose-cannon type moments, but this one, in my opinion, is the greatest tennis blowup of all-time and good enough for No. 5 on this prestigious countdown.
No. 4: Ron Artest Attacks Fan
When we as fans attend a sporting event, it's just a known thing that the action on the court, regardless of how intense it gets, will stay on the court.
But on December 19, 2004, the rules of this seemingly understood element of sports were broken by the NBA's newest problem at the time, Ron Artest.
After making comments in the media that "Detroit fans are a bunch of punks," Artest had created an intense atmosphere before even taking the floor.
After a physical play under the hoop, Detroit player Ben Wallace shoved Artest, and things quickly got heated between the players.
As the action headed toward the scorers' table, a fan chose to throw a drink at Artest.
Artest then left the court area, walking into the stands, and assaulted a fan who was not even the one who threw the drink.
Multiple fans and players began fighting, including a few fans that even ran onto the court.
It is considered one of the darkest days in NBA history, and has most notably been referred to as simply "Malice in the Palace."
No. 3: Mike Tyson; the Ear Incident
It was the most vile and disgusting moment in the history of organized sport, one that is at the top of the list of what people will remember Mike Tyson for.
June 28, 1997 was the date of the highly anticipated "Holyfield-Tyson II" which reached a record pay-per-view audience.
Little did they know they were in for a bit of cannibalism.
Amazingly, the fight was not stopped after the incident. Referee Mills Lane was ready to disqualify Tyson, who had not only bitten the ear of Evander Holyfield, but taken a chunk out of the top part.
After the fight was allowed to continue, Tyson again bites Holyfield only seconds later.
The round concludes, and the match was called by Lane, who had seen enough. A complete loss of control is what followed, as the ring filled with officials and Tyson began swinging on anyone who was around him.
No. 2: Ricky Williams Marijuana Meltdown
The video is a trailer for the documentary Run Ricky Run, a film done on the stunning life decisions made by one of the greatest football players in history, who turned to the pleasure of drugs looking for more answers about life.
Ricky Williams became college football's all-time leading rusher in 1997 for the Texas Longhorns.
His NFL prospects were high, and after going to New Orleans, the Saints felt that they had the answer to their running back dilemma.
Head coach Mike Ditka traded whatever he could to simply get Williams on his team.
Going three seasons in New Orleans, he was traded to the Miami Dolphins. After failing three drug tests, he announced out of nowhere that he would be retiring in 2004.
He left the game of football to find himself, and he enrolled in the California College of Ayurveda to study the ancient Indian practice of holistic medicine. He also left the Dolphins with a 4-12 record the next season.
After a comeback two years later, Williams was again cited for failing a drug test and was suspended for the entire 2006 season.
In May of 2007, Williams failed another drug test. After it was sourced that Roger Goodell would not allow Williams back into the NFL, Williams made one last attempt by offering to take multiple drug tests per week and adhere to a strict set of guidelines stipulated by the NFL.
Amazingly, in October of 2007, Goodell reinstated Williams, who became the only player in NFL history to go six seasons in between 1,000-yard rushing seasons, a mark that will likely never be broken.
No. 1: Ryan Leaf's Life
The second pick of the 1998 NFL draft behind the legendary Peyton Manning, Leaf has been a complete disaster in everything he's been associated with since he left college and someone made the poor decision of giving him cash.
Of course, who needs cash when you can break into your friend's house and steal painkillers?
And if that's not enough, upon getting out of jail two days later, he was caught robbing another home.
A huge crybaby on the field, it was easy to see in retrospect why he couldn't keep things together—his unquenchable drug addiction.
While facing multiple felony warrants in various states, Leaf was arrested in April of 2012, as the above video shows.
There were signs that should have given red flags to coaches to never put money in his hands when he was accused of burglarizing the home of a friend while the quarterback coach of Division II Texas A&M-Corpus Christi. These signs were, however, ignored.
Ryan Leaf—a simple decision for the professional athlete who most imitated a Charlie Sheen-type meltdown in life, good for No. 1 on the countdown.
Keep Reading