WWE 1000 Raw: Why CM Punk Will Retain the WWE Title Against John Cena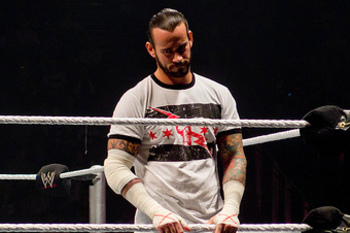 Photo on Flickr from interbeat
It didn't take long for John Cena to cash in his contract against CM Punk for the WWE Title.
Cena announced during the 999th edition of Monday Night Raw that he will fight Punk at the 1000th edition of Raw.
This encounter is a pay-per-view-worthy match that will air on free TV—a benefit to all WWE fans.
It's war every time these two superstars fight, and the WWE Universe is captivated each time Cena and Punk wrestle.
However, many factors ride on CM Punk. The champion is the favorite, and the challenger is the underdog. The roles have been reversed, and CM Punk could be the first champion to survive the Money in the Bank curse.
Every wrestler who's won the Money in the Bank briefcase has become a champion.
CM Punk will break that trend.
Wrestling Ability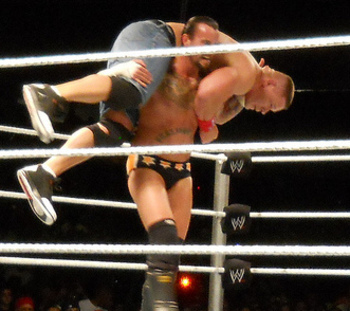 Photo on Flickr from Diana Beideman
When it comes to wrestling ability, CM Punk has the advantage.
Punk is skilled in muay thai, and he can wrestle any type of match. From brawls to submissions and high-flying ability, Punk can go with the best of them.
Most of Punk's fans question Cena's in-ring ability. They believe he's not as skilled as the WWE Champion.
That point is hard to argue since Cena is mostly a power-skilled wrestler. His uncanny strength has shocked his opponents and the WWE Universe in each of his matches.
However, Punk's skill set is better than Cena's. Punk needs to outwrestle Cena for the victory.
Outside Factor?

Video from WWEFanNation, WWE's YouTube Channel

It seems the WWE could be setting up a swerve.
Big Show was prominent during the last segment. He overpowered Punk and begged Cena to use his shot at that time.
Cena refused and knocked Show off the ring apron with the briefcase. He also knocked out Show with the briefcase in the Money in the Bank match.
Do you really think Big Show will let that blow over?
The Cena-Show feud doesn't appear to be over. In fact, Show might help Punk win because of these two days' events.
Show won't go away easy. Costing Cena the match would be huge in Punk retaining the title.
One punch and it could be over—all thanks to the Big Show.
X-Factors

Video from WWEFanNation, WWE's YouTube Channel

Look at the lineup of opponents both men have fought since Punk's title reign.
Punk has defeated every single opponent who tried to take his championship from him. Chris Jericho, Dolph Ziggler, Alberto Del Rio, The Miz and Daniel Bryan have all failed in taking Punk's title.
Punk has also survived a variety of matches, including the elimination chamber and the "Tables, Ladders and Chairs" match.
Cena has fought wrestlers who aren't known for their technical prowess. He's defeated Kane and Big Show in matches where he didn't pin them.
Cena also fought two men who came back to the WWE. He beat Brock Lesnar at Extreme Rules but lost to The Rock at Wrestlemania 28.
Punk has the better streak of opponents and has beaten them all during his reign. John Cena will be his next victim.
Their History

Summerslam 2011 promo from WWEFanNation, WWE's YouTube Channel

Wins and losses still matter in the WWE.
It was a year ago when CM Punk defeated John Cena for his first WWE Championship.
It will be a year come Summerslam when Punk beat Cena to unify the WWE Titles. Punk has beaten Cena in two high-caliber matches.
Punk has the psychological edge on Cena.
Even though Cena defeated Punk on Raw in numerous occasions, he hasn't beaten him for the title.
Punk can use that advantage and not only beat Cena physically, but mentally.
Doomed to Fail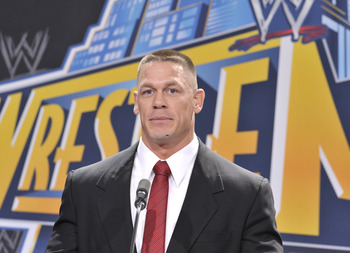 Michael N. Todaro/Getty Images
Everyone who had the Money in the Bank briefcase eventually became champion.
Contrary to this, Cena will be the first to fail.
He became the second winner to announce when he will cash in his shot. Cena will also become the first winner since Rob Van Dam to honor his verbal commitment to his title shot opportunity.
Punk knows the enormous amount of pressure to win. He also knows the pressure Cena should feel.
CM Punk has been on both sides of the coin when it comes to Money in the Bank. He cashed in on Edge and Jeff Hardy to become World Champion. He also lost the WWE Title last year when Alberto Del Rio cashed in on him.
CM Punk will be more determined than ever to not only lose again but to make sure John Cena is the first to lose as Mr. Money in the Bank.
Keep Reading