Notre Dame Football: Analyzing Tommy Rees' Strengths and Weaknesses
Jonathan Daniel/Getty Images
Incumbent starting quarterback Tommy Rees has been the target of loads of vitriol from fans and media members alike during the course of this off-season.
His starting job is in jeopardy due to his arrest at an off-campus party during the first week of May, and more will be known after his court date in St. Joseph County on July 24th.
For now, Rees remains as Notre Dame's starting quarterback, so let's take a look at his strengths and weaknesses.
Enjoy.
Strength: Coverage Recoginition
Justin K. Aller/Getty Images
Perhaps the only advantage that Tommy Rees has on the other Irish quarterbacks vying for the starting job is his ability to read and recognize pass coverages at the line of scrimmage.
While that ability hasn't reduced the amount of errant passes Rees continues to make, it has given the offense a vast amount of excellent checkdowns to the run game.
When Rees knows that the set pass play simply won't work against the coverage, he has the confidence to step up to the line and change the play to get the ball in the hands of the running back.
Those decisions lead to a high number of successful run plays against favorable defensive formations last season.
Weakness: Mobility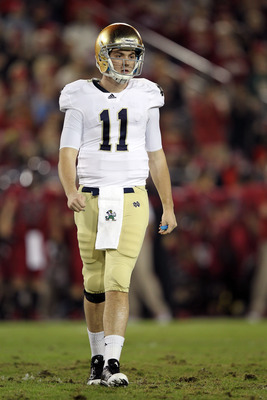 Ezra Shaw/Getty Images
When any defense drops eight men in coverage, it's expected that the quarterback would be able to pick up some decent yardage with his feet.
That's not the case for Tommy Rees.
Last season, opposing defenses knew that Rees simply could not gain yards on the ground, so they forced Rees to beat them with his arm. Because of that, Rees forced a number of throws that resulted in interceptions.
Rees' inability to make things happen with his feet is a major reason why fans have been clamoring for Everett Golson and Andrew Hendrix -- guys who possess excellent mobility -- to claim starting duties.
With Rees at quarterback, the Irish offense is one-dimensional.
Strength: Composure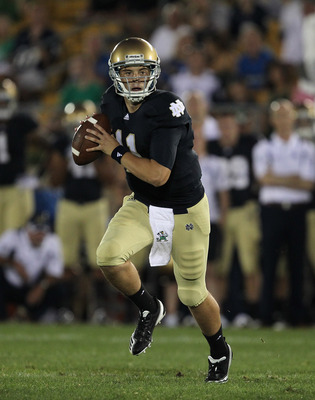 Jonathan Daniel/Getty Images
Tempers and emotions tend to run high on a football team filled with 18 to 22-year-old kids.
Fortunately for Notre Dame, Tommy Rees is the exception to that norm.
Think about it this way: Rees' first three starts of his career were in Notre Dame Stadium, Yankee Stadium and the Los Angeles Memorial Coliseum. His team won each of those three games.
Clearly, the large, hostile crowds haven't affected Rees during his career. He has been a cool customer under pressure, even when making the agonizing mistakes that killed the momentum of the offense.
Weakness: Distributing the Ball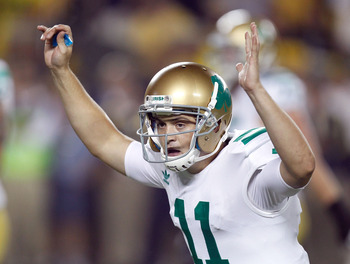 Gregory Shamus/Getty Images
Last season, Notre Dame's two leading receivers were Michael Floyd and Tyler Eifert. Floyd racked up 100 receptions, while Eifert reeled in 63.
The next leading receivers were Theo Riddick and T.J. Jones, who each hauled in 38 receptions. As you can see, there was an extreme imbalance in pass distribution.
It's a tough argument to make, considering that Michael Floyd was, perhaps, college football's best receiver last season. However, opposing secondaries keyed in on Rees' favoritism of Floyd, and double-covered him.
When that was the case, Rees struggled to hit his other targets. Should he be named starting quarterback this season, Rees will be forced to adjust to life without Michael Floyd.
Weakness: Excruciating Turnovers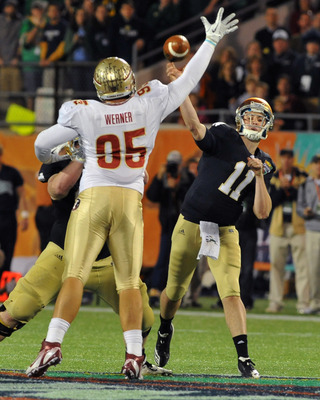 Al Messerschmidt/Getty Images
The root cause of the immense anti-Rees sentiments have come from his penchant for committing heart-wrenching turnovers.
Just when the Irish offense was beginning to click on a drive, just when the team was near a much-needed score, Tommy Rees would find a way to turn the ball over.
Because he is the opposite of clutch, Rees has found himself in the doghouse of the fan base, a place that he likely will never find a way out of. Not after being directly responsible for 19 of the team's 29 turnovers.
That staggering figure was likely enough to kill any hope of being named starting quarterback in 2012.
Keep Reading

Notre Dame Football: Like this team?