Who're the Most Overrated, Most Underrated Players on the Cincinnati Bengals?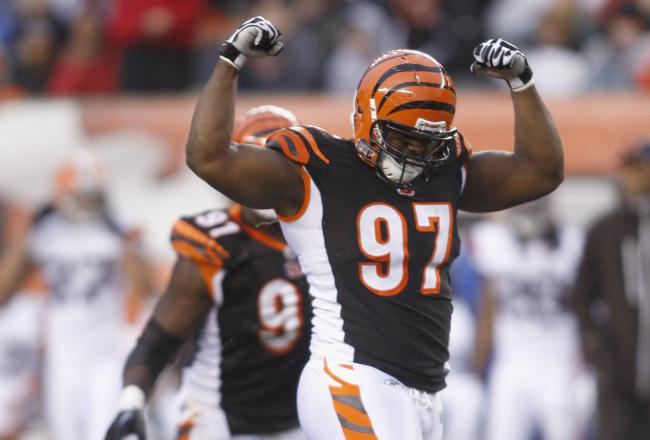 Though pass rushers get a lot of attention nowadays, Bengals DT Geno Atkins seems to be an under-the-radar player to most.
John Grieshop/Getty Images
When it comes to discussing whether a player is overrated or underrated, it can be looked at in a few different ways. It may be a result of too much unwarranted hype, or not enough buzz about a player who deserves it. It could simply be a result of one player having name recognition over another or one position getting more attention over a less-glamorous one.
Either way, every team in the NFL has at least one player who is getting too much attention while another gets not nearly enough. Here are my picks for the single most overrated and underrated players on the Cincinnati Bengals' roster.
Overrated: WR Brandon Tate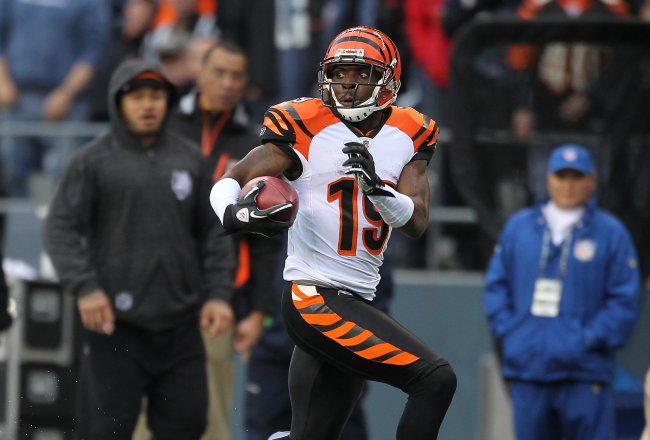 I'm sure the Bengals hope that Brandon Tate can materialize into a useful WR, but the hype surrounding him headed into camp needs to be tempered.
Otto Greule Jr/Getty Images
Brandon Tate came to the Cincinnati Bengals last season after he was released in early September by the New England Patriots. In Tate's three years on the field, he's had just one in which he was used as a wide receiver—2010—in which he caught 24 passes for 432 yards and three scores (he also rushed five times for 62 yards).
Mostly, Tate has been a kick and punt returner.
He returned just kicks while with the Patriots and handled both duties in his first year in Cincinnati. But now that Tate spent time with the Bengals' first-team offense during OTAs and minicamp, lining up at No. 2 alongside A.J. Green, it seems as though Tate's stock might finally be on the rise.
Not so fast, however.
Of course, Bengals offensive coordinator Jay Gruden would talk up Tate after having him work with the first team, and Tate is, after all, a professional football player and likely did look good on the field (Bengels.com). But it's too soon to jump to the conclusion that Tate is going to make the leap from marginal player with solid return skills to beat out Mohamed Sanu and Armon Binns to win that No. 2 job this summer.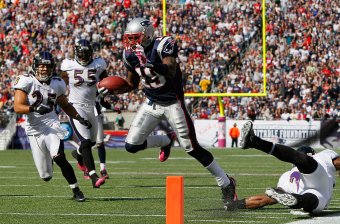 The last time Brandon Tate caught a pass was in 2010, as a member of the New England Patriots.
Jim Rogash/Getty Images
In fact, it's likely a much longer shot than those reports indicate for Tate to actually get meaningful offensive snaps as a receiver this year. More than anything, Gruden was likely lining Tate up with the starters to evaluate whether or not he's worth holding onto as a receiver (there is a good chance cornerback Adam Jones goes back to returning punts and kicks, which would make Tate's role superfluous).
The Bengals have a glut of receivers on the roster right now, 10 of whom are in contention for no more than six spots. It's likely that all of them will see time with the first team—or at least those who are on the bubble—so that the coaching staff can better determine who is worth keeping around.
There's been a lot of buzz and a lot of hype surrounding Tate and his potential to have a breakout year as a Bengals starting receiver, but it's just that—hype, with little substance.
In truth, Tate's roster spot is very much in jeopardy.
He's a bubble player who benefits from a bit of name recognition and positive camp reports, but he's not as good as the lip service being paid to him in recent months. Other Bengals receivers are more talented and will ultimately surpass Tate once the 53-man roster really begins to take shape during training camp.
Underrated: DT Geno Atkins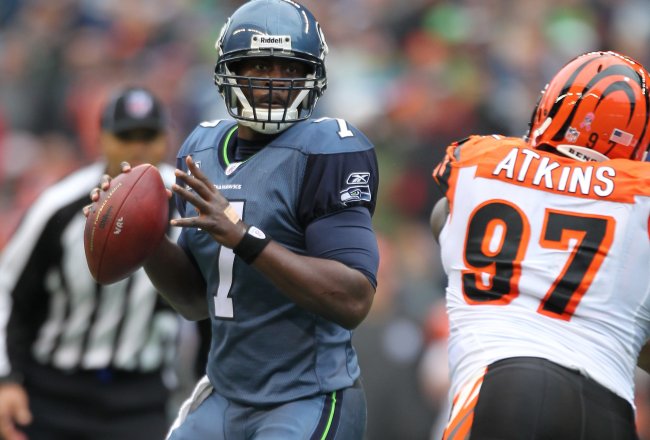 Watch out Tarvaris, Geno Atkins is coming to crush you.
Otto Greule Jr/Getty Images
Because the Bengals adhere completely to the idea of constantly rotating defensive linemen in and out based on the situation, no one player really gets much attention. With this approach, no lineman ends up with crazy, double-digit sack statistics, and more importantly to this discussion, no one stands out to the all-important national media.
It's not as though defensive tackle Geno Atkins lacks in name recognition—as long as you follow either the Bengals or any AFC North team closely. However, the nature of the Bengals' defense keeps him from getting the praise he is due.
Atkins also scored a TD last season on this failed Jacksonville Jaguars lateral attempt.
While Atkins is primarily used in the pass rush, with 490 of his 794 2011 snaps being used in that capacity, he's also a potent run-stopper. He had nine sacks and 16 quarterback hits last year, but notched a total of 34 plays for a loss or no gain, which includes both sacks and tackles for loss. He also deflected two passes and forced two fumbles last season.
In a defensive line with less rotation, Atkins' numbers would be remarkably higher across the board. Some players take issue with the Bengals' philosophy—it's part of the reason why free-agent defensive ends Frostee Rucker and Jonathan Fanene moved on this offseason—but in terms of the defense, and the team as a whole, it's a smart approach that works.
However, when you're a star, even in that system, you'll shine. Atkins most certainly has, making a major leap from his 2010 rookie season to 2011.
Atkins has many years of production left in him, and as such, should eventually get the credit he deserves. But for now, he's one of the better-kept secrets on the Bengals' defensive line for those who aren't paying close enough attention.
This article is
What is the duplicate article?
Why is this article offensive?
Where is this article plagiarized from?
Why is this article poorly edited?