WWE Money in the Bank 2012 Results: Power Ranking the Ladder Match Participants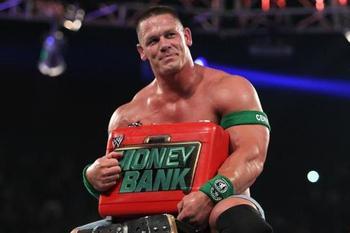 Photo courtesy: wwe.com
With Money in the Bank 2012 in the books, it's time to look at who shined the brightest when all the marbles were on the line. By this, I mean, who took advantage of their opportunity in the Money in the Bank ladder matches.
Above all else, Money in the Bank is a show centered around the ladder match concept in which the winner earns himself a championship match whenever he so chooses to cash in the briefcase. Of course, the rest of the card is equally as important, but it's the ladder matches that make the show.
This was once again the case for the third annual event where both WWE and World Heavyweight Championship opportunities, literally, hung in the balance.
With 13 total participants this year, let's take a look at who came out as the top dog in two different all out wars that were the Money in the Bank ladder matches.
13. Sin Cara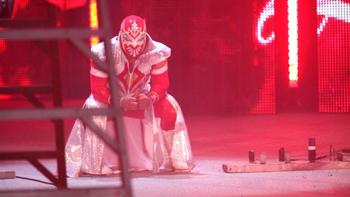 photo courtesy: wwe.com
For the second straight year at Money in the Bank, Sin Cara was powerbombed onto a ladder and, subsequently, never heard from again throughout the match.
In 2011, Sheamus threw Sin Cara directly through a ladder, knocking him out of the match and action all together for some time. Sunday night in Phoenix saw a very similar situation as Tensai, during his tirade, slammed Sin Cara on top of a ladder. After this, he had zero involvement.
Before this incident, Sin Cara nearly botched Dolph Ziggler and Cody Rhodes out of the match. Sin Cara spun Rhodes right into the bottom rope, causing Rhodes to hit his knee. Throughout the rest of the match, Rhodes was visibly in pain after the poorly placed move by Sin Cara.
Botches and repeat ladder punishment lands Sin Cara at the bottom of this list.
12. Kane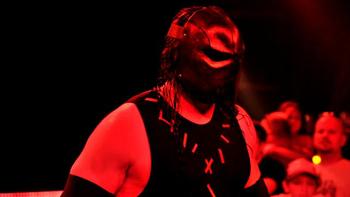 photo courtesy: wwe.com
Kane, with all due respect, was absolutely useless during the WWE Championship Money in the Bank match.
His most memorable moment on Sunday was throwing ladders on top of Big Show along with John Cena, Chris Jericho and The Miz.
Sadly, Kane can't make it too far on this list. His involvement was essentially zero. Even with his great style and intimidation abilities, he was unable to make any sort of meaningful impact in the match.
11. Damien Sandow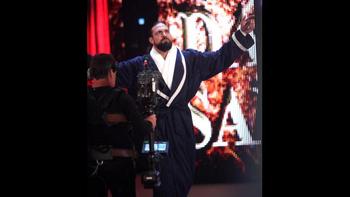 photo courtesy: wwe.com
Full of charisma and potential, Damien Sandow was given his first pay-per-view match of his career.
Unfortunately, he was in a ladder match where proven experts such as Christian and Ziggler were competing in as well. Sandow had very little involvement throughout the match and failed to make much of a presence.
Sandow has amazing upside and should be around for quite some time. His time will come to be a star if given time. His inclusion into the World Heavyweight Championship ladder match is only the beginning.
10. Tensai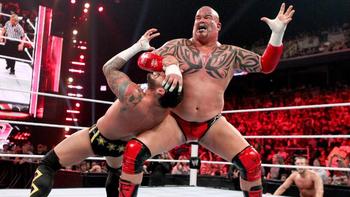 photo courtesy: wwe.com
Used mostly as the monster big man every ladder match needs, Tensai did a nice job asserting his dominance throughout the match.
His biggest highlight was the successive powerbomb to Sin Cara on top of a ladder then throwing Ziggler across the announcers table. After this, Rhodes delivered multiple disaster kicks to take out the big man for the rest of the match.
Tensai, while being an enigma of a superstar at this point, showed flashes of exactly why the WWE wants him around. This is the guy fans want to see, not the man who beats up his manager for no reason other than aggression.
Tensai's ability to continue to shine remains to be seen. But for now, we will wait and see on the artist formerly known as Prince (Albert).
9. Santino Marella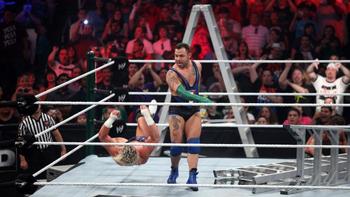 photo courtesy: wwe.com
Santino almost won the Money in the Bank contract! If only he wasn't afraid of heights, he would be a champion in the near future.
Okay, that might be blowing it a bit out of proportion, but it was nice to see Santino in another big match such as the World Heavyweight title Money in the Bank match.
Much like his appearance in the Elimination Chamber in February, fans loved seeing Santino in the spotlight and were behind him 100 percent.
Now that the fun is over: Santino, time to elevate your game back to championship-caliber level. Oh yeah, you are a champion. I almost forgot.
8. Tyson Kidd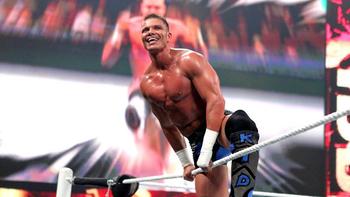 photo courtesy: wwe.com
Used primarily as a spot monkey, Tyson Kidd used his athleticism and unique style of offense to make a splash in the World title ladder match.
One of the biggest spots was a sort of jumping powerbomb-type move off of the ladder to Ziggler.
He, much like a number of other superstars in both of these Money in the Bank matches, wasn't given a whole lot of time in the spotlight. However, when he did, he earned every second of it.
Kidd may have been used mainly for high spots in this match, but this could very well just be a stepping stone to greater things for him.
7. Chris Jericho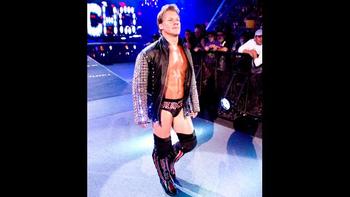 photo courtesy: wwe.com
Chris Jericho innovated the Money in the Bank concept, yet, hasn't been able to win at his own creation. He failed once again in the WWE Championship ladder match but didn't go away without some nice spots.
One of the biggest highlights for Jericho—besides the awesome faces he made when he saw Big Show standing on the other side of the ladder and again when he received the Weapon of Mass Destruction—was him dangling in mid-air while holding on to the briefcase.
Considering the fact that the handle for the case wound up broken, Jericho is lucky he didn't break his neck in the process of this spot.
Jericho may not be winning during this run, but he's putting on a helluva show regardless. Money in the Bank was no exception.
6. The Miz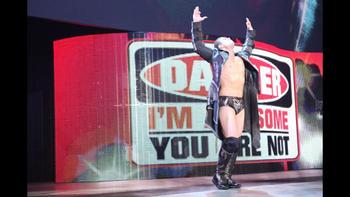 photo courtesy: wwe.com
After a two-month hiatus in filming The Marine 3, The Miz made his return to WWE programming at Money in the Bank with a new look and a new attitude. Miz would insert himself into the WWE Championship ladder match.
Miz's ranking is reflected upon his return as well has his impact on the match. While he, Jericho and Kane inevitably played second fiddle to the Cena-Big Show feud throughout the match, Miz's addition to the match added that extra element of potential and shown greatly throughout.
It was nice to see The Miz back in action. Hopefully the movie is close to wrapping up or is finished so the Awesome One can return to action.
5. Christian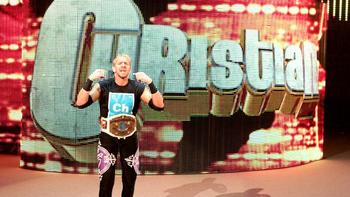 photo courtesy: wwe.com
Captain Charisma and Intercontinental Champion Christian proved, once again, why he will always be known as one of the best ladder match participants in WWE history.
It wasn't just his ability to make others in the match look good, but Christian made himself out to be a great threat to the briefcase throughout the match. Granted, that's essentially the point for a proven veteran, but it stands as a great learning tool to everyone involved.
Christian has always proven his worth in ladder matches and did so again on Sunday. He put his body on the line on a number of occasions, including his spear off the ladder.
Had he won, we could have been given a great moment in Christian's history again. Unfortunately, that did not occur. We'll settle for a great showing from Captain Charisma, which we received.
4. Cody Rhodes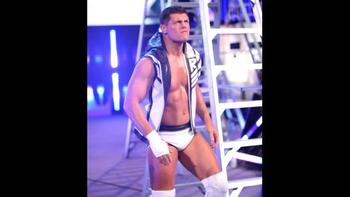 photo courtesy: wwe.com
Many feel that Cody Rhodes should have been the one winning the World title ladder match instead of Ziggler. However, it would appear as if this were just another audition to be placed within the main event scene.
Rhodes, while even battling through a Sin Cara botch that affected his knee, proved to be ready for the bigger picture with his performance on Sunday.
The biggest highlight for Rhodes was taking Tensai out of action in the midst of his tirade that saw both Sin Cara and Ziggler taken out of commission for some time. A few nicely placed disaster kicks later, Rhodes was the hero who took out the giant monster.
Rhodes may not have won the Money in the Bank contract, but he's surely on his way to the main event picture.
3. Big Show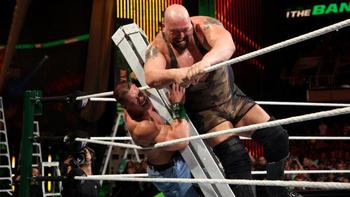 photo courtesy: wwe.com
Big Show took to his monster heel gimmick fairly well during the WWE Championship ladder match. He even got sent through the Spanish announcers table and was buried under a mountain of ladders, yet, emerged from the wreckage to maintain his dominance.
Essentially, he and Cena were involved in a glorified singles match that just so happened to involve three other guys and a bunch of ladders.
In the end, Show wound up falling down his reinforced ladder after Cena grabbed the briefcase and knocked him back down to earth.
It may not always be pretty when Big Show competes, but he was very effective throughout the match. His worth was well proven.
2. John Cena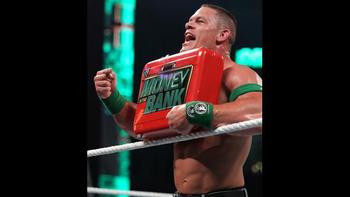 photo courtesy: wwe.com
We all saw this one coming. There was no way around it. Even my desperate plea to keep it from happening wasn't enough to stop that madness.
Regardless, John Cena is now Mr. Money in the Bank, which can now be added on top of his giant list of accomplishments during his time in the WWE.
Attitude adjusting Big Show through the announcers table was nice, but Cena looked out of place in the ladder match. It's been a while since Cena has been involved with one of those matches, so it's understandable to think he was a little shaky.
Had anybody else won this match, they probably would have taken the number one slot in this ranking. However, since Cena does not need the briefcase to be placed in the WWE Championship picture, nor does it serve any purpose to have him hold the contract, he loses out to the next man...
1. Dolph Ziggler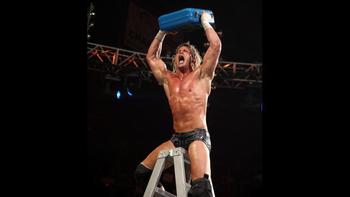 photo courtesy: wwe.com
After years of coming up just short from gaining World title gold, Dolph Ziggler now has the golden ticket to the ever elusive championship.
Ziggler had a great showing in the match, even overcoming a potential injury or two throughout the match. His highest spot was performing a jumping Zig Zag on Rhodes off the ladder. It was a very intense move that showed how much Ziggler wanted to win the match.
He puts his body on the line each and every match and will now, hopefully, finally get the World Heavyweight Championship many feels he is worthy of. There's now a lot of pressure on Ziggler to perform at a higher level. He should have no problem with this since he's "here to show off."
Money in the Bank was a nice B-level show and lived beyond the lack of hype surrounding it. The ladder matches were a big part of that success and the participants made the biggest impact.
Feel free to follow me on Twitter @gieseflysouth if you wish to tell me how right or how wrong I am.
Keep Reading