Fantasy Football 2012: Why Trent Richardson Should Be an Early-Round Pick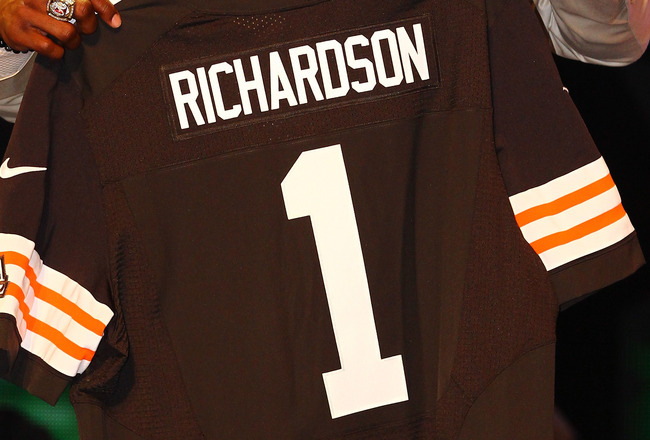 Al Bello/Getty Images
Whether you liked the offseason moves the Browns made or not, one thing seems to be similar between all of them: the moves were decisive and made with a singular purpose in mind.
The Browns already made this rationale clear recently by selecting wide receiver Josh Gordon in the second round of the supplemental draft and signing the rookie to a four year contract worth $5.3 million.
The Browns also raised a couple eyebrows when they decided to trade up one spot in the first round of the 2012 NFL Draft and grab former University of Alabama running back Trent Richardson.
With that said, the Browns always seem to have a huge question mark surrounding them when it concerns fantasy football. Over the past couple of seasons, the Cleveland Browns had been void of any reliable fantasy football options.
There have of course been the Peyton Hillis' of the world, whom came unexpectedly into the fantasy football spotlight and then disappeared just as quickly.
At a first glance, the 2012 Cleveland Browns might not seem to impress anyone either.
But with Pat Shurmur coming into his second season as the Browns head coach, the addition of Brad Childress as the offensive coordinator and the Browns adding four rookies whom could foreseeably start for the offense, the Browns may not only surprise a lot of people on the football field but also in the fantasy numbers.
Leading the pack of this rookie bunch is former University of Alabama running back Trent Richardson. Jamey Eisenberg at CBS Sports has Richardson ranked as his ninth fantasy football running back.
Christopher Harris of ESPN added to the Richardson fantasy football hype by stating,
"He's a no-brainer selection, though I doubt I'll own him on many of my own fantasy teams. He has the clearest path to dominate his new team's backfield touches, and scads of all-around ability…"
So let's take a closer look at why Trent Richardson warrants an early round fantasy football choice.
Trent Richardson Is an NFL Running Back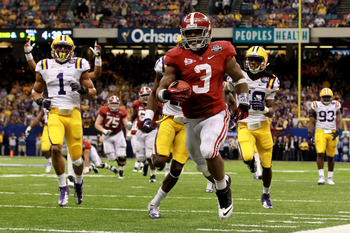 Ronald Martinez/Getty Images
Jim Brown made headlines by criticizing Richardson's athleticism and stating (via USA Today),
"So at least we have to discuss Richardson from the standpoint of giving him an 'ordinary' kind of label and then letting him prove to us that he's not. If he does that, then I will apologize. But I'm gonna look at things, and I'm gonna stand by the things that I see. And I think he is an ordinary individual… But that special ability that I look for when I say Gale Sayers? I don't see that."
Even though the comparisons to Adrian Peterson might be a little overblown and unnecessary, Trent Richardson is still an athletic NFL-caliber running back.
Richardson has a unique blend of speed, power and versatility, making him an immediate and potentially lethal weapon for the Cleveland Browns offense. Richardson is already a better and more versatile running back than Peyton Hillis ever had the ability of being.
Richardson showed in college that NFL defenses are no worry for him. Against the upper echelon defenses of the Southeastern Conference, Richardson averaged 6.08 yards per rushing attempt. This is all while breaking 100-plus rushing yards against six different SEC schools, and rushing for over 180 yards on three different occasions against the SEC.
Combine his talent with a role even remotely like what Peyton Hillis used to see in Cleveland, and Richardson should be a lock for the Pro Bowl his rookie season (assuming the Pro Bowl still exists).
A projected rushing line of 1,200-plus rushing yards and 10-plus rushing touchdowns should be of no great surprise for Richardson—rushing totals for Richardson that call for a first round discussion in most traditional fantasy football leagues.
The Offense Has the Potential to Be Better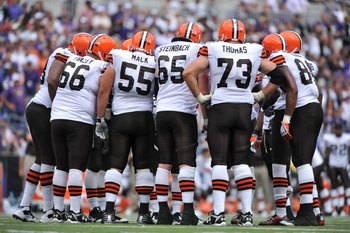 Larry French/Getty Images
I mentioned in my opening that the Browns offense has a ton of positive momentum with the changes that have been made to both the coaching staff and the roster heading into the 2012 football season.
Whether you are on the Brandon Weeden or Colt McCoy quarterback bandwagon, the Browns offense has to be better this season. Let's be honest, it would likely be harder for the Browns offense to get worse this season rather than better.
With Shurmur having a full offseason to continue to install the West Coast offense and the addition of Brad Childress to the offensive coordinator position, the Browns offense and passing game will have to be better.
In turn, the Browns offensive line and running game should also be better.
Most already realize this offense will significantly revolve around the performances of Richardson from the running back position. But the key for the Browns offense this year is a balanced run-to-pass ratio that must be respected. In turn, opposing defenses will not be able to focus on one aspect of the offensive game.
The Browns are young and have a lot of potential growth on the offensive side of the ball. Without focusing too much on the needed development from Greg Little and the newest addition of Josh Gordon to the passing game, the top six offensive linemen for the Cleveland Browns are all 27 years old or younger.
The key for Richardson and the Browns offense is how fast they can blend together.
The projected 1,560 pounds of Browns offensive line should find it much easier to block for Richardson than any other running back the Browns have put behind them.
Richardson will push the pile and create space in any circumstance.
Increased production from both the passing and the running game will not only make the lives of the Browns offensive line better, but it will make Richardson a more valuable commodity to both the Browns and fantasy football owners.
Trent Richardson is the Man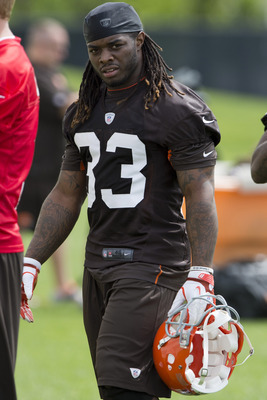 Jason Miller/Getty Images
Whether Browns fans like it or not, Trent Richardson has to be the savior of the offense this season.
No matter who starts at quarterback or either of the offensive guard positions, Richardson will be the key to how this offense develops and produces.
Secondly, there is no competition at running back for Richardson to truly fight with. Montario Hardesty is no threat to start for the Browns this season, and knew with the drafting of Richardson that he would be relegated to a backup role.
Brandon Jackson is also nothing more than a third down back for the Browns offense.
Richardson knows what is coming for him here in Cleveland also. Richardson told FOXSports.com,
"…They're doing a lot of stuff with me as far as coming out of the backfield. They're really putting me out there to showcase everything. There ain't no sugarcoating. I'm going to get the ball. I'm going to catch the ball. I'm going to block. I'm going to do everything I can and they're going to put me in the best situation. I want to be that guy they don't have to take off the field."
Trent Richardson will do everything in his power to change the earlier fortunes of the Browns. The reason above all others Richardson will be an early fantasy football success is because he has an unquantifiable aspect of his game.
A man with his life experiences (already a father, and his mother fighting cancer) will not accept failure as an answer. Besides his physical prowess, Richardson's mental strength and toughness will allow him to overachieve in any situation. Richardson will not only run over the AFC North defenses this upcoming season, but for many seasons in the future as well.
Keep Reading