9 Creative Trade Ideas to Patch Up the New York Mets' Injury-Plagued Rotation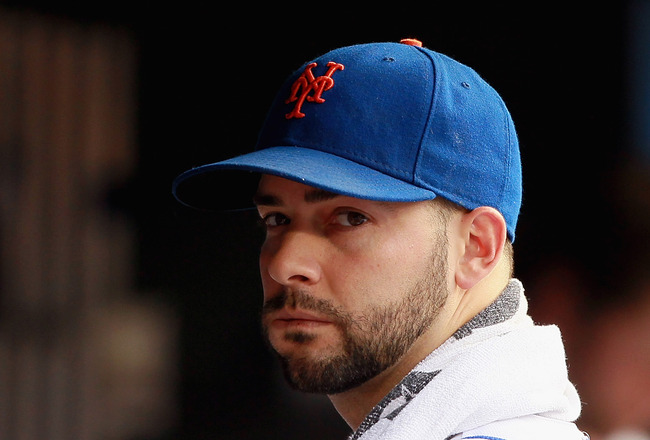 Mike Stobe/Getty Images
The New York Mets starting rotation has been one of the most important pieces to the team's success just over halfway through the season.
Unfortunately for Terry Collins' bunch, the back end of that rotation seems to be collapsing.
Dillon Gee might be out for the season thanks to a blood clot in his shoulder. Chris Young has been solid, but nothing special for the Mets. He's a six-inning pitcher, and that doesn't bode well for a team with the worst bullpen in baseball.
Management is skeptical about bringing up Matt Harvey, and it looks like it only wants to do that if it is the last option.
That would mean that a trade would be one of the only ways to patch up the suddenly hurting Mets starting rotation.
Some of the following trade ideas are very feasible. Some are more or less pipe dreams. However, they all include the Mets bringing in a quality arm to bolster their starting five.
Here are nine creative trade ideas that would help the Mets rotation.
Acquire Jason Vargas from the Seattle Mariners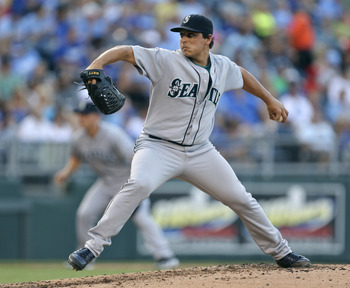 Ed Zurga/Getty Images
Jason Vargas hasn't been blowing away the competition lately, but he would be a much better option than Miguel Batista at the back end of the rotation.
According to ESPN's Jayson Stark via Twitter, the Baltimore Orioles are looking into acquiring Vargas from the Seattle Mariners:
Clubs that have spoken with the #Orioles say they've shifted away from Matt Garza. Now poking around on Jason Vargas.

— Jayson Stark (@jaysonst) July 12, 2012
Vargas has an ERA a tick above four this season, but he's already thrown 126 innings, which is exactly what the Mets need from him. It wouldn't be a stretch to believe that Vargas could be brought in with a couple of mid-level prospects.
He leads the league in home runs allowed, so it wouldn't be out of the question to get him in exchange for a decent prospect like Reese Havens or a similar player.
Acquire Ryan Dempster from the Chicago Cubs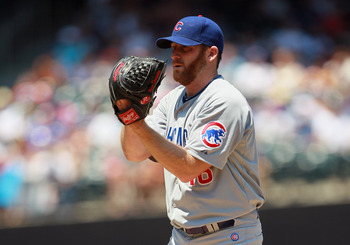 Mike Stobe/Getty Images
Chicago Cubs pitcher Ryan Dempster is on the market, according to USA Today.
The Cubs are in rebuilding mode, and Dempster is dealing as of late, meaning that the New York Mets would likely have to pay a hefty price to bring in the 35-year-old pitcher.
It's always dangerous to bring in an old player at the expense of young talent, but sometimes risks must be taken.
One player that could be sent to the Cubs is Lucas Duda. He's been in a slump as of late but still has the necessary power to hit the ball out of Wrigley Field. It's becoming increasingly evident that Duda is not going to pan out to be the player that the Mets thought he would be.
Duda shouldn't be sent elsewhere for a pitcher who isn't worth it, but Dempster would help the Mets make a playoff push in the coming months.
Acquire Matt Garza from the Chicago Cubs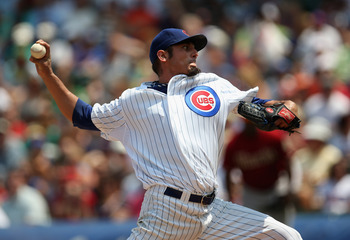 Jonathan Daniel/Getty Images
As nearly the entire baseball world expected, the Chicago Cubs are looking to fire sale before the MLB trade deadline.
That's good news for teams in need of pitching, as the rotation is just about all the Cubs have to offer.
Matt Garza hasn't been mowing down the opposition, but he's proved in the past to be a solid starter. If the Mets were to acquire him and use him as a No. 4, they would have one of the best rotations in all of baseball.
Unfortunately, they'd have to pony up a pretty penny to get him. More so than Ryan Dempster, the Cubs would be looking for more young talent in return for Garza, as he is on the market and just 28 years old.
It would probably take a linchpin guy like Jeurys Familia, Brandon Nimmo or Cesar Puello (maybe even two of those three and another lower-level guy) to bring in Garza, but he can be brought in for the right group of players.
Acquire Francisco Liriano from the Minnesota Twins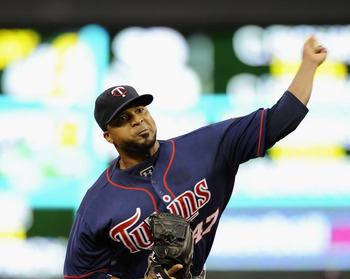 Hannah Foslien/Getty Images
After getting rocked at the beginning of the year and being demoted to the bullpen, Francisco Liriano has picked up his play as of late, allowing three earned runs or less in five of his last six starts.
Still, the Minnesota Twins can't be expecting the world back for a guy who was thought to be the second coming of Johan Santana but has since fizzled.
Sometimes all a guy like that needs is a change of environment, and that could be in store for Liriano before the deadline (per the Boston Globe's Nick Cafardo). He won't come at a bloated price despite his recent success, because the MLB has seen that he can blow up at any minute.
The New York Mets would be able to get him for an upper mid-level talent at the deadline.
Two such players that could be sent the Twins' way are Lucas Duda and Cesar Puello, as the Mets would be fine to spare a couple of outfielders with Brandon Nimmo and Kirk Nieuwenhuis in the organization.
Acquire Wandy Rodriguez from the Houston Astros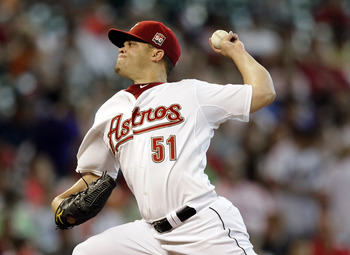 Bob Levey/Getty Images
Wandy Rodriguez is one of the best, average players in baseball.
He's a guy who's never going to go out there and consistently sit guys down at a ridiculous clip, but he's never going to give you four or five bad starts in a row.
According to MASNSports' Roch Kubatko, teams have contacted the Houston Astros about making a trade for Rodriguez:
#orioles have contacted the #astros about Wandy Rodriguez. Yes, add him to the list. Duquette talking to lots of teams

— Roch Kubatko (@masnRoch) July 7, 2012
The Astros certainly want to rebuild, but they aren't run by lunatics who have convinced themselves that Rodriguez is worth his weight in gold.
He's durable and has a career ERA of four, but he's two games under .500 lifetime at 80-82. If the New York Mets wanted to bring him in, it would certainly be possible.
It would likely be for a decent upper-lever prospect like Cesar Puello and a lesser-sought player like Jenrry Mejia.
Acquire Zack Greinke from the Milwaukee Brewers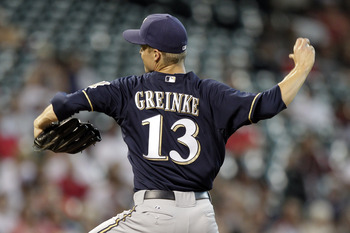 Bob Levey/Getty Images
Trading for Zack Greinke would be dangerous for a couple of reasons.
The first being that he is a free agent after this season, meaning that his prospective suitor could be paying for a three-month rental. The other is his social anxiety disorder that has caused him to miss some time in the past.
Nonetheless, Greinke is on the market, and some teams will be making a hard push. The Mets haven't indicated that they are interested, but he would be a welcome addition to the rotation.
Welcome, yes. Cheap, no.
The Mets would have to send a king's ransom to the Milwaukee Brewers in exchange for Greinke's services. Jeurys Familia, Brandon Nimmo and Wilmer Flores might all have to be sent to the Brewers.
That would tip the scale, but it might not even be enough to bring Greinke to New York, and it might not even be worth it in the long run.
Acquire Bartolo Colon from the Oakland Athletics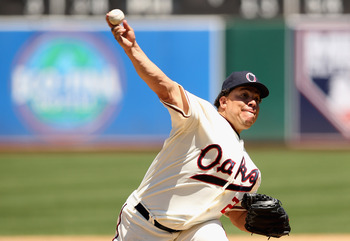 Ezra Shaw/Getty Images
OK, this one seems almost comical. It's hilarious to imagine the prospect of Bartolo Colon donning a New York Mets uniform, but it would be a great move for the Mets.
At 39 years old, the Oakland Athletics surely wouldn't be delusional enough to believe that they could get that many talented players in return for sending him elsewhere, which would make it easier and more sensible to trade for him.
Lucas Duda (a guy that has come up a lot in this slideshow for no particular reason) could be a trade piece to ship to the West Coast. So could Reese Havens.
The Mets wouldn't want to be stupid about this, though, as Colon is a few years away from spending April to September firmly planted on his couch.
I'm not the only one who thinks this would be a good idea, either. The New York Post's Mark Hale agrees:
The starting pitcher possibly available in a trade who most intrigues me if I'm the #Mets? Bartolo Colon. Especially in the National League.

— Mark Hale (@HaleMark) July 13, 2012
Hey, you never know.
Acquire Jeremy Guthrie from the Colorado Rockies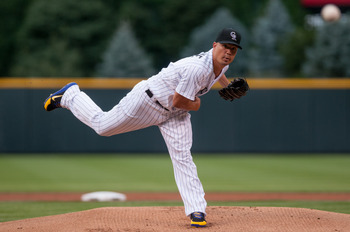 Dustin Bradford/Getty Images
Jeremy Guthrie is the ultimate buy-low candidate on this list.
The Colorado Rockies starter has an ERA of 6.14 this season, the worst in the league among qualifying starts. However, over the last five seasons, he has posted an ERA of over five just one time. He's also been sub-four in three of those seasons.
Colorado isn't going to want the world for this guy, nor would it get it if it tried. His statistics have been destroyed thanks to a combination of Coors Field and (most likely) diminishing talent, but the New York Mets could get him at a bargain.
There's no reason to believe that anything but low-level prospects would have to be sent to the Rockies in return for Guthrie's services. It's not even like Colorado would want MLB-ready talent, as it's a long way from competing in the NL West.
A guy like Michael Fulmer or Reese Havens (maybe both) could be sent to the Rockies for the 33-year-old Guthrie.
Acquire Paul Maholm from the Chicago Cubs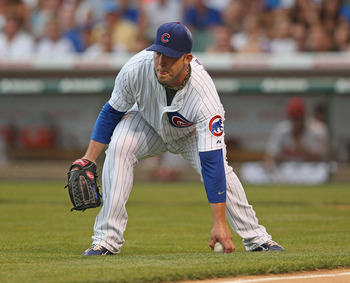 Jonathan Daniel/Getty Images
The Chicago Cubs are the prime sellers in this trade market leading up to the deadline.
They don't have much big league talent on the roster, and they aren't going to get anywhere by continuing to pay big-name guys a lot of money.
Paul Maholm could be brought to New York at a relatively low price despite his 4.33 ERA and 7-6 record. Maholm isn't going to blow guys away all the time, but he's capable of going seven or eight innings on any given night, as he has done on multiple occasions this year.
Chicago would probably take any MLB talent or semi-promising prospects in exchange for Maholm, who has allowed just two earned runs in his last 22.1 innings pitched.
An outfield prospect could be a good trade piece for Maholm, but it would be unwise to send anybody with an extremely bright future to Chicago for the already 30-year-old Maholm.
Keep Reading

New York Mets: Like this team?