NHL Free Agency 2012: How New York Rangers Have Been Impacted so Far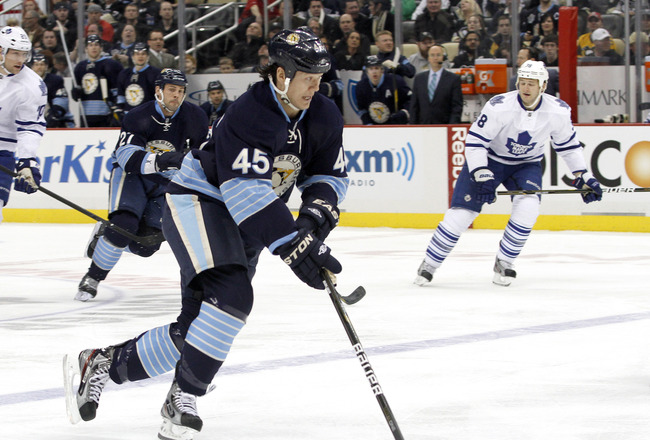 Justin K. Aller/Getty Images
2012 NHL Free Agency is well underway. How has it impacted the New York Rangers?
The Rangers have not been big players. They have not signed big names, as they usually do.
They have, instead, focused on filling holes with lesser-known role players.
The Rangers have not, at least yet, replaced injured Marian Gaborik. They'll count heavily on rookie Chris Kreider.
How has free agency changed the Blueshirts? Read on to find out what they've done and what's next.
Losing Prust, Fedetenko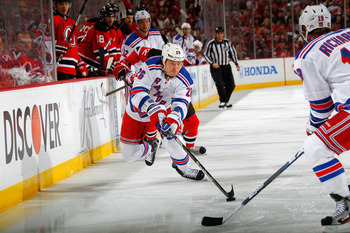 Bruce Bennett/Getty Images
The Rangers lost two of their valued role players to free agency.
Brandon Prust signed with the Montreal Canadiens. He was a top penalty killer and led the team with 156 penalty minutes. He was a gritty, physical player.
The Rangers also lost winger Ruslan Fedetenko, who signed with the Philadelphia Flyers. Fedetenko is a top notch penalty killer, who was terrific in the playoffs.
The two were indispensable to the team's playoff run. Their energy and grit will be missed.
Adding Asham, Halpern, Pyatt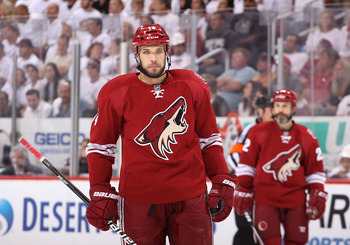 Christian Petersen/Getty Images
The Rangers replaced Prust and Fedetenko with three players.
The Blueshirts signed forwards Arron Asham, Taylor Pyatt and Jeff Halpern to contracts.
Asham had 76 penalty minutes and 95 hits last season, to go along with five goals. He's a physical, pugnacious player.
Pyatt has the most offensive upside of the three. Pyatt scored nine goals last season, but has a career high of 23. He's also not afraid to throw his body, as he laid out 137 hits.
Jeff Halpern is a terrific defensive player who excels at faceoffs. He'll be a welcome addition to the penalty kill.
The three should replace Prust and Fedetenko, while also offering more offensive upside.
Doan Holding Pattern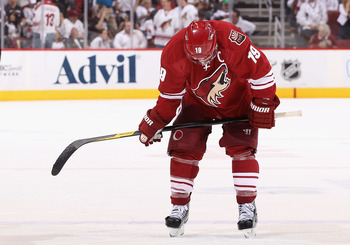 Christian Petersen/Getty Images
The Rangers are interested in signing Shane Doan, according to the New York Post.
Doan has expressed his desire to remain with the Coyotes, but they have an uncertain ownership situation that could force him to find work elsewhere.
If Doan decides to leave, the Rangers would be a great fit.
The winger scored 22 goals last season and would provide valuable secondary scoring for the Rangers.
He's also a terrific leader and would fit with the Rangers style.
The Rangers, like everyone else, are unsure what Doan will do. He would be a perfect fit, but they are stuck in a holding pattern until he decides where he wants to play next year.
No Big Names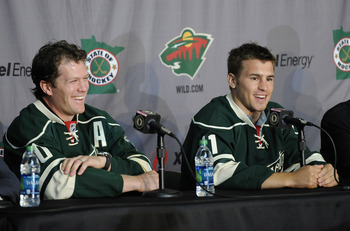 Hannah Foslien/Getty Images
Every year, the Rangers are in on a big name.
Last year, it was Brad Richards.
This year, they stayed away. The two top free agents—Zach Parise and Ryan Suter—decided to sign with the Minnesota Wild.
Instead of getting in a bidding war that could lead to a bad contract, the Rangers stayed away. This was the smart move. While Parise and Suter are fine players and will help the Wild immensely, they would have been the wrong move for the Rangers.
The Rangers already have long-term cap commitments with Brad Richards, Henrik Lundqvist and Marian Gaborik. That's not to mention free agents down the road like Ryan McDonagh.
Staying away from the big free agents is not in the Rangers' character, but this year's decision to do it was very wise.
Waiting on Nash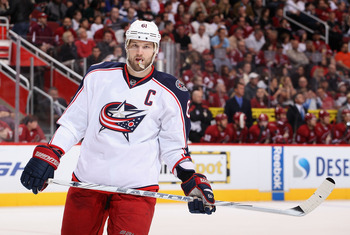 Christian Petersen/Getty Images
Rick Nash has been in trade discussions for months now, but he is still a member of the Columbus Blue Jackets.
The latest is that Columbus wants "NHL-ready" forwards, according to Y! Sports.
As general manager Scott Howson told TSN.
I have a value that I've placed on Rick and that our whole organization has placed on Rick. He's an elite player. He's been a tremendous ambassador for our franchise and our city. We're very comfortable with the value we've placed on him; and until we get that value, we're going to keep working away at it.

If we do complete a trade, we're trading out a 30 to 40 goal scorer. Defense is probably the strongest part of our team if we look at it today. So we're looking to get some NHL forwards back first and foremost.
For the Rangers, that means likely parting with Derek Stepan and/or Brandon Dubinsky. The Rangers, according to the New York Daily News, are reluctant to part with Stepan.
It's still unclear as to whether or not Nash will become a Ranger. While he would be an ideal fit, there are still too many unknowns.
Keep Reading

New York Rangers: Like this team?