Manchester United's Biggest Threats in the 2012/2013 Champions League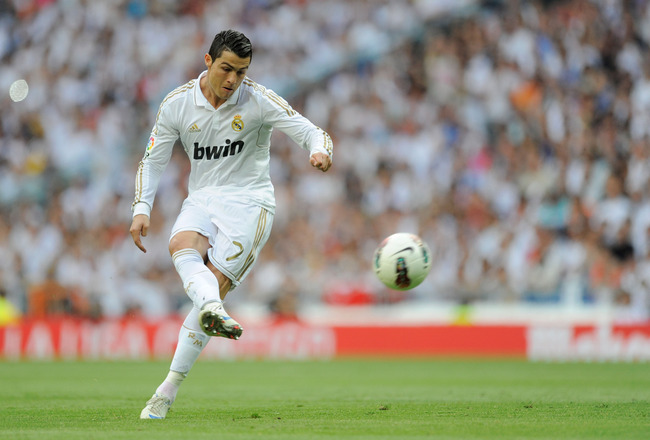 Denis Doyle/Getty Images
Forget last season, Manchester United are still one of the best teams in Europe, and will be counted amongst the favourites for the upcoming UEFA Champions League campaign.
United and fans alike will be hoping that the disappointing exit at the hands of Benfica and Basel proves to be an unfortunate anomaly.
For Sir Alex and his team to progress into, and through the knockout rounds, complacency will surely be the thing to avoid.
But, providing this happens, who will be there to meet United in the later knockout rounds?
This article will predict the five biggest threats standing in the way of a fourth European Cup for the Red Devils.
Real Madrid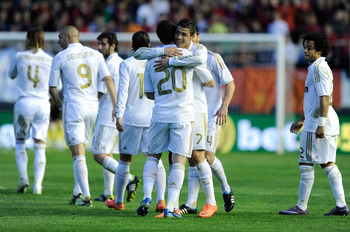 Denis Doyle/Getty Images
Jose Mourinho will be revelling in the fact that his team have become top dogs in Spain, and will look to add another Champions League trophy to his bulging cabinet.
It goes without saying that a reunion with Cristiano Ronaldo would be mouthwatering for United fans, if a little frightening at the same time.
Real Madrid can justifiably lay claim to being the best team in Europe right now, especially considering the recent departure of Pep Guardiola in Barcelona.
Look for Madrid to be there in the final reckoning, and a team that United will surely have to beat if they're going to triumph.
Manchester City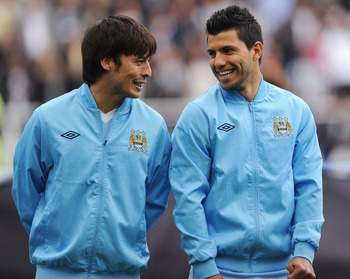 Michael Regan/Getty Images
United's crosstown rivals, Manchester City, seem to have a bit of a hoodoo over United at the moment, winning the most crucial clashes during last season.
Roberto Mancini will need an impressive showing in this year's Champions League tournament, after struggling in a difficult group last campaign.
Indeed, it is the board's expectation that he delivers both league and European trophies—the type of pressure that has driven Chelsea managers mad in the past.
Nevertheless, City will be a team United will certainly wish to avoid in the later stages of the tournament.
Barcelona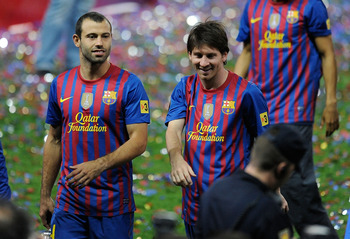 Denis Doyle/Getty Images
New manager or not, Barcelona are still the zenith in European football today.
It is interesting however, that they probably go into the upcoming Champions League campaign second or third favourites, a feeling that is surely unfamiliar for many in the team.
United would love to avenge their recent final disappointments at the hands of the Catalan club, and would probably relish a potential quarter-final or semi-final clash to produce that opportunity.
Indeed, expect Messi and co. to breeze through their opening group and go deep in the tournament they have come to dominate over the past few years.
Paris Saint-Germain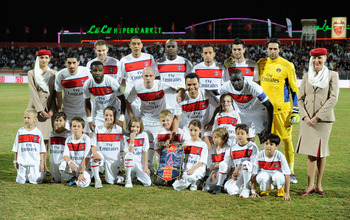 Claudio Villa/Getty Images
PSG are far more of an unknown quantity heading into this coming Champions League campaign.
They may be brilliant or they may crash and burn in the group stages.
On paper, they will have one of the most talented squads, boasting players of the quality of Thiago Silva, Javier Pastore, Jeremy Menez, Ezequiel Lavezzi and Thiago Motta.
But in reality, there will loom the possibility that they may struggle in their first UCL foray in a good few years.
Nevertheless, they will be a team in the draw that all will fear.
Juventus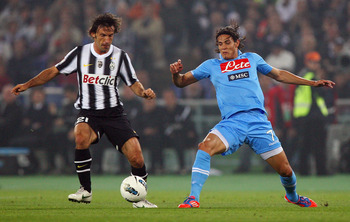 Paolo Bruno/Getty Images
It wasn't too long ago when the genius of Andrea Pirlo put paid to an English team's hopes at a major European tournament.
And with the Serie A trophy currently in their hands, Juventus will look to re-establish Italian dominance in the Champions League.
Having finished unbeaten in the league last season, the club as already moved to sign highly-rated Kwadwo Asamoah, Mauricio Isla and Lucio to consolidate their position.
A potential clash would also produce a bitter taste, what with United youngster Paul Pogba controversially switching teams this Summer.
Keep Reading

Manchester United: Like this team?