After not doing much for the entire offseason, the Kings got busy, trading for small forward James Johnson and signing free-agent point guard Aaron Brooks to a two-year deal.
The Kings got Johnson from the Toronto Raptors. In exchange, the Kings are giving the Raptors a second-round draft pick in 2014. Johnson will be entering the last year of his contract and is slated to make $2.8 million.
Although he's certainly not a star, he should immediately help the Kings. As a small forward, he fills a position of need for the Kings. He's not a great scorer, only averaging 6.6 points over his career and 9.1 points per game last season.
However, he's a very good defender, he's athletic and at 6'9", 245 pounds, he's bigger than most small forwards he'll be going against.
Sacramento opened last season playing John Salmons at the three. But after an underwhelming performance for the entire first half of the season, Salmons was relegated to the bench.
Tyreke Evans spent some time playing the three at the end of the season. It wasn't Evans' most productive basketball. But after playing point guard for his first two seasons, Evans might have just needed some time to adjust to the new position.
Because of the logjam at point guard, it would seem that Evans will likely play much of his minutes at small forward this season. Even then, James Johnson should get plenty of minutes and have a chance to impact games for the Kings
Aaron Brooks will contribute to the aforementioned logjam at point guard. But he'll also contribute much more than a simple rotational player.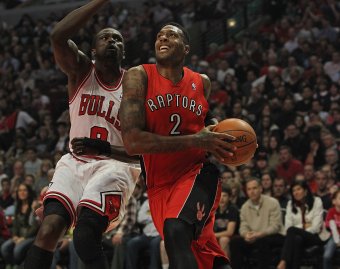 Jonathan Daniel/Getty Images
Brooks played in China last season. He last played in the NBA in 2010-11, when he played for the Phoenix Suns.
Despite only being 27-years-old, Brooks has a storied and decorated past in the NBA. He was drafted by the Houston Rockets in 2007. After sitting on the bench for much of his first season, Brooks started playing more and more minutes for Houston in 2008-09, starting the final 35 games and playing well during the playoffs.
Brooks hit the ground running the next season (2009-10), averaging 19.6 points and 5.3 assists. It was enough to earn him the NBA's Most Improved Player award.
The following season (2010-11), Brooks' last in the NBA, was somewhat of a disappointment. He was supplanted by Kyle Lowry as Houston's starting point guard to open the season. Then midway through the year he was shipped to the Phoenix Suns.
The Kings are hoping that Brooks can return to his 2009-10 form. Still in his physical prime, it would seem that Brooks still has the skill set that made him good. The question is whether or not he'll be able to adjust back to the NBA after playing in China last season.
It's a gamble worth taking for the Kings. It's only a two-year deal. The first year is said to be around $3 million, so you've got to think the second year isn't astronomically higher.
Considering the Kings had Isaiah Thomas capably manning the point last season, it would seem to be a position of strength now. Brooks will likely get a shot to start, but if he's not performing up to expectations the Kings have a good backup in Thomas.
On paper, the Kings are better because of these acquisitions. They're a deeper and more experienced team. Now they've got to go out and prove it.
Follow me on Twitter: @SimRisso