NBA Summer League 2012: Grading the Debuts of Hyped Lottery Picks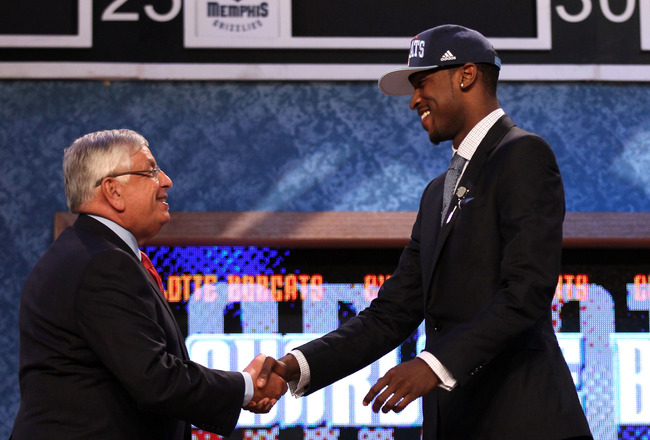 Elsa/Getty Images
With the Orlando Summer League behind us and the Las Vegas Summer League in full swing, how have the top 14 draft picks from the 2012 NBA draft fared thus far?
The butterflies were surely in their stomachs during their professional debuts, but let's take a look at how each of those picks performed in their first summer league game.
As a note, you won't find Anthony Davis, Kendall Marshall or John Henson present in this article.
Davis is too busy with the Olympics to bother with the summer league, while Marshall and Henson have yet to appear for their teams.
Read on to see how I've graded each of the remaining lottery picks' performances.
Michael Kidd-Gilchrist, Charlotte Bobcats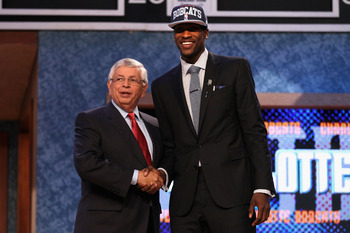 Elsa/Getty Images
Michael Kidd-Gilchrist got off to a ridiculously good start in his Las Vegas Summer League debut.
The No. 2 pick in the 2012 NBA draft drained his first six shots of the game and finished with 18 points. He scored in a variety of ways: draining jumpers, throwing down dunks and more.
MKG also added eight rebounds, five assists and four steals to the cause.
Grade: A+
Bradley Beal, Washington Wizards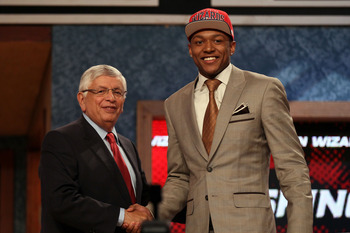 Elsa/Getty Images
Even though his Washington Wizards lost to the Atlanta Hawks by 20 points, Bradley Beal still had a good showing during his debut.
He made 6-of-14 shots, including one from downtown in response to a John Jenkins triple, and knocked down 9-of-10 attempts from the charity stripe for a game-high 22 points.
Between his range and his recklessness while crashing to the backboard, Beal looked the part of an NBA player.
He didn't contribute in many other areas, though, failing to record a single rebound in the contest.
Grade: A-
Dion Waiters, Cleveland Cavaliers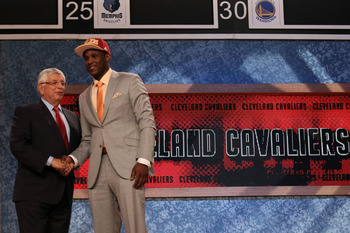 Elsa/Getty Images
With as many turnovers as made shots during his summer league debut, Dion Waiters didn't exactly show everyone why he was the No. 4 pick in the draft.
He did nail a nice floater for two of his 10 points, but it was a lackluster start to his pro career.
Waiters added four assists and four boards, but his efforts weren't enough to avoid a 68-64 loss. Also knocking him down in the grading department was the fact that he called a timeout at the end of the game when the Cleveland Cavaliers didn't have one, resulting in a technical foul.
Grade: C
Thomas Robinson, Sacramento Kings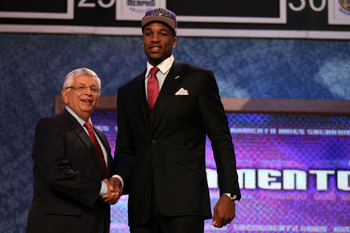 Elsa/Getty Images
Deemed one of the most NBA-ready players in the draft class, Thomas Robinson should have dominated in his summer league debut against the Charlotte Bobcats. Instead, he helped them get blown out.
The former Kansas Jayhawk recorded a team-high 19 points and five rebounds, but the negatives brought him down too much.
Robinson committed five personal fouls and turned the ball over a staggering eight times.
Grade: C+
Damian Lillard, Portland Trail Blazers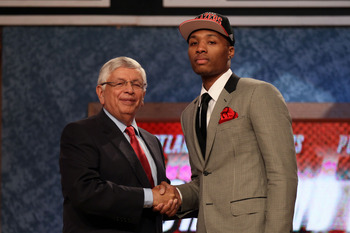 Elsa/Getty Images
It was quite apparent that Damian Lillard was the dominant force on the court for the Portland Trail Blazers when he first played against the New Orleans Hornets.
Lillard showed off his shot-happy ways, going 9-of-21 from the field. He also added a few triples and free throws in for good measure to result in a game-high 25 points.
The former Weber State floor general also had four rebounds and four assists.
Grade: B+
Harrison Barnes, Golden State Warriors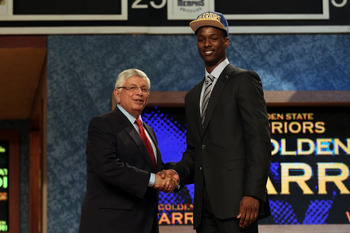 Elsa/Getty Images
Harrison Barnes looked the part of an NBA star against the Los Angeles Lakers' summer league squad.
He showed off his beautiful shooting touch by connecting on all four of his attempts from behind the three-point arc and went 8-of-13 from the field overall.
Barnes didn't contribute in many other areas, but he did finish without a turnover while scoring 23 points.
Grade: A
Terrence Ross, Toronto Raptors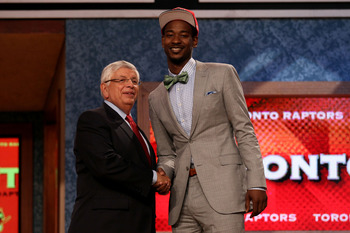 Elsa/Getty Images
The first and third quarters belonged to Terrence Ross as he scored seven points in each of those two periods.
Buoyed by his ferocious two-handed slam on a fast break, the former Washington Husky finished with a team-high 21 points in his debut.
Ross only had one turnover, but he wasn't too efficient from the field. That was primarily because he set up shop from downtown so often. When you remember that he was 3-of-8 from downtown, his 8-of-19 shooting performance looks a bit better.
Grade: A-
Andre Drummond, Detroit Pistons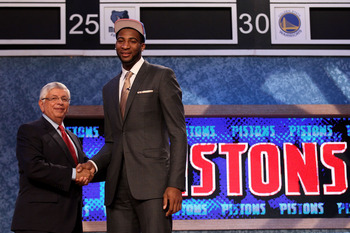 Elsa/Getty Images
With four steals and two blocks, Andre Drummond played solid defense throughout the night. He was an intimidating presence on the interior, even if he was caught out of position occasionally.
On offense—overlooking his 0-of-3 catastrophe from the charity stripe—Drummond didn't assert himself much at all. He rarely asked for the ball and was content to let his teammates do the heavy lifting.
For a player billed as one of the rawest in the class, this was a nice debut.
Grade: A
Austin Rivers, New Orleans Hornets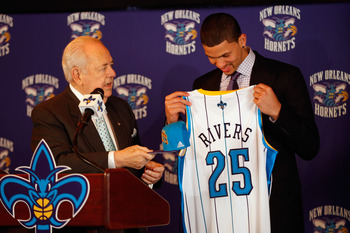 Chris Graythen/Getty Images
All of the criticisms that plagued Austin Rivers throughout the draft process were apparent during his first game, an 85-82 loss to the Portland Trail Blazers.
Rivers chose his spots poorly and couldn't connect often, hitting on only 3-of-13 shots from the field and 1-of-8 from downtown during the contest. Because he shot so often, he recorded 14 points.
Those weren't an efficient 14 points, though, especially because Rivers also turned the ball over four times and recorded just three assists.
Grade: C-
Meyers Leonard, Portland Trail Blazers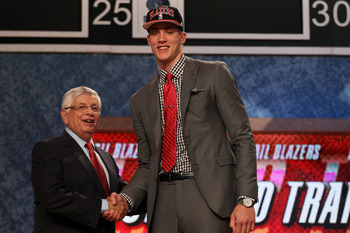 Elsa/Getty Images
Meyers Leonard got off to a good start as he attempts to prove to any and all doubters that he is ready to play in the NBA.
During his summer league debut against the New Orleans Hornets (minus Anthony Davis), Leonard was one of three players on the court to record a double-double. Portland's Luke Babbitt and New Orleans' Lance Thomas were the others.
In addition to his 14 points and 11 rebounds, the big man also recorded three blocks, five turnovers and seven personal fouls.
Grade: B+
Jeremy Lamb, Houston Rockets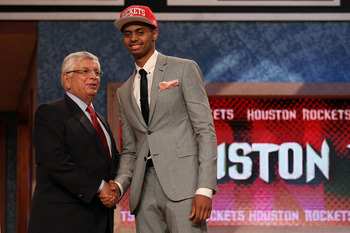 Elsa/Getty Images
Coming off the bench for the Houston Rockets, Jeremy Lamb looked quite good in his first game as a professional.
The smooth-shooting guard nailed one incredible pull-up jumper from the free-throw line in the first quarter and finished with 16 points in just 26 minutes, shooting 6-of-11 in the process.
Lamb drew contact occasionally and finished a perfect 3-of-3 from the line.
In addition to his scoring output, Lamb also recorded two assists, two rebounds, a steal and a block.
Grade: A
Keep Reading