Michigan Football: What You Need to Know About Wolverines' FS Jordan Kovacs
Gregory Shamus/Getty Images
Jordan Kovacs is one of the most important players on this 2012 Michigan team, both on and off the field. His play obviously does a lot of the talking, but his presence in the locker room and around teammates is crucial as well.
Honestly, Kovacs probably feels that he is extremely lucky to be playing for Michigan, while Michigan probably feels similarly, in that they are extremely lucky to have him.
Here is a bit more on the Wolverines' standout safety.
Kovacs Took a Very Interesting Road to Michigan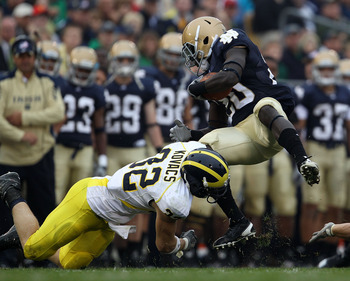 Jonathan Daniel/Getty Images
Jordan Kovacs isn't your typical defensive stud we've seen in the past for Michigan. He wasn't a four- or five-star player out of high school; in fact, he was barely even recruited by any Division I schools.
Surgery to repair a torn meniscus prevented him from playing as a walk-on in 2008, but by 2009 it was healed.
He debuted against Western Michigan on special teams, and two weeks later he was starting. Kovacs finished the 2009 season second on the team in tackles, and ended up earning national recognition by various media outlets.
He and Thomas Gordon Form a Very Solid Duo at Safety
Chris Graythen/Getty Images
Before 2011, when is the last time we could say that Michigan had a formidable duo at safety? It's been a while.
We certainly couldn't say it at all during the Rich Rodriguez era, and it's not like Michigan had great safeties in Lloyd Carr's later years.
The play of Michigan's safeties has been so bad over the last few years, that it was extremely refreshing to see the way Kovacs and Gordon played together in 2011. No more were we seeing opponents score on huge offensive plays the way we had so many times in the past few years.
Kovacs will be a senior in 2012 and Gordon a redshirt junior, so the duo should only get better. Is it the best safety duo in the Big Ten? That is debatable, but regardless, it's one of the top two or three.
Kovacs Can Be a Mentor to the Younger, Inexperienced Safeties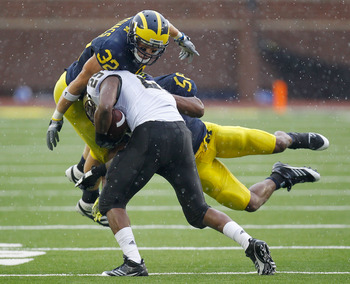 Gregory Shamus/Getty Images
Kovacs will be gone after this year, and Thomas Gordon will be gone after next, so some of the younger safeties will obviously need to be ready to take over. What better player for them to learn from than Kovacs?
There is plenty of youth and inexperienced waiting in the wings at safety, and 2012 will be a crucial learning year for them.
Marvin Robinson isn't exactly young anymore, but he is still somewhat inexperienced; it would be great to ease him into action here in 2012, allowing him to possibly become a starter in 2013. Josh Furman is another young guy that can learn a lot from Kovacs.
However, I think the most intriguing option behind Kovacs is young Jarrod Wilson. Only a true freshman, his early enrollment will likely allow him to see crucial minutes in 2012. This kid has a very high ceiling, which will probably make Kovacs' role of mentor a bit easier.
Kovacs will not only teach these kids how to be great safeties, but important lessons off the field as well.
He Will Likely Go from Walk-on to Team Captain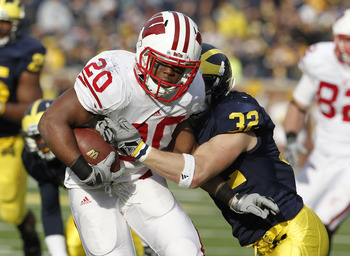 Gregory Shamus/Getty Images
How many players in Michigan history have gone from walk-on to team captain? Well, it looks like there is a good chance that will be the case with Kovacs.
I think Denard Robinson is a lock to be a captain on Team 133, and I think Kovacs is the next most likely guy. In fact, I would have no problem calling him a lock as well.
Who that third captain will be is still anyone's guess, but I think Kovacs and Robinson have their spots secured. We all know how much the captains meant on Team 132, and this year's group will be no different.
Assuming he becomes a captain, Kovacs will endure a tremendous amount of responsibility, but it's nothing he can't handle. Pretty impressive for a former walk-on.
Kovacs Will Be Dearly Missed Once He Graduates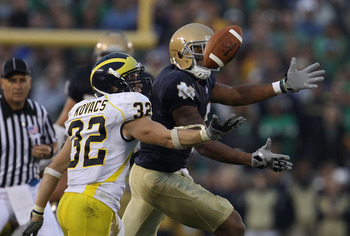 Jonathan Daniel/Getty Images
This may sound a bit strange, but I think Kovacs will actually be missed more off the field than on it once he is gone. What he means to this team in the locker room just can't be replaced over night.
His production will obviously be missed as well, but Thomas Gordon will still be around and I think Jarrod Wilson will be a future stud, while there is still hope for Marvin Robinson as well.
This is a crucial group of seniors, as Kovacs is arguably the most important one behind Robinson.
It will certainly be a sad day on Nov. 17 in Ann Arbor, as fans will say goodbye to some of the most beloved players we've seen in quite a while.
Keep Reading

Michigan Wolverines Football: Like this team?