Philadelphia Flyers: 10 Bold Predictions for 2012-13 Season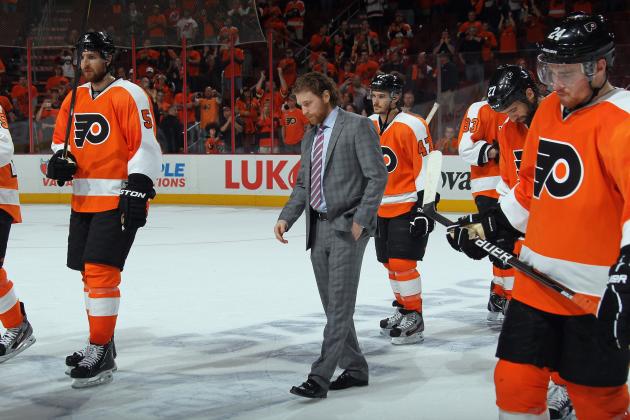 Bruce Bennett/Getty Images

Before 2011-12 I published 5 Bold Predictions for the Flyers season with mixed results.
In an attempt to capitalize on that article's popularity and stroke my own ego by making predictions before anybody even knows if there is going to be a 2012-13 season, I present 10 Bold Predictions for 2012-13.
While last year's offseason was full of controversy and uncertainty, Philly's front office failed to sign any top free agents. They directed their sights at a more steady approach, such as keeping a solid young core together.
They put up 103 regular season points and eliminated the Stanley Cup favorite Pittsburgh Penguins from the playoffs, all in what was most of the team's first year playing together.
This year's predictions are all about progression and growth for the Baby Bullies.
So read through my educated guesses and let me know what you think about them. And be sure to make a prediction or two of your own.
Here we go.
Begin Slideshow

»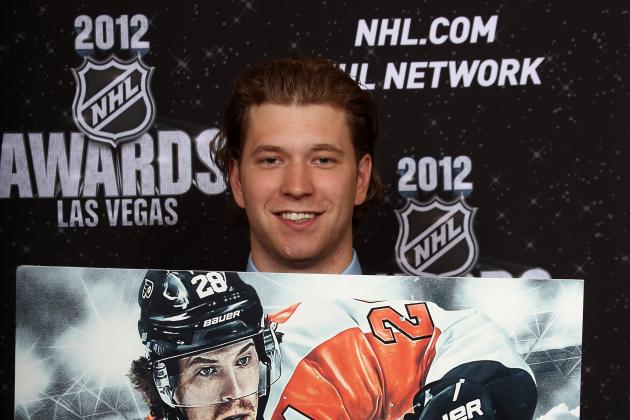 Bruce Bennett/Getty Images
Giroux vs. NHL 94 Roenick- make it happen.
Off the start, I expect Claude Giroux to score 110 points in 2012-13.
But that's an easy prediction.
Through Giroux's first three seasons in the NHL his point-per-game production has increased by a large margin each year (2009-10: 0.57; 2010-11: 0.93; 2011-12: 1.21) and that trend should only continue as his ice time, responsibility and experience grows.
Giroux made a name for himself in the Quarter finals against Sidney Crosby and the Pittsburgh Penguins, and 'G' was recognized nationally for his emerging superstardom by being voted cover athlete for EA Sports' NHL 13 video game.
Flyers fans shuddered at the prospect of facing off against Crosby—the best player in the league for the rest of his career—when the current Penguins captain was an 18-year old phenom with an infinite upside.
Philadelphia seemingly has an answer for "Crysby" in Giroux, who is a gritty superstar with all the skill and a lot less hype.
Pittsburgh quantified Crosby's worth to their franchise by signing No. 87 to a 12-year, $104.4 million contract earlier this summer.
It is now Paul Holmgren's, and the Flyers' front office's duty, to make a commitment to Giroux and show the team's best player it is committed to him as the player who can go head-to-head with the rest of the league's top players.
Bold Prediction: Claude Giroux will sign a long-term mega-extension with the Philadelphia Flyers as soon as the NHL and NHLPA reach an agreement on the salary cap going forward and a new collective bargaining agreement is in place.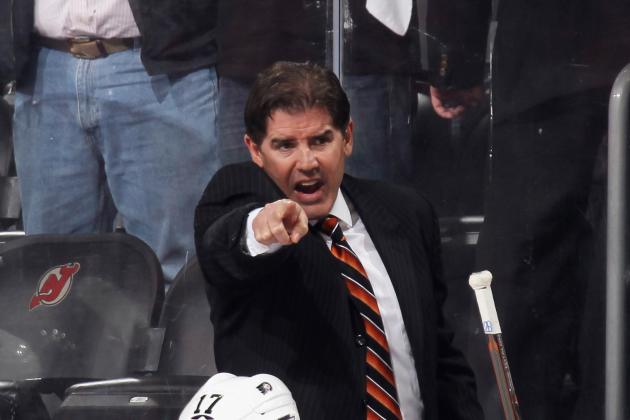 Bruce Bennett/Getty Images
What do you think is running through Simmonds' mind right here?
The Flyers made an organizational shift in their support of Peter Laviolette last season.
In trading away Richards and Carter and keeping the coach in the midst of a disappointing sweep from the playoffs and rampant rumors of locker room discord, the Flyers said they have made a commitment to Laviolette.
In 2011-12 Lavy managed a goalie who seemed to have issues; the loss of two captains in about three months; a roster chock full of youngsters who've never played together before; and, the distractions of the Winter Classic and HBO's 24/7 cameras.
For the second year in a row Laviolette's Flyers were defeated four straight times in the Semifinals and sent home before anybody tied to the organization would have liked.
But it was Laviolette who oversaw an over-achieving group of new faces score 264 regular season goals (3rd in NHL) and keep its cool in the face of of a classless, disrespectful Penguins organization (and then dispatch them with ease).
Unlike 2011's playoff disappointment, the Flyers' play in the 2012 postseason—while the elimination was initially met with disgust (really, the freaking Devils? Again?)—excited a fan base with its eyes on the long-term future of the hockey club.
Laviolette's success, much the same as Giroux's, will need to be quantified going into the last year of his contract with Philly.
Bold Prediction: Peter Laviolette will sign an extension to stay with Philadelphia for at least three more seasons.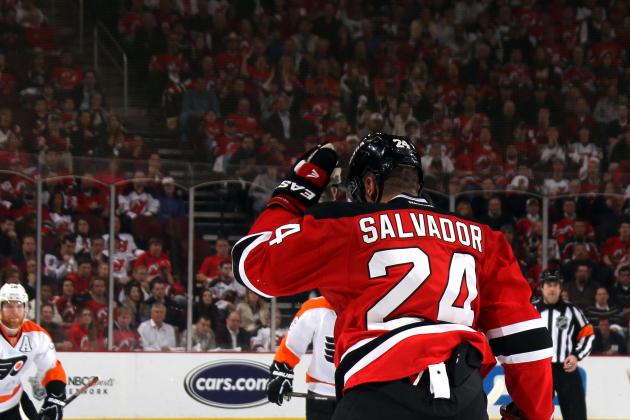 Bruce Bennett/Getty Images
JvR in his natural position
JvR and Matt Carle.
Technically these are two separate predictions but I'll try to condense the best I can.
Quite possibly two of the hardest Flyers to sit down and watch. Ever.
Frustration is the only adequate emotion when it comes to describing both players' games in their Philadelphia tenures.
Both van Riemsdyk and Carle will be suiting up elsewhere in 2012-13 and their absences alone will improve the Flyers.
JvR was a skilled, big-bodied forward with strong skating ability, decent hands and a lot of athleticism. He should have been much better, except he simply was not tough enough.
Matt Carle was an under-sized defenseman who moved the puck well (although his breakout passing was never the same once he didn't have Pronger creating space for him) He put up some assists and logged ice time.
First van Riemsdyk.
The move away from Philly should be a fine change of scenery for the former second-overall pick.
Rumor has it that the Maple Leafs are considering moving JvR to center to make better use of his size and puck-handling abilities.
If van Riemsdyk centers Toronto's top line of Phil Kessel and Joffrey Lupul he will have a great season.
Just look at Lupul's numbers last season as proof of the Kessel effect.
Lupul averaged 0.28 goals per game and 0.57 points per game over the first seven seasons of his career.
In 2011-12 playing with Phil Kessel, Lupul scored 25 goals in 66 games (0.38 per game) and averaged over one point per game (67 points in 66 games).
Over his first three seasons JvR averaged 0.51 points per game, almost exactly the same as Lupul.
Bold Prediction: James van Riemsdyk will set career highs in goals and points with the Toronto Maple Leafs in 2012-13, by netting 27 goals and 55 points.
Matt Carle, on the other hand, is in a bit more of a bind.
Carle struggles in his own zone and is now the highest-paid defenseman on the Tampa Bay Lightning, who gave up a staggering 281 goals last season, by far the most in the NHL.
Bold Prediction: Matt Carle is a minus (-) player for Tampa and the Lightning, again, give up the most goals in the league.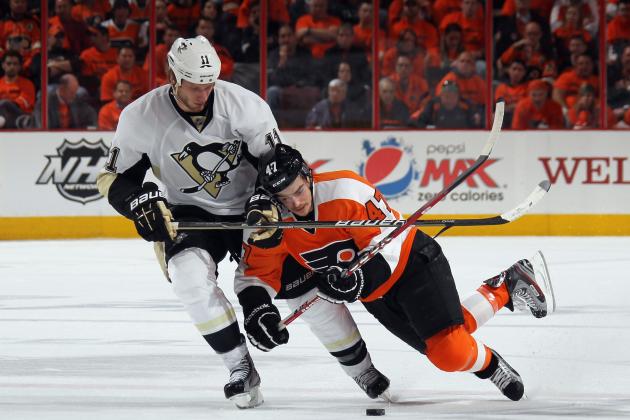 Bruce Bennett/Getty Images
put your stick in his teeth, let 'em know you're there.
The more I look into Wellwood's limited playing time from 2011-12 the more he impresses me.
Beyond blazing speed, Wellwood was a scrappy, responsible bottom-six forward for the Flyers last season.
In 24 regular season games Wellwood put up 5 goals and 4 assists. Not setting the world on fire, but not bad production from a 22-year-old rookie taken in the sixth round of the 2009 draft.
Furthermore, Wellwood protected the puck very well for an 180 lb. speedster with basically no NHL experience, having logged 13 takeaways versus only 5 turnovers.
Wellwood also blocked 12 shots, laid 16 hits and registered a plus-12 rating in orange and black last season, showing he could contribute defensively for a team that scores, scores, scores.
With the loss of James van Riemsdyk and Jaromir Jagr so far this summer and Jake Voracek still an unsigned restricted free agent, Wellwood could stand to see an expanded role in 2012-13.
His playing style is perfect for coach Lavy's system and he showed flashes of top-six forward skill and play-making ability.
Bold Prediction: Eric Wellwood matches Matt Read's 2011-12 production (23 goals, 47 points, plus-13).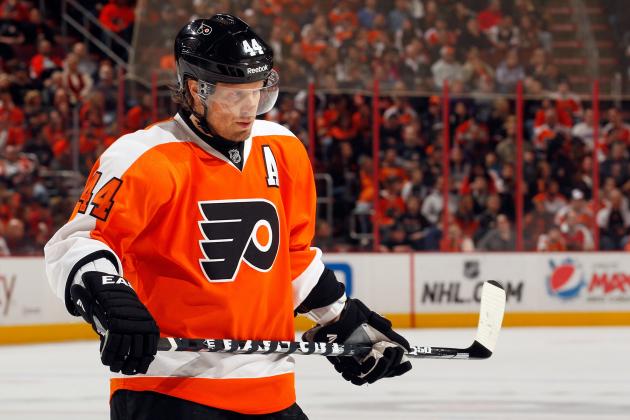 Rob Carr/Getty Images

Timonen may be my personal favorite Flyer of the past decade.
He was brought here after a disastrous 22-60 season to provide a veteran presence on the back line and quarterback a power play for a team that badly needed these qualities.
What Timonen has become in orange and black is the face of what Philly fans love in their athletes.
Timonen produces points, leads by example, keeps his mouth shut unless absolutely necessary, plays hurt and embodies hockey.
But the (supposedly) 5'10" 194 pound defenseman turns 38 in March and after playing 461 games over five seasons in Philadelphia he's suffering from what I call Eric Desjardins syndrome.
The Flyers began to take steps to alleviate this syndrome in 2011-12 in an attempt to conserve him for the postseason.
Timonen played 76 regular season games last season (his fewest since 2002-03), after playing in all 82 games the previous two seasons.
While no specific injury was cited Timonen was said to be receiving maintenance days several times last season, and when he did play his ice-time was reduced as well.
Kimmo averaged just over 21 minutes per game last season, after averaging over 23 minutes per game in his previous four seasons with the Flyguys.
It will benefit both Timonen and the Flyers to continue this trend in 2012-13 if the team is serious about making a Cup run.
The Flyers are going to qualify for the playoffs. They have an extremely talented roster and have only missed the playoffs once since 1994.
That said, what the Flyers lack in a big-name D-man they make up for with depth and could afford to sit Timonen strategically to ensure he has his legs under him in the postseason.
Bold Prediction: Kimmo Timonen will play less than 70 games in the regular season.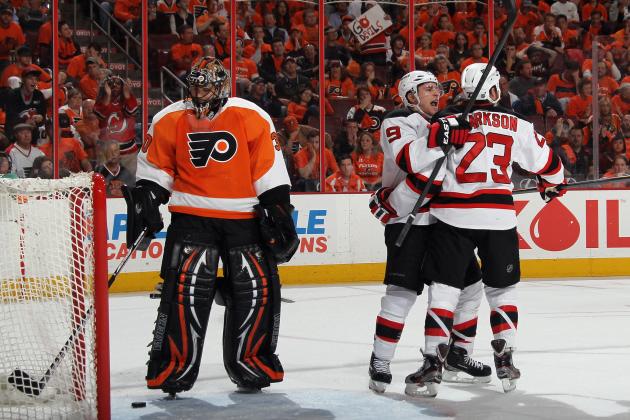 Bruce Bennett/Getty Images

Piggy-backing off the Timonen slide, I expect Bryz to improve upon a wildly-inconsistent first season in Philly.
While the $51 million Russian has a lot about his own game and approach to work on, the Flyers have improved the group of defenseman in front of him after last year's disarray.
Timonen, Braydon Coburn, Nick Grossmann, Andrej Meszaros, Luke Schenn and Bruno Gervais bring a lot of versatility to the starting six with their size, speed, physicality and puck-handling.
Behind this group there is quite a bit of depth in Andreas Lilja (yeah, he's still around), and youngsters Erik Gustafsson, Marc-Andre Bourdon and Brandon Manning: all of whom gained valuable NHL experience last season.
And I hate to bring this up again but really, I don't. Matt Carle not playing in a Flyers jersey greatly improves the team's defensive zone coverage and should really reduce the number of shot-block attempts turned deflection goals.
With a reliable group of defenseman in front of him and a full year to adjust to the Philly media and fans Bryzgalov should be an All-Star.
Bold-Prediction: Ilya Bryzgalov finishes amongst the top five goalies in wins, shutouts, GAA and save-percentage.
**Disclaimer: If Bryz does not pull a 180 and become the dominant goaltender the Flyers are paying him to be the front office needs to buy him out. It is now or never for Ilya.**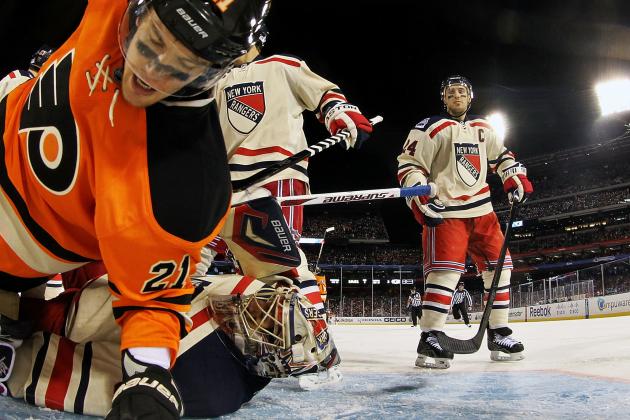 Bruce Bennett/Getty Images
The most useful JvR has ever been.
The Flyers lost all six meetings against the New York Rangers last season, a trend that should turn around in 2012-13.
The Blue Shirts blocked 666 shots last regular season and all-world goaltender Henrik Lundqvist won the Vezina Trophy and even received Hart Trophy consideration.
Despite this, the Rangers dropped the Eastern Conference Finals to the sixth-seeded New Jersey Devils in six games.
Coach John Tortorella has now three-and-a-half years at the helm in Madison Square Garden and last year everything seemed to come together after capturing the top seed in the Eastern Conference.
However, the playoff loss puts Torts and the Rangers in a precarious position as his system and coaching style have a way of wearing on a team over the long haul.
After winning the Stanley Cup with the Tampa Bay Lightning in 2004—thanks to great team defense, shot-blocking and a career year from goaltender Nikolai Khabibulin—the team was never the same.
After the lockout Tortorella's Lightning were eliminated from the first round two years in a row then missed the playoffs in 2008, leading to the fiery coach's departure.
Constant screaming from a coach telling players to put their bodies on the line with little result will eventually lead to players tuning out their coach.
Bold Prediction: The Flyers will go 4-1-1 against the Rangers in 2012-13.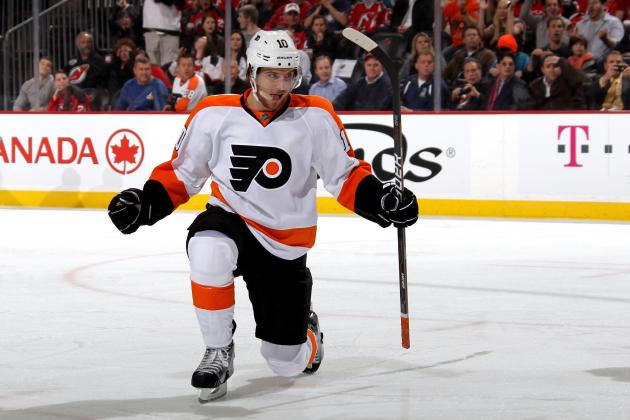 Bruce Bennett/Getty Images

The younger of Philly's Schenn brothers had a tough time getting started last season, as a shoulder injury and concussion sidelined No. 10 for all but 8 games before the Winter Classic.
Schenn netted his first career goal at Citizens Bank Park against the New York Rangers and started to figure things out in the second half of the season, scoring 12 goals and 18 points while seeing an increase in ice-time.
In the playoffs Schenn earned his keep as a top-six forward, dishing out bone-crunching hits, scoring three goals and nine points in 11 games and looking like a great complement alongside Danny Briere and Wayne Simmonds.
Given a fully-healthy season and a spot alongside both a great distributor in Briere and a space-creating power forward in Simmonds, Schenn should live up to GM Paul Holmgren's pre-2011 billing "the best young player outside the NHL."
Bold Prediction: Brayden Schenn will score 20 goals.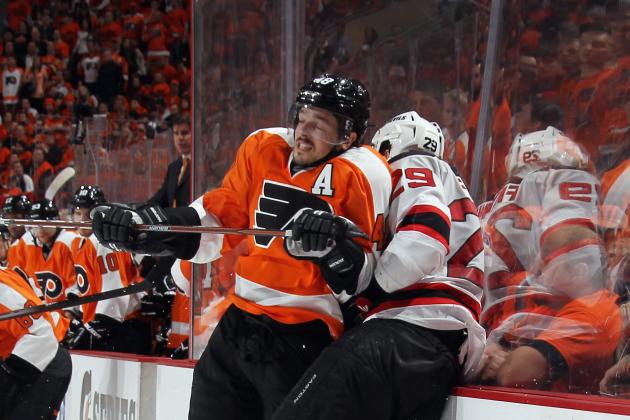 Bruce Bennett/Getty Images
let me see your mean face.
Oh, Danny Boy.
Briere struggled to find the net in the regular season last year, scoring only 16 goals and 49 points in 70 games.
As it appeared Briere, who has three years at $6.5 million per left on his deal, was entering the twilight of his career, Danny did what he always does. He turned it up in the postseason.
Mr. Playoffs scored 13 points in 11 tournament games, benefiting from the space created by two big linemates in Schenn (6'1" 190 lbs) and Simmonds (6'2" 183 lbs).
It seems as if the under-sized center/wing swing-man will again be paired with those two, allowing him to do what he does best—play give-and-go and distribute from behind the net or make a move for a wrap-around just to keep the defense and goalie honest.
He is nearly 35 years old, and still has a lot to offer the orange and black. His mentoring of young players over the past several seasons has been incredibly valuable.
I have pushed for the team to name Briere captain for his work ethic, leadership and dedication to the team even when his individual season is not going well.
His value as a leader and point-producer make him one of the three most important players heading into 2012-13 (Giroux, Bryzgalov) and I expect Danny Boy to step up like he always does.
Bold Prediction: Briere will reach his career average of 64 points (0.79 PPG x 82 games).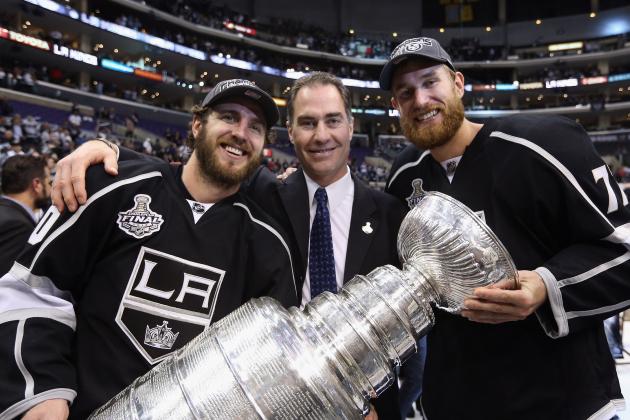 Bruce Bennett/Getty Images
Had to do it. Sorry.
Honestly, I didn't think my season prediction would be so homer-ish, but as I ran through the rest of my predictions it only makes sense.
I expect Giroux, Bryzgalov, Schenn, Briere, Wellwood and the defense as a whole to improve on a season in which the orange and black put up 103 regular season points and advanced to the second round of the playoffs.
I expect the Rangers and Devils to be worse than last year and the Bruins without Tim Thomas aren't scary at all.
With that in mind it only makes sense to tell the people of Philadelphia to set their folding chair up on Broad Street now because a parade is imminent!
Bold Prediction: After a 37-year drought, the Philadelphia Flyers will be Stanley Cup Champions in 2013!!!!