WWE Money in the Bank 2012: Voodoo's Burning Questions After the PPV Event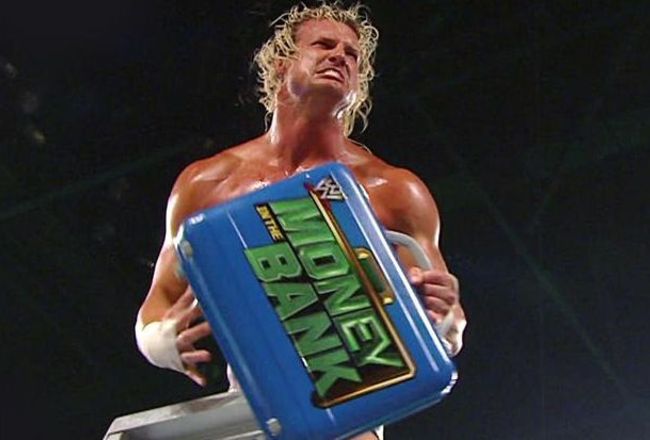 from dolphziggler.com

WWE's annual Money in the Bank pay-per-view matchup has come and gone, and it has left us with some burning questions about where exactly WWE goes from here.
Overall, I have to commend WWE for putting on a show that actually dealt with the storylines so well and provided such quality action.
So, where do we go from here? Let's get started.
Question #1: What Is WWE Doing with the Tag Title Scene?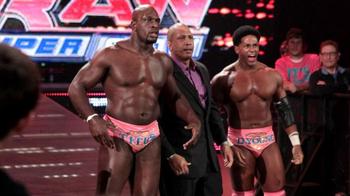 from wwe-raw.org
I like the fact that WWE spent some time last night addressing the Tag Team Title scene with, not one, but two matches, yet I'm a little confused as to the direction they're going in.
First of all, if they want to put their tag champs, Kofi & Truth, on the pre-show, then that's fine. In the past, WWE has shown that they will often put a champion/championship match before the show. But if Kofi & Truth are on the pre-show, then why did we get the Prime Time Players vs. Primo & Epico on the main show? And more to the point, why did PTP, the No. 1 contenders for the straps, lose the match?
I have no issues with Primo & Epico. I think they're quite talented and work well together, plus Rosa Mendes adds another, ah, dimension to the team. But they had their chances as tag champs, and while turning them face has kept them relevant, MITB 2012 should have been more of a chance for PTP to show what they can do. Having Primo & Epico win only muddles the title picture.
Then again, after months of having no one in the Tag Title picture, it's nice to have a few different teams who could compete for the belts. But who gets the first crack? And will the belts actually be defended more often in the future?
Question #2: Why Are Reks & Hawkins Not in the Tag Title Scene?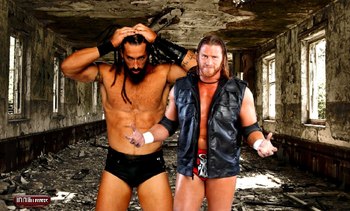 from wwexfutbol.com
Speaking of tag teams, we saw another duo in action last night: Tyler Reks & Curt Hawkins. Honestly, it was nice to have them on the card because I can't even think of the last time those two made it on PPV. Hawkins hasn't been on PPV since he was an Edgehead. Has Reks ever been on a PPV?
However, instead of being added to the burgeoning tag title scene, they spent their time jobbing to Ryback. This was not a typical squash, as Ryback had to struggle a bit to win this one, not to mention the fact that Ryback seems to finally have a feud going. Admittedly, it is with superstars who haven't done much recently, but beggars can't be choosers.
Reks & Hawkins have some talent, and I feel like, from here on out, they should be focused less on Ryback and more on competing in the tag team division. Ryback will be fine on his own. Reks & Hawkins need to move on.
Question #3: Is the Divas Divison in a Holding Pattern?
from fightgame.com
What was the point of the Divas match last night?
There we were, awaiting the return of Kharma (seriously, come back please!) and the debut of talents like Buggy Nova and Sara Del Rey, and instead we got a Divas palate cleanser match last night. Not only that, but the ladies in the match that actually possessed any talent (Phoenix, Natalya, and Tamina) barely got any focus, with the cherry on top being that Phoenix took the fall.
Not to harp on the issues in the women's division, but I'm wondering if WWE isn't doing more with them because they're in a holding pattern, so to speak. With Kharma, Nova, Del Rey, and some of the other talented ladies in FCW coming up at some point, it seems like there is going to soon be a revolution/reloading in the Divas division. The more talented performers are going to be taking over, while the Barbie-doll Divas will be fading into obscurity.
So was the match last night more of the same from WWE, or are we supposed to think that it's more of a "hold on, we're almost there, just sit tight" kind of thing?
Question #4: Is Dolph Ziggler Going to Screw It Up?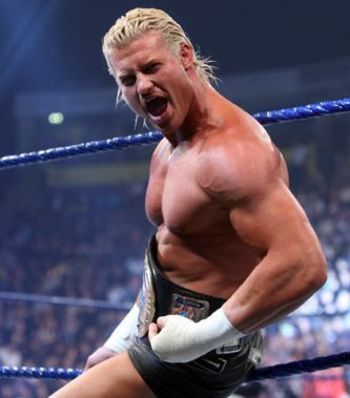 from ewrestling.wikia.com
Big surprise: Dolph Ziggler won his first Money in the Bank briefcase last night.
Ziggler was the best candidate of the bunch, the one with the most potential as a main eventer and the guy who is most likely to take the next step. I still think that his recent losses against Sheamus have hurt him, but there's no denying that his never-say-die attitude is helping him become more legitimate with every passing day.
Naturally, WWE almost had him throw everything out the window by immediately trying to cash in on Sheamus.
Ziggler should be thanking his lucky stars that Sheamus knocked him out before he officially cashed in his briefcase. If Ziggler had been the first guy to unsuccessfully cash in the briefcase, then he might as well have packed his bags and left the company last night. But, thankfully, he got away with it and lived to cash it in another day.
I feel like I've been saying this forever now, but Ziggler must be careful how he cashes in. He has to do it in some way that does not hurt his legitimacy as a main eveter, which means that he cannot cash it in on a downed champion right now. If he's going to do the surprise cash-in, he needs to build himself up as a true player in the company and win some matches against major opponents. Otherwise, he needs to cash it in for an actual match (if they want to go the babyface route).
I'm worried for Ziggler. I'm worried that he's going to screw up this opportunity. WWE desperately needs new blood in the main event, especially on the heel side, and Ziggler needs to take care and not go the way of Jack Swagger.
Question #5: Is the Punk-Bryan Feud Signaling the End to the "Alignment Era"?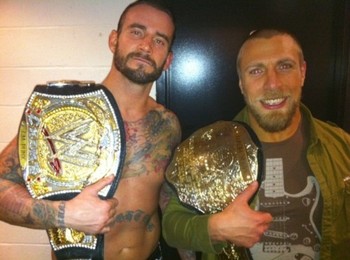 from ringsidenews.com
You'd think that maybe the question here would be: Are they ever going to resolve the A.J.-Punk-Bryan love triangle? However, I'm wondering about something much deeper than that: Are we starting to see WWE move away from the strict alignments of "face" and "heel," and more towards letting the fans choose who they want to cheer for?
Bryan has been riding this line for a while now, but he's not the one who started it. Chris Jericho is arguably the progenitor of this phenomenon—always being cheered when he returns and always being cheered by a segment of the audience no matter what he's doing. Randy Orton went down the same road two years ago in his feud with Legacy, when WWE threw three heels at us and basically said, "look, you figure out who you want to cheer for." This led to Orton becoming one of the top babyfaces in the company.
Now, Bryan has become that guy. Nominally a heel, he gets cheered by a huge segment of the audience despite never pandering to them and being an arrogant jerk. The Punk-Bryan match last night was filled with dueling chants for both men, neither of whom really showed any kind of definite heel or face characteristics (sure there were weapons, but both guys used them). Punk and Bryan put on yet another classic, and the fans got to pick who they wanted.
My question then is: Is WWE going to wise up to this and give us more tweener/neutral characters? Or are these two an anomaly?
Question #6: Whither Goest Thou, WWE Title?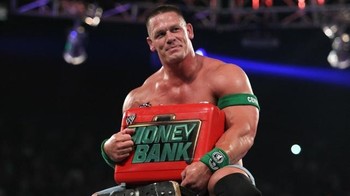 from examiner.com
After Bryan and Punk layed it all out there—and the A.J. situation was not fully resolved—John Cena won his first WWE Title briefcase, as expected.
So...now what?
WWE, I'm assuming, is still promising us this "big summer angle" that has yet to materialize, and I'm guessing that it's going to be centered around the upcoming CM Punk-John Cena feud.
However, where does Daniel Bryan fit into all of this? Logic would say that Bryan is out of chances, but it's not like Punk whipped him and made it very obvious who the better man is. You could make the case that Bryan is entitled to another chance, provided he earns it.
But then there's the shadow of Cena looming large over the proceedings, and it makes me wonder how they're going to handle Cena now that he holds the MITB briefcase. Does he cash it in by surprise? I doubt it. That would go against everything his character stands for.
So that would leave us to believe that Cena is going to cash in the briefcase in a match at Summerslam, which could give us our second straight summer highlighted by a Punk-Cena feud.
But are they they only ones who get to participate? Doesn't Bryan have a right to try and earn a No. 1 contender spot again? And what about The Miz? Aren't we to assume that he's going to try and get involved somehow? And also, with The Rock threatening to return, is he getting involved somehow?
Basically, the WWE title scene is a bit muddled now, but in a good way. We have a number of guys who could be considered contenders, but it becomes all about who exactly is the one that gets the shot.
Personally, I would love to see a Bryan-Punk-Cena triple threat at Summerslam.
Question #7: Should Money in the Bank Be Considered One of WWE's Flagship PPV's?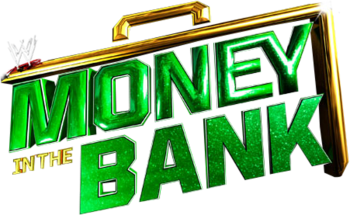 from wrestlingvalley.org
Wrestlemania. Summerslam. The Royal Rumble. The Survivor Series.
After these past two years, should Money in the Bank be added to this list?
The fact is that the quality of the past two Money in the Bank PPV's has been far better than most of WWE's other shows. Last year's event gave us one of WWE's greatest matches ever in Punk-Cena (the first 5-star match in WWE since 1997), and this year's event gave us a phenomenal World Heavyweight Championship MITB ladder match as well as a spectacular WWE championship match (I don't know if Meltzer is going to give Punk-Bryan the full monty, but you never know).
If the buy rates and critical responses are good enough, should WWE consider making Money in the Bank into one of their flagship PPV's? The MITB ladder matches certainly serve the same purpose as the Royal Rumble, so why not put the PPV's on equal footing?
Keep Reading