Alabama Football: Don't Expect A.J. McCarron's Role to Grow in Tide's Offense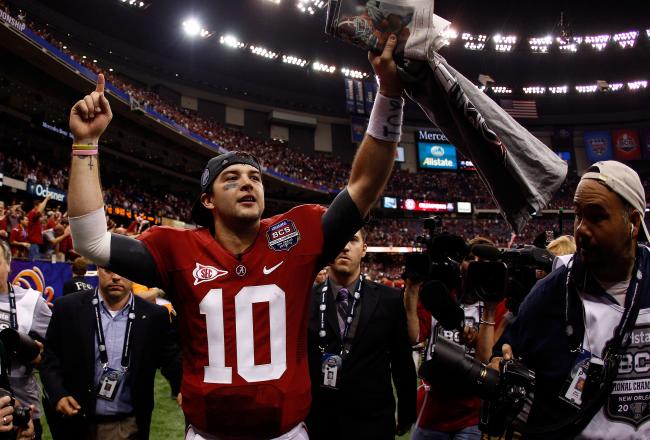 Chris Graythen/Getty Images
We all saw A.J. McCarron emerge as the starting quarterback for the nation's eventual BCS champions a season ago. We watched as he edged out Phillip Sims in the spring, only to truly win the job in the first couple weeks of play.
We saw as he handed the ball off to beast Trent Richardson en route to an 11-1 regular-season record and a second-place SEC West finish.
We saw as he had a "coming out party" against LSU in the title game—a game where Jim McElwain and Nick Saban used self-scouting and broke tendencies to allow McCarron to surprise LSU's defense and ultimately get the big win.
If folks have a ton of confidence in McCarron, that's quite alright. In fact, given his showing of what he can do both physically and mentally, people should be confident in the rising junior quarterback. The kid knows what he's doing out there, and for Alabama and Nick Saban, that's exactly the quarterback that they want going into 2012.
As Steve Holley of the Houma Today reports from the Manning Passing Academy, McCarron is excited for 2012. McCarron said:
Everybody said we were more of a run team last year, but our stats toward the end of the year, we were probably more pass [oriented]. I think we're going to throw the ball more, but I don't really care. I'm not a selfish guy and don't care if we throw it or run it. I just want to win.
True, the Tide lose stud running back Trent Richardson and bring in Doug Nussmeier, the man who helped guide Washington's wide-open attack over the last three seasons. However, a quick look at Nick Saban's track record over his coaching career should send a conflicting message.
Don't get too excited to see the Tide sling the ball around the yard.
Alabama's going to be a running football team. Eddie Lacy, T.J. Yeldon and the rest of the stable at running back will be doing the heavy lifting, while McCarron and the passing game will be used to keep teams honest. Don't expect the 2012 Tide to look like the 2011 BCS Championship Game; rather, expect them to look exactly like the team that chewed opponents up and spit them out in 11 games of the regular season.
While confidence in McCarron should be high, the fact of the matter is Alabama doesn't need more out of him to win ballgames. Until teams prove they can beat Alabama at their own game—punch them in the face and dare them to get up—Nick Saban will not be throwing wrinkles into the game plan.
SEC great Archie Manning understands this point, as he told the Houma Today:
Some teams are throwing for 300 and 400 yards a game. With Alabama, that's not what they have to do. But A.J. played a very good quarterback position last year and then finished strong. They'll always have balance at Alabama, but I've got to believe they've got a lot of confidence in him.
The game plan may not change, but McCarron is most certainly ready to get the job done for the Crimson Tide. When Nick Saban's team is up against an opponent that requires McCarron to be the difference-maker, we can expect the junior quarterback to belly up and get the job done. After the BCS championship showing, when the time comes for Alabama to flip things on an opponent, it will no longer be a surprise to see McCarron air it out.
This article is
What is the duplicate article?
Why is this article offensive?
Where is this article plagiarized from?
Why is this article poorly edited?