Money in the Bank 2012: After Losing to Sheamus, What's Next for Alberto Del Rio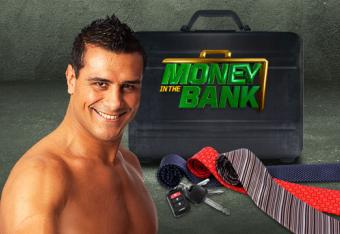 wwe.com

Ever since he first debuted in the WWE. Alberto Del Rio has been chasing after the world heavyweight championship, a title which has eluded the Mexican superstar for almost two years.
During last night's Money in the Bank pay-per-view in a match against the current World Heavyweight Champion, Del Rio again came up short as the title escaped his hands once more.
After this, the question remains, is it time for Alberto Del Rio to move on?
Reports of Vince McMahon asking Del Rio to act more aggressively (via WrestleingInc.com) imply that the company has future plans for the Mexican aristocrat, and while I have no doubt that the former luchador will find his way into the world heavyweight scene again before the end of the year, it may be best that, for the time being, Del Rio's career takes a different direction.
His recent attacks on the former CMLL superstar Sin Cara could lead to an interesting feud between the two men while allowing Del Rio to comfortably rest on the midcard until he is brought into the main event scene near the end of the year.
A feud between Sin Cara and Del Rio would allow the two men to finally dazzle the WWE Universe with the lucha libre style for which they were first made famous.
Sin Cara has been having issues adapting to the WWE's style of wrestling, so what better person to coach him than Del Rio, who has not only adapted to the WWE's environment, but has conquered it as a two-time WWE champion.
Another possibility for Del Rio is to go after one of the other titles.
After John Cena's victory in Raw's Money in the Bank ladder match, it is clear the WWE wants to see Cena thrown back into the WWE championship scene—one which is already crowded with figures such as Daniel Bryan, Chris Jericho, Kane, and of course the current WWE champion CM Punk. Entering Raw's already packed main event, would probably be a poor move for Del Rio, as he would most likely fade behind the larger figures already present in it.
What should Del Rio do now?
Of course, Del Rio is not limited in his pursuit of titles. While it appears that the WWE wants to see Del Rio with a world title, for the time being the Mexican aristocrat's time may be better spent chasing after one of the mid-card titles such as the intercontinental title.
Now that Cody Rhodes seems to be moving on to the main event scene, Christian is left without someone to feud with. Enter Del Rio. The two men could put on an interesting program, allowing Del Rio to be part of WWE programming while giving his main event presence a rest.
Whatever role the WWE decides to give Del Rio, let's hope it is one that will finally allow fans to appreciate the talent this superstar has.
Luis invites you to be part of his journey as a sports writer by following him on Twitter: https://twitter.com/luchalibrelife or via Facebook subscription: https://www.facebook.com/lcampos1990.
This article is
What is the duplicate article?
Why is this article offensive?
Where is this article plagiarized from?
Why is this article poorly edited?