UFC 149: Urijah Faber vs. Renan Barao Head-to-Toe Breakdown
mmaconvert.com
The UFC takes the Octagon to Calgary this weekend, with the main event being an interim bantamweight scrap between Urijah Faber and Renan Barao. This fight looks to be one of the most exciting bouts to hit the ultimate proving ground in a while.
It's an interesting style matchup, as both men are very well-rounded. It will be interesting to see who will come out on top of this chess match.
Here's a head-to-toe breakdown of how these two match up.
Striking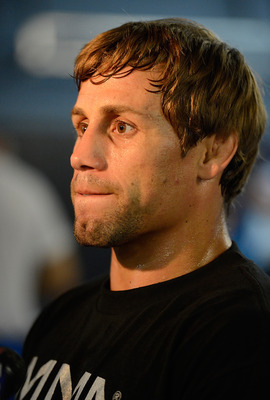 Thearon W. Henderson/Getty Images
When it comes to the striking department, this matchup will be extremely close.
On one hand, you have Faber, who is a skilled boxer with good power-punching ability. He's pretty technical and has good movement.
On paper, Faber owns seven knockout victories to his name. His last loss to Dominick Cruz showed that he can hang with some of the trickiest strikers.
Meanwhile, Barao has more of a Muay Thai kickboxing approach. He owns six knockout wins, but more recently, has shown off improved striking.
He will employ explosive knees and kicks, in addition to his well-schooled hands. That may be the difference, even though Faber has faced tougher strikers.
Edge: Push
Wrestling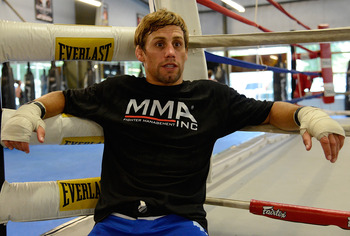 Thearon W. Henderson/Getty Images
Not much needs to be discussed here. Faber is a collegiate-level wrestler who still effectively uses his wrestling against opponents. Barao is not much of a wrestler, but more of a jiu-jitsu fighter.
Faber is one of the best wrestlers in the UFC and definitely one of the top guys at bantamweight. There's no argument here.
Edge: Faber
Grappling/Submissions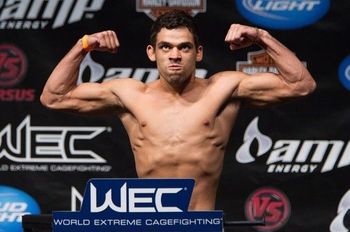 mmajunkie.com
In terms of submissions, one has to believe that Barao has the advantage. Thirteen of his wins are by submissions of varying kinds.
But, Faber has been around the game long enough to grapple with top guys. He has a strangling guillotine choke that has been used to put many away.
Faber's counter wrestling should be enough to keep Barao from getting the fight to the ground. If the fight does go there, Barao definitely has the slight advantage.
Edge: Barao
Intangibles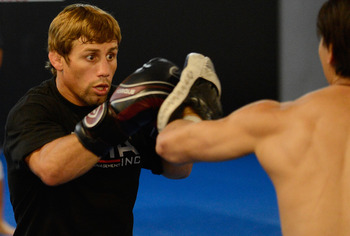 Thearon W. Henderson/Getty Images
The first intangible will be big-fight experience. This will be Barao's first headlining fight against a top name. Faber has been to the show before and will not have the jitters I suspect Barao might have.
Faber is Barao's biggest test to date. One has to wonder how he will respond to this challenge, especially against a guy as dangerous as "The California Kid."
Both come from solid training camps, as Faber comes from Team Alpha Male, and Barao is a Nova Uniao guy.
Both will have great training partners and preparation for this fight.
Prediction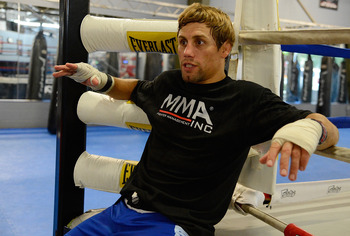 Thearon W. Henderson/Getty Images
Fight night will come, and you will see a doozy of a fight. I suspect neither man will finish the other, and it will be the fight of the night.
Faber's all-around attack and experience will be too much for the talented Brazilian. Barao will get his licks in, but when it comes down to it, the heart of a champion will emerge in Faber.
Expect exciting moments and edge-of-your-seat action. Following the match, expect Faber to make a meeting with his biggest nemesis—Dominick Cruz.
Prediction: Faber def. Barao via decision
Keep Reading