New York Yankees: Sympathy Will Help Alex Rodriguez Become a True Yankee
Al Bello/Getty Images
Alex Rodriguez isn't exactly what you'd call a sympathetic figure in Major League Baseball, but thanks to some questionable comments made about him in recent weeks, A-Rod might be gaining a lot more supporters soon.
It began with the remarks of former Yankee and Hall of Famer Reggie Jackson in a Sports Illustrated interview done by Phil Taylor.
"Al's a very good friend," Jackson says. "But I think there are real questions about his numbers. As much as I like him, what he admitted about his usage does cloud some of his records."
So much for being friends. Jackson clearly threw A-Rod under the bus to get a great quote. No matter how accurate his statements were, they were done in poor taste about a fellow member of the same organization.
Now Yanks general manager Brian Cashman has decided to throw his own jab at A-Rod and it couldn't have come at a worse time to do so. According to Jon Heyman of CBS Sports, Cash called Rodriguez "above average."
"I don't look at A-Rod and his contract. I look at him as a player who's above average at his position,'' Cashman said.
Another fair assessment, this time of A-Rod's abilities at this point in his career. The 36-year-old currently sports a .270 average with 14 homers and 40 RBI. In the MLB, that ranks A-Rod seventh, sixth and 13th respectively amongst third basemen..
Above average.
But again, no matter how true the statement might have been, was it really a good idea to make it perfectly clear that your former star player isn't what he once was after just having been beaten over the head only a few weeks ago?
I think it could have waited for another time. After all, the media—and yours truly—just came off a frenzy that saw the comments of Mr. October travel far and wide. It was still very much a hot topic, but at least it had begun to cool off in recent days.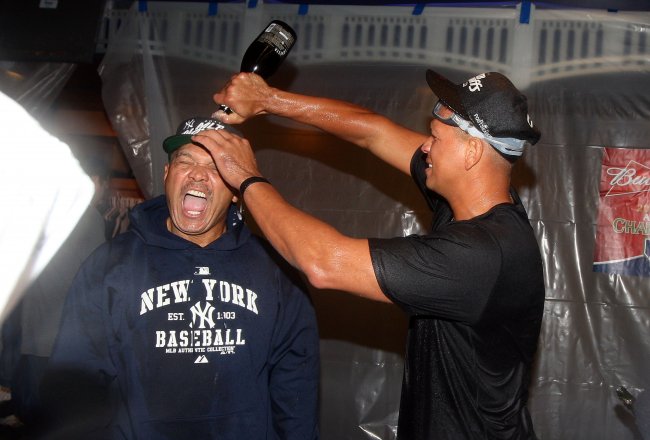 Jim McIsaac/Getty Images
Heyman's report mentioned above also points out the fact that boos are regularly heard when Rodriguez goes to the plate. Not like we needed a report to tell us that, though. All we needed were ears and a television.
Constantly being dragged through the mud, Rodriguez might have a chance to finally staple himself as a true Yankee—performance-enhancing drugs and all—as he continues to build the resume for a sympathetic figure on this team.
The Bombers will be regulars in the playoffs for the rest of A-Rod's career, so he'll have plenty of opportunities to come up big in a tight spot. Past failures such as the bases-loaded AB Rodriguez fell victim to against the Los Angeles Angels on Sunday could be erased in a flash.
Can A-Rod ever become a true Yankee?
Rodriguez just needs to do what he's done in only one of his previous eight seasons in pinstripes: come through in the clutch during the postseason leading to a World Series victory. He did it in 2009, putting the Yankees on his back during what was still considered the prime of his career.
But with Rodriguez on the downside of his career and more than battle-tested with the help of not only his opponents but also the members of his own organization, A-Rod could possibly make himself another memorable story in Yankee history by reaching down deep to become the star player he used to be.
In no way does this mean that A-Rod will be universally accepted by the baseball world even if he does come up big for the Bombers. He will still have his haters around the league, but he can still win over the Yankee Universe.
That's all the backing Rodriguez will ever need. Acceptance as a true Yankee has evaded him throughout his tenure in the Bronx, but that doesn't mean it's too late for A-Rod to earn his stripes.
Great play that helps the Yankees win championships and unforgettable stories have always trumped what any given player has done on and off the field in the annuls of pinstriped history. I don't see why A-Rod's career couldn't mirror such a result down the road if he can just get it done when the Bombers fans need him most (but expect it the least).
This article is
What is the duplicate article?
Why is this article offensive?
Where is this article plagiarized from?
Why is this article poorly edited?

New York Yankees: Like this team?