Jason Kidd Arrested: Legendary NBA Player Must Use DWI Charge to Raise Awareness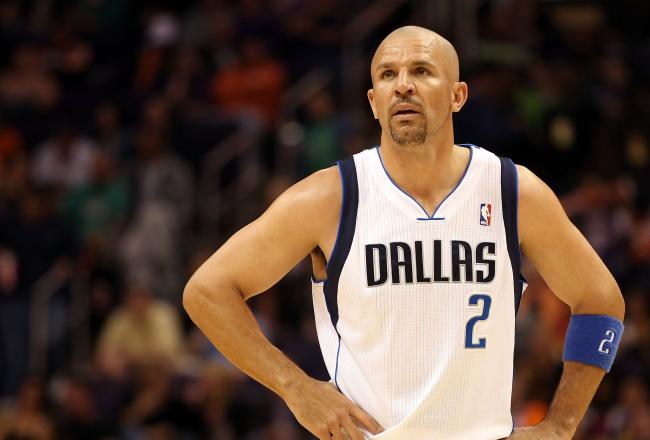 Christian Petersen/Getty Images
Shortly before 2:00 a.m. Sunday morning, Jason Kidd reminded us that even legends are prone to mortal mistakes.
Kidd, one of the best basketball players in the history of the game, was arrested and charged with driving while intoxicated after crashing his 2010 Cadillac Escalade near his home in the Hamptons area of Long Island, N.Y.
According to the Southampton Patch, Kidd, who was alone in the car, hit a telephone pole and veered into the woods. Police arrived on the scene at 1:56 a.m. and took him to Southampton Hospital, where he was treated for minor injuries.
The first thought I had when I read this story was thank God no one was seriously hurt or killed. The second was that if Jason Kidd doesn't become an outspoken leader in anti-drunk driving campaigns, then something is horribly wrong.
Now, I'm not going to sit here and lecture a 39-year-old father of three. He's a grown man and he doesn't need every sportswriter in the country condemning his actions.
At this moment, I'm even ready to forgive him. He made a mistake that many, many people make during the course of their lives. When he was allegedly partying Saturday night, he knew there could be consequences for his actions. He just thought he'd be fine.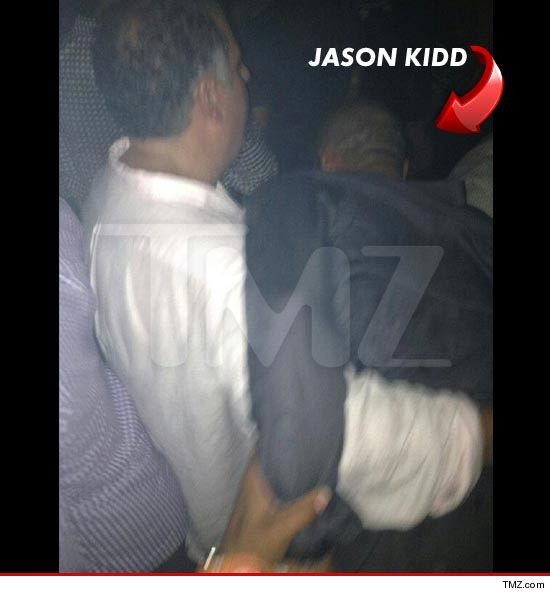 Jason Kidd being carried out of a club before his DWI. Photo courtesy of TMZ.com
I know the feeling. I'm not proud of it, but I've driven drunk on several occasions. A couple of my closest friends have been arrested for the same crime as Kidd. It's a very easy mistake to make, but it often has serious and deadly repercussions.
According to the National Highway Traffic Safety Administration, 10,228 people died because of alcohol-impaired driving crashes in 2010. That number accounted for 31 percent of all motor vehicle traffic fatalities in the United States that year, and it means that on average, a fatality because of drunk driving occurred every 51 minutes.
Those are some shocking statistics, and they clearly indicate that our country has a major problem with drinking and driving. There are many potential causes for this problem, but one of them has to do with the culture of alcohol, sports and television.
The late comedian George Carlin made a humorous yet scary observation about the way television advertisements program us. "Isn't it amusing to watch the commercials in between the sporting events on TV?" Carlin once asked. "Drink this! Drive that! [Expletive] you! They don't care."
Although he said this as part of a comedic routine, there is plenty of truth behind what Carlin was saying. Just turn on any baseball game this summer and pay attention to the commercials. What brands are being advertised? The first might be Budweiser. The second Ford. The third Heineken. The fourth Chevy.
The ironic part of Kidd being arrested for DWI is that every time you watch him play basketball, you're also being programmed by certain images. You watch a guy having a great time drinking beer with his buddies, then 20 seconds later, you watch a guy having a great time romping through the streets in his new truck.
Whether it's intentional or not, every commercial break, advertisers imply that it's OK to get drunk and drive around in what is essentially a two- or three-ton killing machine.
Well, I've got a commercial that I want to see during every New York Knicks game this season.
I want to see Jason Kidd standing with those who have lost loved ones in alcohol-related crashes. I want to see the sincerity on his face when he criticizes his own actions. And I want to hear him say that whenever you drink and get behind the wheel of a car, there's a decent chance that you will kill yourself or a fellow human being.
If Jason Kidd doesn't perform that simple task, then he is much less of a man than I thought he was.
This article is
What is the duplicate article?
Why is this article offensive?
Where is this article plagiarized from?
Why is this article poorly edited?

New York Knicks: Like this team?