Ohio State Football: Best and Worst Moments of the Buckeyes' Offseason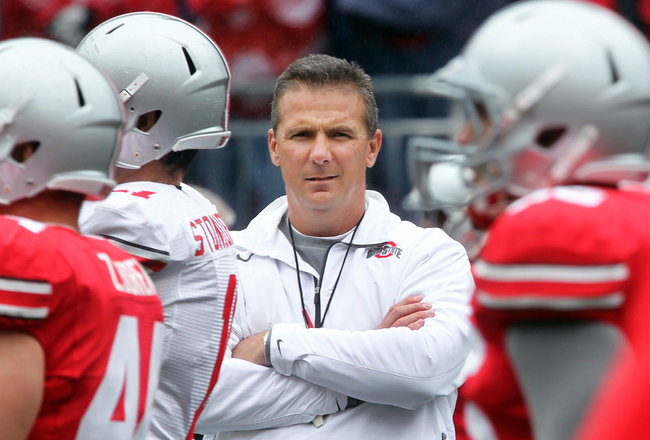 Picture used courtesy of SportsGulp.net

The college football offseason is all but over as we head into the latter end of July, and the Ohio State football program is preparing for fall practice.

It was nowhere near the roller coaster of 2010-11, but this past offseason has had plenty of ups and downs—wanted and unwanted.

What was supposed to be a quiet winter and spring turned to be clamorous and media friendly, from the hiring of Urban Meyer to the dismissal of senior linebacker Storm Klein.

Here are the best and worst headlines from the Buckeyes' offseason.
The Best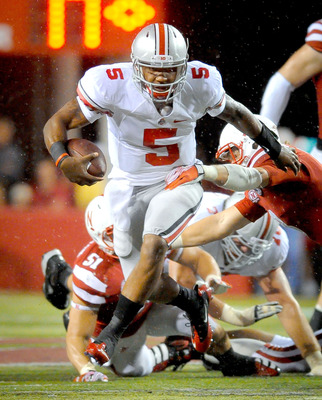 Eric Francis/Getty Images
November

- After a one-year stint as an ESPN analyst, the rumors that Urban Meyer would return to the field turned out to be true. He accepted a six-year, $4.44 million contract to coach the Ohio State Buckeyes.

- True freshman quarterback Braxton Miller was named the Big Ten freshman player of the year after his outstanding on-field performance in 2011. He finished the season with 1,874 total yards and a combined 20 touchdowns in just 10 games as a starter.

February

- After taking the job, Meyer immediately went to work. In just a little over two months, he took an unranked Buckeyes recruiting class to a top-5 finish by signing six 4-star and two 5-star prospects.

April

- The Scarlet team defeated Gray 20-14 in the annual Ohio State spring game, which featured an up-tempo offensive attack and a sneak peak of the passing game's progression. The Buckeyes led the country in spring game attendance with 81,112.

- Four Buckeyes were drafted in this year's NFL draft: Both offensive tackle Mike Adams and wide receiver DeVier Posey were taken in the second round, while running back Dan Herron and safety Nate Ebner followed in the sixth.

June

- The Ohio State football team finished the spring semester with a combined grade point average (GPA) of 2.88—the highest since 2010 (10 quarters).
The Worst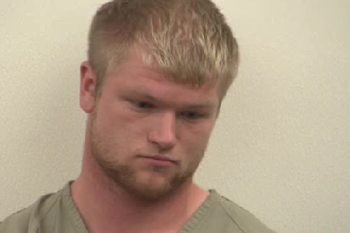 Storm Klein (picture used courtesy of 10TV.com)
January

- Ohio State lost to Florida in the TaxSlayer.com Gator Bowl by a score of 24-17, ensuring the team's first losing record since 1988. The Buckeyes ended the year on a four-game losing skid.

- Urban Meyer dismissed redshirt sophomore Dominic Clarke and freshman DerJuan Gambrell from the team for off-field problems. Both played as depth in the secondary.

May

- Athletic director Gene Smith and coach Meyer self-reported two (of 46) violations to the NCAA since May 30, 2011. Teams involved with the NCAA violations included football, men's basketball, field hockey, synchronized swimming and men's and women's track. Smith created a recruiting video for (now committed) Ezekiel Elliot, while Meyer said "good luck" to Noah Spence, then a prospective athlete.

- Pennsylvania 4-star linebacker recruit Alex Anzalone de-committed from Ohio State amid concerns that a convicted sex offender had contact with players and other recruits associated with the program. The abrupt decision made national headlines and sparked much controversy. Charles Waugh, the alleged predator, was later arrested for parole violation.

June

- Tight end Jake Stoneburner and tackle Jack Mewhort—both projected as starters—were arrested for misdemeanor charges of obstructing official business and suspended indefinitely by Meyer. The two are still expected to play Week 1, but have been taken off scholarship.

- Senior running back and projected starter Jordan Hall had surgery to repair a severe cut on his foot after stepping on glass outside his residence. The injury is "extensive" and he will likely not return until at least Week 3. Ohio State is prepared to place a medical redshirt on him if needed (which could be for the best in a bowl-less year, anyways).

- Sophomore Brian Bobek announced he will transfer to Minnesota after learning he would start the year as the third-string center behind junior Corey Linsley and freshman Jacoby Boren. He will be forced to sit out 2012 as part of the NCAA's transfer rules.

July

- Senior linebacker Storm Klein was dismissed from the team after being arrested for allegedly slamming a woman into the front door of his apartment, causing an abrasion and swelling to the left side of her forehead and scrapes on both of her forearms. He started 10 of 13 games last season, but was expected to play a backup role behind sophomore Curtis Grant in 2012.


Follow @Tyler_Waddell on Twitter
Keep Reading

Ohio State Football: Like this team?