5 Ways the Atlanta Falcons Can Lighten the Load on Michael Turner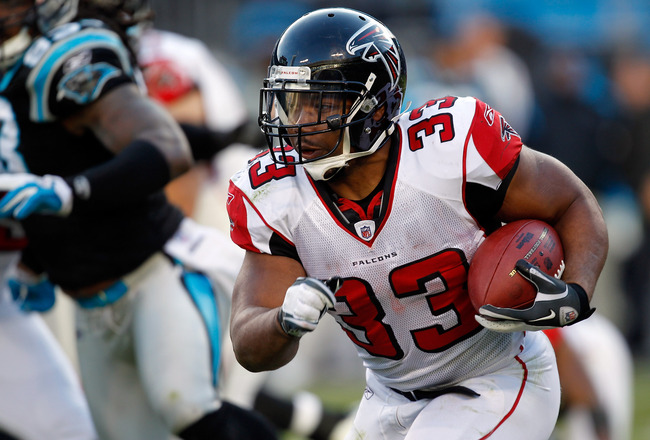 Michael Turner has been a top back for the past four years.
Streeter Lecka/Getty Images
Michael Turner has had over 300 carries in three of the last four years. Atlanta should be able to incorporate quite a few elements that would limit the amount of carries their star running back receives each week.
Turner's best season in terms of yards per carry was in 2009, when he only had 178 attempts. Thus, reducing his workload will probably be a good idea over the long term.
Incorporate the Screen Game with Jacquizz Rodgers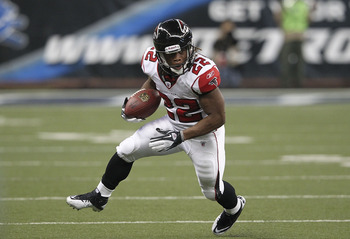 Rodgers is a good fit for the screen-pass running back.
Leon Halip/Getty Images
Jacquizz Rodgers has been used well in his first year and even got more carries and receptions than Darren Sproles did in his first three seasons combined. Rodgers should be used in a role similar to what Sproles had with the Saints last year and the screen game will be huge.
The Falcons need to make sure that Turner stays healthy, and an increase in the amount of screens can supplant 75 or more carries—especially if they have Snelling and Rodgers involved in the screen game.
Let Jason Snelling Pound the Rock in Place of Turner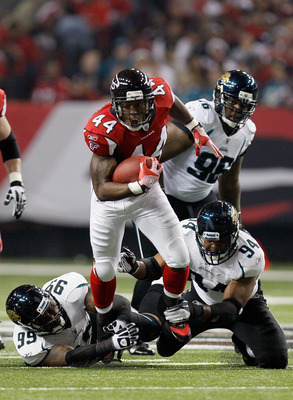 Snelling is a bruiser, much like Turner is.
Kevin C. Cox/Getty Images
Jason Snelling is one of the more underutilized players on the Falcons. He doesn't have breakaway speed or massive power, but he is a good all-around back who plugs away every down. Snelling is the guy with heart and he can also line up at fullback.
His all-around versatility makes him a threat as a running back, fullback and H-back, and he should be used as a battering ram through the middle of an offense when Turner is out. In two-back shotgun sets, Rodgers and Snelling will be a nice change of pace and allow Turner to rest.
Use Bradie Ewing the Way Bob Christian Was Used in 2001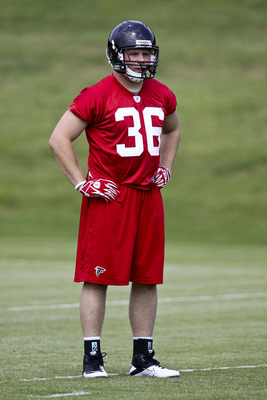 Ewing is even built like Christian was.
Daniel Shirey/Getty Images
In 2001, Bob Christian was used as a running back, H-back and fullback for the Falcons. In that year, he had 89 touches for 676 total years and four touchdowns. He was a key component as a blocker as well. Now, Bradie Ewing likely won't be used in that way as a rookie.
Ewing, at most, should see the 30 touches that Christian saw in the 1998 campaign that last saw the Falcons in the Super Bowl. Even still, he should have at least 300 combined yards as another weapon in the backfield and be a top-notch lead blocker for Turner.
Open Up the Passing Attack Even More to Utilize Julio Jones and Roddy White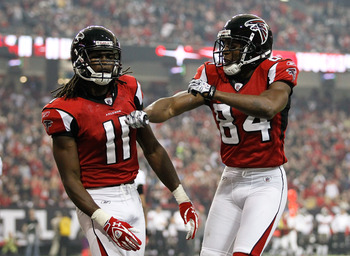 These two will have this reaction a lot in 2012.
Kevin C. Cox/Getty Images
Yet another way for the Falcons to limit Turner's load on offense is to have the passing game have more attempts. Julio Jones and Roddy White should benefit the most from this, as Jones is being projected for a monster year after finally getting healthy and learning better timing this offseason.
White should also have an excellent year comparable to the last five seasons, where if he can get 85 catches and 1,150 yards, he would be one of just three players in NFL history to accomplish that feat in their careers.
Utilize a Limited Reverse Game Based Around Harry Douglas and Julio Jones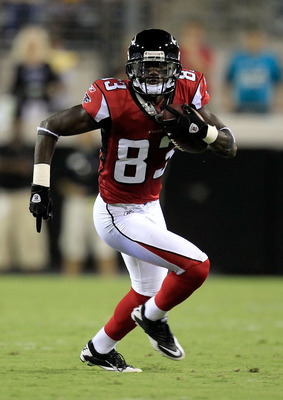 Sam Greenwood/Getty Images
The one part of the running game that was underutilized by Mike Mularkey was the end around. The Falcons have two extremely fast players in the explosive Julio Jones and Harry Douglas at wide receiver who do best with the ball in their hands.
Jones and Douglas both have been effective in running the ball, as their nine combined carries went for 71 yards total in their careers. That's an eight-yard-per-carry average, and that could be an interesting way to shed another five to 10 carries from wily veteran Michael Turner.
Scott Carasik is a Featured Columnist and Trends and Traffic Writer for Bleacher Report. As a Featured Columnist, he covers the Atlanta Falcons, NFL and NFL draft. He is also the Falcons' analyst at Drafttek and also runs the NFL draft website ScarDraft.com and the host of Kvetching Draftniks Radio.
Keep Reading

Atlanta Falcons: Like this team?