US Olympic Track Team 2012: 10 Things You Need to Know About Ashton Eaton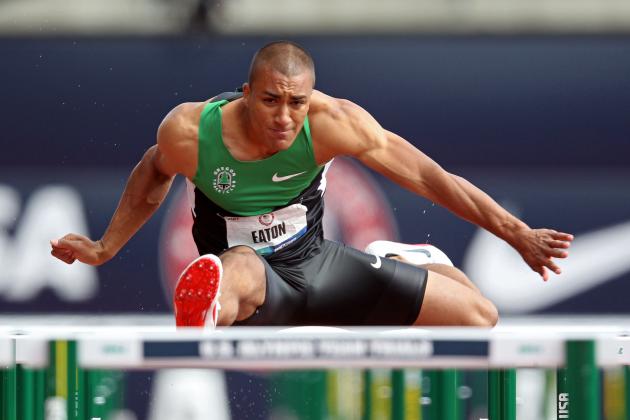 Andy Lyons/Getty Images

He's the world's best all-around athlete, so get used to seeing his face as the Olympics begin.
Decathlete Ashton Eaton, 24, was considered the future of USA Track and Field heading into the Olympic Trials in Eugene. After setting the world record at the meet, he proved that the future is now.
Here are 10 things you need to know about him...
Begin Slideshow

»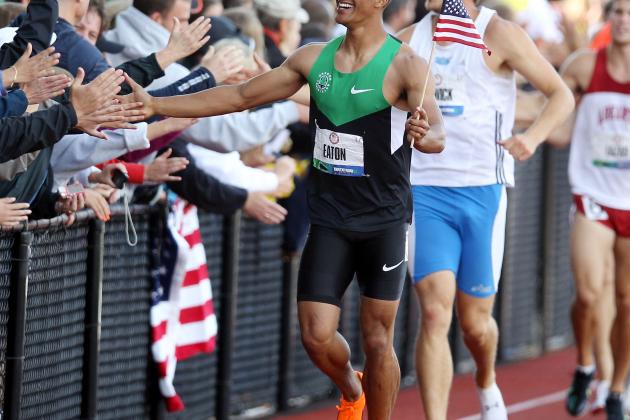 Christian Petersen/Getty Images

Maybe you've got one of those CrossFit friends who constantly posts Facebook videos of themselves working out.
Yes, Joey, I watched the clip of you doing modified pull-ups and burpees with Linkin Park blasting in the background. We're all very proud of you.
Well, watching Eaton casually do burpees is more entertaining. Check out how smooth and easy he makes it look, and how he hangs in the air just a fraction of a second longer than a normal human would when he jumps.
Also, comment below how many you think he can do without stopping. My guess is 110...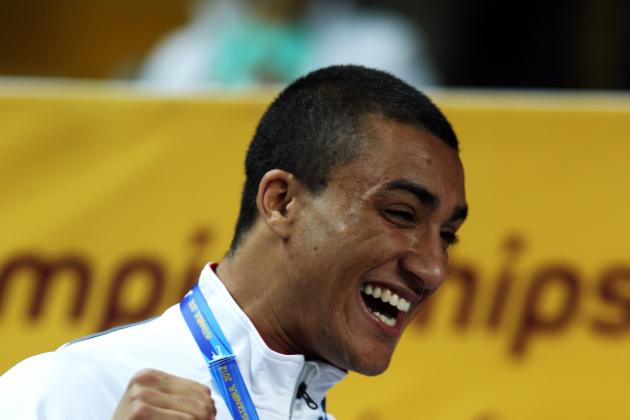 Michael Steele/Getty Images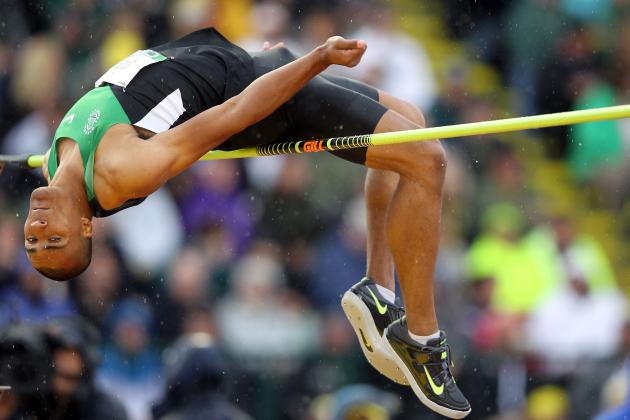 Andy Lyons/Getty Images

Sports fans love debating. When you have the world's greatest athlete in the debate, it can get pretty entertaining.
Check out this forum arguing who would win at various sports, Eaton or LeBron James. I'd take Eaton in basically everything except basketball, football and weightlifting.
Who would win in MMA? Would the agility and quickness of Eaton (a black belt) overcome the raw power of King James?
Comment below.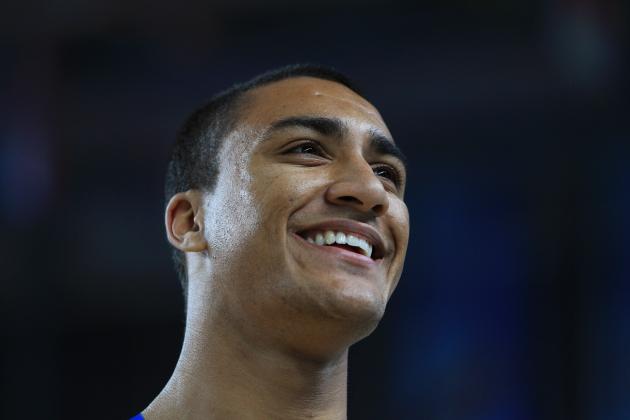 Michael Steele/Getty Images

Some athletes are just terrible when it comes to interviews.
Like, ummm, Eaton is not. He's bright. He's the kind of guy who gets a question and takes off with it. A reporter's dream. Don't go to the fridge for a Bud Light while he's being interviewed in London.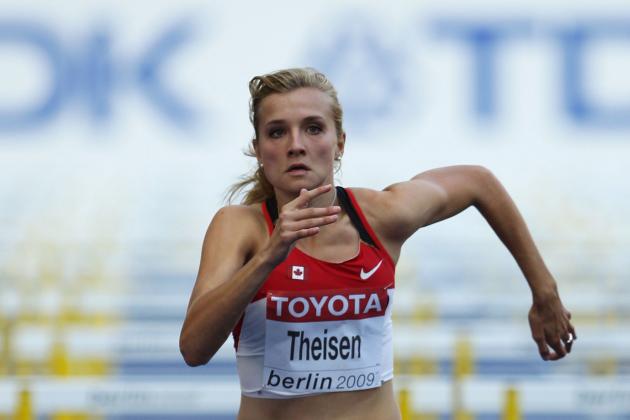 Mark Dadswell/Getty Images

The world's best athlete is also engaged to a world-class athlete: fellow Oregon Duck Brianne Theisen.
Theisen, 23, is the Canadian record-holder in the indoor pentathlon and was a two-time NCAA Indoor champion.
Rumor has it that scholarship offers are already being made to the couple's unborn children...no, not really.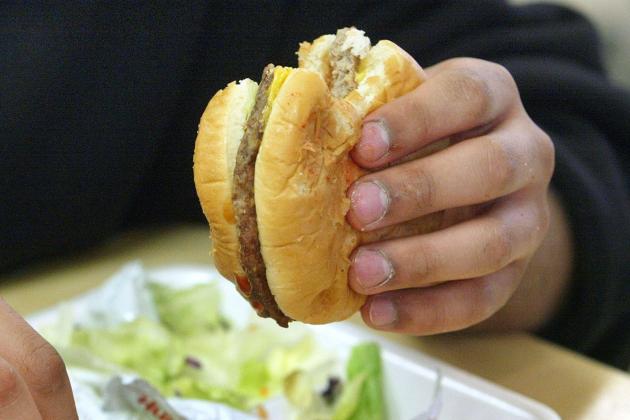 Tim Boyle/Getty Images

His training diet sounds delicious and healthy, but when he's not training he likes the junk like the rest of us. He says "Macaroni and Cheese is my favorite" on his Twitter profile and also claims to crave greasy cheeseburgers.
Comment on how many burgers you think he could eat in one sitting, and we'll see what he says about it.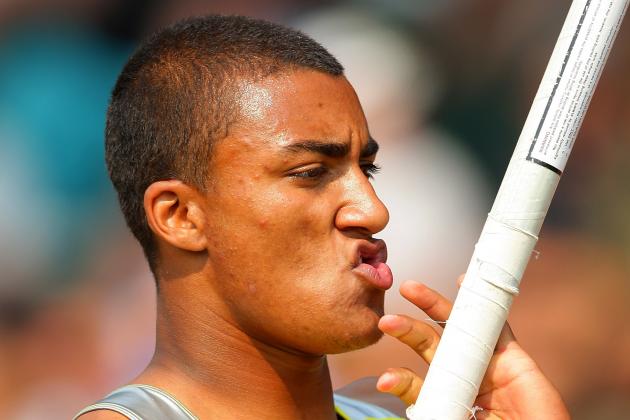 Matthew Stockman/Getty Images

Eaton had never heard of the decathlon before he was advised to pursue it in college.
Good choice.
As an Oregon Duck, he won the NCAA decathlon title three straight times and also broke the world record in the Indoor Heptathlon at the 2010 NCAA Championships. That year he was awarded The Bowerman as the nation's top collegiate track athlete.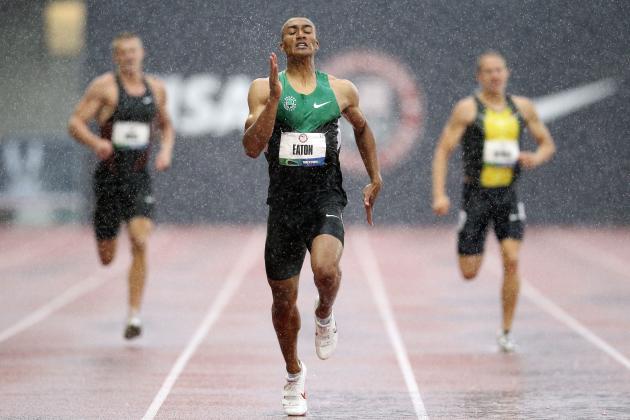 Christian Petersen/Getty Images

Eaton is considered the greatest runner to compete as a decathlete. His 100-meter time of 10.21 at the Trials was the fastest-ever in the decathlon. His time of 46.70 seconds in the 400 meters would have won a gold medal at the 1956 Olympics. His hurdles and 1,500 marks were also stellar.
If he can improve his throws and get even a little bit better on the running events, you're looking at a world record that will stand for a long, long time.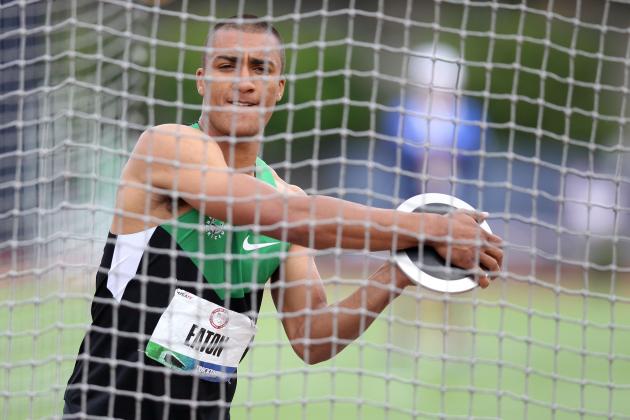 Andy Lyons/Getty Images

The fact that he has a weakness is a good thing, because it means that he is bound to get much better as his career moves forward.
At 180 pounds, Eaton does not have the upper-body strength of former great decathletes like Daley Thompson. His marks in the throws are still lacking. He took eighth in the discus during his record-setting performance, and the throws accounted for his three lowest point totals.
"I can certainly throw farther," he told reporters after setting the record.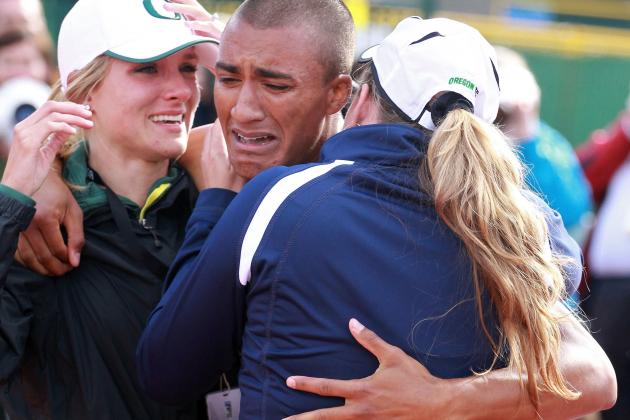 Andy Lyons/Getty Images

Seeing Eaton break the world record in Eugene made us feel warm and fuzzy. He cried as he hugged his mom and fiance. Even if you didn't know of him before, it made you like him. It wasn't a chest-thumping, primal howl. It was a heartfelt and humble display of emotion from a truly likable guy.