Arsenal Transfers: 5 Young Players Gunners Should Still Pursue This Summer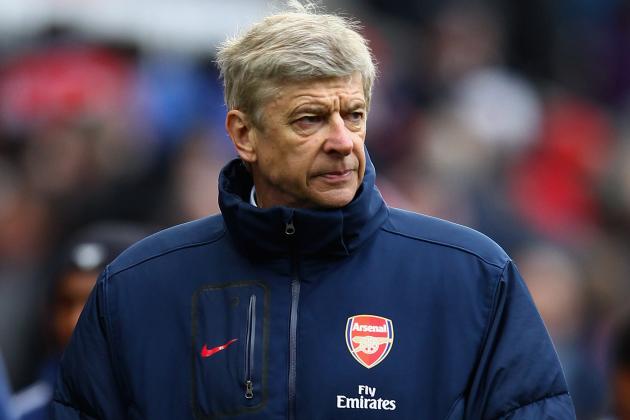 Clive Brunskill/Getty Images

With the transfer window running its course, many teams have started acquiring new players to strengthen their squad and improve their chances of winning their league.
In the Premier League, teams have been quick to start adding players to their team. Manchester United has already signed Shinji Kagawa and Nick Powell. Chelsea target Eden Hazard has confirmed that he desired a move to Stamford Bridge.
Arsenal has also added two big names to their team in Olivier Giroud and Lukas Podolski.
After these two signings, the Gunners do not seem to be finished operating in the transfer market as they look to sell some of their players and add a few more reinforcements to their squad.
They'll likely have to if they are to be title contenders and aim to end their trophy drought.
So with that in mind, here are five young players that Arsenal should still pursue this summer.
Begin Slideshow

»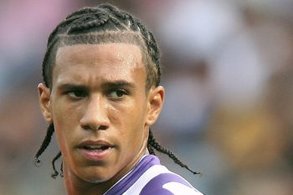 Etienne Capoue is the oldest player on this list at 24 years old, but he still has a few years to go before he reaches his prime. So, he could still produce a significant impact while playing for Arsenal.
Capoue is a player who could offer the necessary physical presence that Arsenal needs. The Frenchman is 6'2" and weighs 176 pounds. His presence could intimidate the opposing team, and that is something that Arsenal needs.
Capoue is also a versatile player, not on offense, but on defense. He can play as a defensive midfielder or as a central defender.
When he plays as a midfielder, he plays much like Alex Song. He likes to play many through balls and long balls. So he could also add to Arsenal's attack.
He is also a great tackler and makes plenty of interceptions each match.
When playing as a defender, he regularly makes a big impact in matches. This is also something that Alex Song has done before, and he has been effective in that position.
Capoue could add the defensive presence that Arsenal needs, and as a 24-year-old, he still has a few years to improve.
If Yann M'Vila signs for Arsenal though, it is less likely that Capoue will join Arsenal. However, with the fact that Capoue can play as a midfielder and a defender, Arsenal should pursue him whether M'Vila signs or not.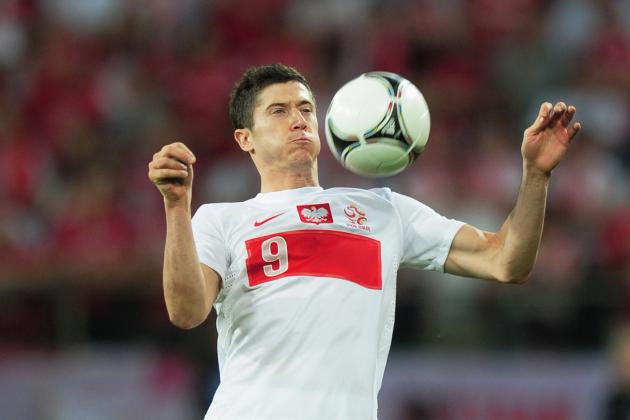 Jamie McDonald/Getty Images

With Robin van Persie's announcement that he would not extend his contract with Arsenal, a host of strikers were linked with Arsenal.
Well, to start off, in the Metro, it was reported that Olivier Giroud was intended to act as a replacement for van Persie.
Now, Arsenal are looking to add some more attacking strength to their team as they will also be looking to release some of their current players. It was reported in ESPN that Fiorentina made a bid for Marouane Chamakh.
So as a result, Robert Lewandowski is one of the forwards who has been linked with Arsenal. In The Guardian, it was reported that Lewandowski could be heading to Arsenal.
The 23-year-old would be a great signing, as he has proven that he has what it takes to compete in the Bundesliga. The Bundesliga isn't too far behind the Premier League in terms of speed and physicality, so adjusting to the Premier League wouldn't be too problematic for the Polish international.
He still has some years before he reaches his prime, and with the way he plays now, he could definitely impact Arsenal's game immensely.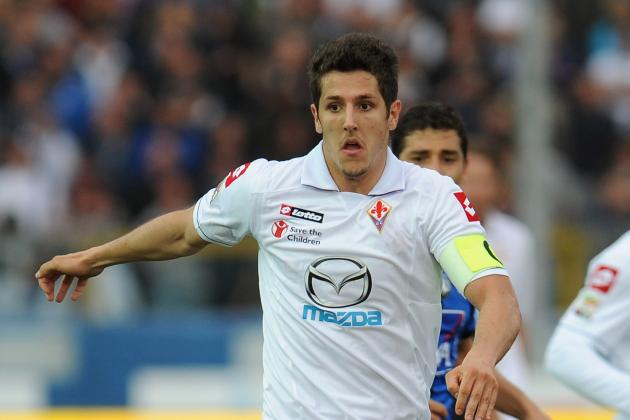 Valerio Pennicino/Getty Images

In the case that Lewandowski doesn't have interest in Arsenal or can't be signed, Stevan Jovetic would be an ideal target as a striker for Arsenal.
In the Daily Mail, it was reported that Arsenal was interested in the Montenegrin striker.
The Fiorentina man could add many attacking traits that are needed at Arsenal. First off, he can take shots from distance. At Arsenal, there are currently only a few players such as van Persie or Mikel Arteta who can take long shots. So adding another long-range specialist would benefit the Gunners.
Jovetic is also a good dribbler. Arsenal don't have many players who can beat defenders 1-on-1; Theo Walcott is one of the players who can beat defenders with his immense speed, so adding one more dribbler would be beneficial.
The striker can also make good passes and through balls, so he could work as a second striker alongside Giroud or van Persie, if he stays.
Jovetic is also effective on the counter-attack, and that is a big part of Arsenal's game. So adding another player who could help with the counter-attack could help produce many more goals.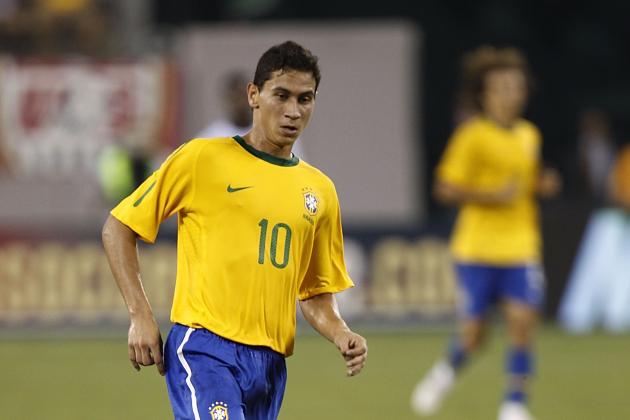 Jeff Zelevansky/Getty Images

Ganso is one of the most talented young midfielders out there in world football, and on top of that, he is only 22.
Here you have a young player who still has quite a few years before he will reach his prime.
Due to his close control, technique, and passing skills, he has been compared to players like Zidane and Kaká. He may not be as talented as they are, but he has the skills and abilities to become a great player.
In the Daily Mail, it was reported that Arsenal is interested in the Brazilian midfielder.
It has been said that he could be a potential replacement for former Arsenal skipper, Cesc Fábregas. Ganso has great dribbling skills and can create great chances.
During his career at Santos, he and Neymar have been creating an immense amount of chances together. Ganso has assisted Neymar time and again and could be a great set-up man for any Gunners striker he's paired with.
He has also been known to score some spectacular goals.
He is very similar to Fábregas, and he could have a large effect on the way Arsenal plays.
Jasper Juinen/Getty Images

Isaac Cuenca is one of the bright talents in football. At only 21 years of age, the Spanish player has already proven that he has the potential to become a great player.
In Caught Offside, it was reported that Arsenal are interested in signing the Barcelona man.
Cuenca is a good dribbler, and he is good at keeping possession of the ball. That is something that is important when it comes to Arsenal's style of play, which is based on of possession.
Arsenal's style of play is similar to Barcelona's, so Cuenca wouldn't have too much trouble adapting to the style at the Emirates. He is also good at making short passes; short passing is the basis of a possession game.
He is also the youngest of the players on this list, so he has quite some time to develop as a player.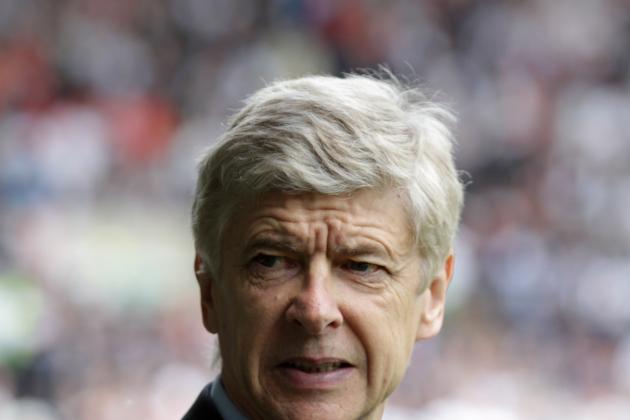 Ross Kinnaird/Getty Images

In the end, it is unlikely that Arsenal will manage to sign all of these players, but if the Gunners manage to acquire one or more of these players, their chances of winning a trophy would increase greatly.
Many of these players are young, so their effect on the pitch would become even better with time.
So, do you think Arsenal will sign some of these players in the time that is left this summer? If so, which players will be playing in Arsenal colors next season?
Thanks for reading!