NHL Trade Speculation: 15 Names to Keep an Eye on as the Trade Market Heats Up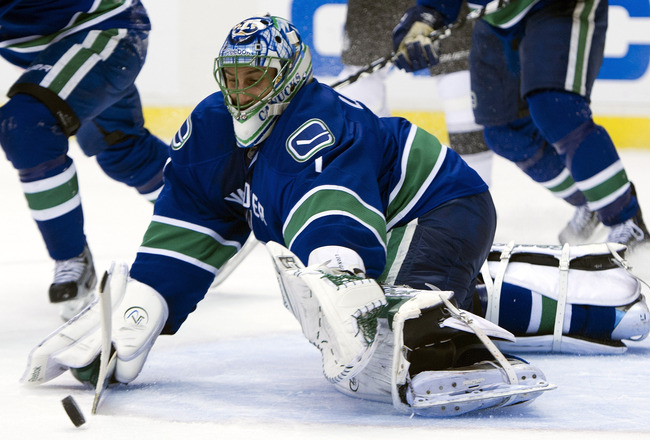 Rich Lam/Getty Images
It's far from trade-deadline day in the National Hockey League, but for a sport played on ice, the inter-team action is certainly starting to heat up before the upcoming 2012-2013 season.
Just a few weeks ago at the NHL Entry Draft, top-end forwards Jordan Staal and Mike Ribeiro found new homes (the Carolina Hurricanes and Washington Capitals, respectively) in separate deals. There's no reason why we won't see a few more before the puck drops come October.
Here are the top 15 names to keep an eye on as the trade market heats up, both the remainder of this summer and into the season.
Rick Nash, Columbus Blue Jackets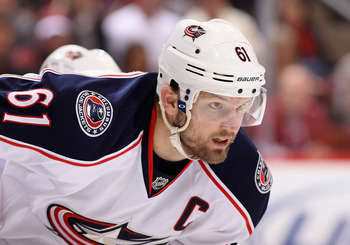 Rick Nash, currently of the Columbus Blue Jackets
Christian Petersen/Getty Images
At this point, the only thing keeping superstar forward Rick Nash a Columbus Blue Jacket is the ineptitude of general manager Scott Howson.
Nash wants to leave.
Nearly every other team in the league is interested in his services. However, Howson is reportedly asking for the moon, and if not that, the stars will do just fine…literally. He recently went on the record as saying he's seeking a couple of NHL forwards for Nash and the better the caliber of those players the more likely a deal will get done one has to think.
However, Nash has only once scored at a point-per-game pace once and his production has gone down in each of the three seasons following that 2008-2009 campaign. Bottom line: He's overrated.
The good news is most every other team in the league doesn't seem to think so. As such, look for one unlucky team to eventually take on the rest of his absurd eight-year, $62.4 million contract, as well as overpay Columbus in the process. He has, after all, netted 30 goals in five straight seasons.
Good Fits: Any team seeking a top-end winger
Projected Destination: San Jose Sharks
Roberto Luongo, Vancouver Canucks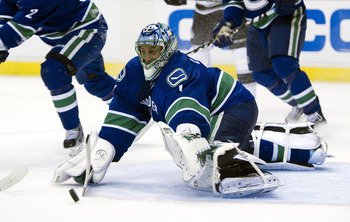 Roberto Luongo, currently of the Vancouver Canucks
Rich Lam/Getty Images
The writing was on the wall once goalie Cory Schneider started the Vancouver Canucks' last three playoff games against the eventual Stanley Cup-champion Los Angeles Kings. It was gone over in permanent marker when he allowed only four goals in those three games (in spite of a 1-2 record). Once Schneider signed a three-year, $12-million deal, it may as well have been spray painted.
The only problem is the number general manager Mike Gillis left for people looking for a good time may have been miswritten in that bathroom stall…That, or his asking price for a goalie on the downswing with 10 years left on his deal and a cap hit in excess of $5 million is too steep.
Still, the commitment the Canucks made to Schneider means he'll have to lower his demands before the start of the season. Having two goalies tie up almost $10 million in cap space is insane…almost as insane as handing a goalie a 12-year deal in the first place.
Good Fits: Any team in need of a legitimate number-one goalie
Projected Destination: Toronto Maple Leafs
Ales Hemsky, Edmonton Oilers
Ales Hemsky, currently of the Edmonton Oilers
Harry How/Getty Images
There was a time that Ales Hemsky was the most talented Edmonton Oiler. He, Shawn Horcoff and Ryan Smyth made up the Oil's top line back in the day ("the day" being 2005-2006).
Now, two of the three have been reduced to secondary, if not tertiary, roles with the team. Injuries have taken their toll on Hemsky's career, and Edmonton, blessed with more viable offensive options thanks to sucking so much and drafting so high for so long, may look to ship him out altogether.
Sure, he signed a new two-year deal just this past season, but that will only make him more attractive to teams looking for an skilled, yet-injury-riddled forward…Oh, they're out there.
Good Fits: Any team that loses out on a certain other superstar (see #1)
Projected Destination: New Jersey Devils
Shea Weber, Nashville Predators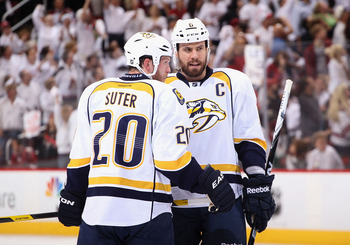 Shea Weber, currently of the Nashville Predators, talking to now-former-teammate Ryan Suter
Christian Petersen/Getty Images
The good news for Nashville Predators general manager David Poile is captain Shea Weber is not American and won't be easily persuaded to join an Olympic teammate in Minnesota next off-season.
The bad news? Weber is Canadian and there are far more of his countrymen in the league than there are of the recently departed Ryan Suter. Weber is currently a restricted free agent and, should he sign a one-year deal with the team as he did last summer, the Predators could face the very real possibility of losing their top defenseman in two consecutive seasons.
Poile may choose to roll the dice and keep him, even successfully sign him to a multi-year deal. If not, he may learn from the Suter debacle and try and trade him before the trade deadline.
Good Fits: Any team looking for a number-one defenseman that thinks they can turn around and sign him to a long-term deal
Projected Destination: Edmonton Oilers
Bobby Ryan, Anaheim Ducks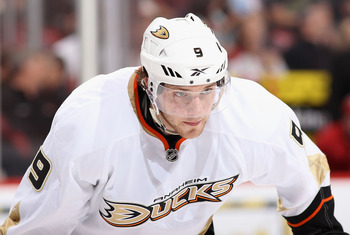 Bobby Ryan, currently of the Anaheim Ducks
Christian Petersen/Getty Images
The winner of the National Hockey League's best-double-first-name award is on the market. Of course, the runner-up, teammate Corey Perry is arguably trade bait as well, but Perry has something Ryan does not: a Hart Memorial Trophy.
Perry will be an unrestricted free agent at the end of this coming season, but chances are Anaheim Ducks general manager Bob Murray (who's an executive and, as such, unfortunately didn't even qualify for the above-mentioned award) will open up the vault for his former MVP and be forced to trade Ryan.
Good Fits: Any team looking for, young, top-end scoring talent and the occasional highlight-reel goal
Projected Destination: Philadelphia Flyers
Keith Yandle, Phoenix Coyotes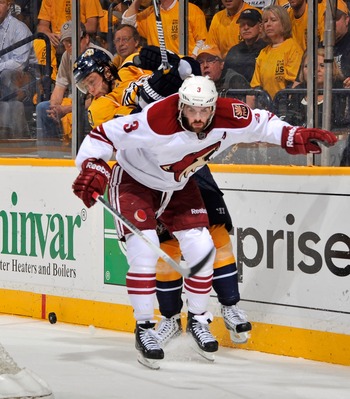 Keith Yandle, currently of the Phoenix Coyotes
Frederick Breedon/Getty Images
Keith Yandle has got it all: offensive acumen, defensive poise, a multi-million-dollar contract, probably a really fast car, etc. However, so do the Phoenix Coyotes on the blue line, including young, up-and-coming defensemen like Michael Stone, David Schlemko and Chris Summers looking for a chance to prove themselves.
Granted, Yandle is only going on 26, but he's also the most marketable member of a defensive corps that includes Oliver Ekman-Larsson, Rostislav Klesla, Zbynek Michalek and Derek Morris. Considering they lost leading-scorer Ray Whitney, may lose captain Shane Doan and their big offensive acquisition this off-season was the rapidly declining 38-year-old Steve Sullivan, the Phoenix Coyotes need help up front.
Dangling Yandle as trade bait will solve their problem and then some.
Good Fits: Any team looking for a number-one defenseman
Projected Destination: Detroit Red Wings
Brandon Dubinsky, New York Rangers
Brandon Dubinsky, currently of the New York Rangers
Bruce Bennett/Getty Images
I kid you not, but one of the top stories on the New York Rangers website currently advertises the recently acquired, journeyman Brandon Segal as the "new Brandon in fold." Well, golly, gee, if Segal is the horse named Brandon they're now backing and there's no room for another, it certainly goes to show how far Dubinsky's star has fallen in the organization.
After improving his output in each of the prior four seasons, Dubinsky only netted 10 goals and 34 points last year.
The coinciding emergence of players like Carl Hagelin, Chris Kreider, Derek Stepan and the signing of Taylor Pyatt, and, sigh, Brandon Segal, means Dubinsky will likely be on his way out as soon as the Rangers find the right return.
Good Fits: Any team looking for secondary, defensively aware scorers that thinks they have a chance at making the playoffs (when they likely don't)
Projected Destination: Carolina Hurricanes
Brenden Morrow, Dallas Stars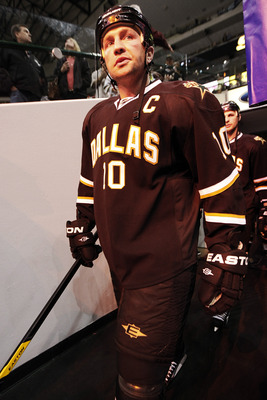 Brenden Morrow, currently of the Dallas Stars
Brandon Wade/Getty Images
When Mike Ribeiro got traded to the Washington Capitals at the draft, it was a sign that the Dallas Stars will be playing it safe this upcoming season.
Ribeiro is slated to be an unrestricted free agent next summer and perhaps the Stars preferred to get at least something in return for him rather than risk losing him for nothing. Of course, the fact that they promptly went out and signed graybeards Ray Whitney and Jaromir Jagr, the latter to a one-year deal, points to great indecisiveness on the part of general manager Joe Nieuwendyk.
In any case, as they were with Ribeiro, the Stars are in a similar situation with Captain Brenden Morrow. He would be a key component of any playoff run, but will it be with Dallas? Stay tuned come the trade deadline.
Good Fits: Any team priming for a deep playoff run and seeking depth scoring
Projected Destination: San Jose Sharks
Jarome Iginla, Calgary Flames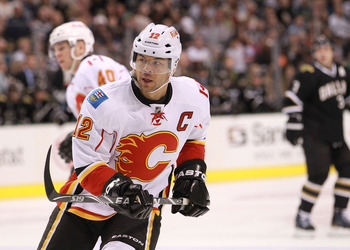 Jarome Iginla, currently of the Calgary Flames
Ronald Martinez/Getty Images
When Calgary Flames general manager Jay Feaster acquired Mike Cammalleri last season from the Montreal Canadiens, he said that his team was trying to win right now.
Long story short, uh, they didn't. Not even close. Now, the Flames are at a crossroads. The face of the franchise, Jarome Iginla, will be an unrestricted free agent next July 1.
His market value is high and he could fetch a healthy return that could get this derailed franchise at least back on the tracks. Will Feaster do the right thing? Probably not. But watching this team go further down in, well, flames will at least be entertaining.
Good Fits: Any team looking for leadership, grit, and scoring for a lengthy playoff run, but with cap space
Projected Destination: Nashville Predators
Sergei Gonchar, Ottawa Senators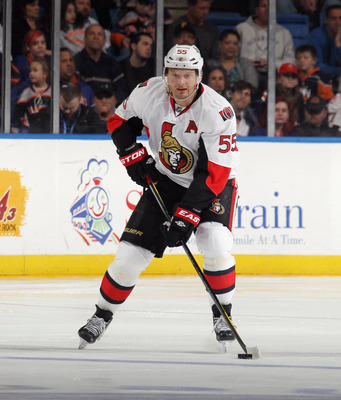 Sergei Gonchar, currently of the Ottawa Senators
Bruce Bennett/Getty Images
The Ottawa Senators were the surprise of the entire league last season. Sure, they just barely made the playoffs, but they were supposed to challenge for last place.
A big reason for their success was James Norris Memorial Trophy-winner Erik Karlsson.
He has essentially supplanted Sergei Gonchar as the team's top defensive weapon on the power play. With only one year left on Gonchar's contract and Ottawa unlikely to replicate their success of last season, he may be available come March.
Good Fits: Any team looking for a quarterback on their second power-play unit for the playoffs
Projected Destination: Detroit Red Wings
Ryan Miller, Buffalo Sabres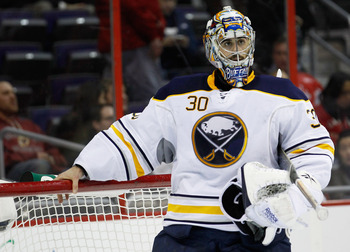 Ryan Miller, currently of the Buffalo Sabres
Rob Carr/Getty Images
The trade talk was unavoidable last season when Ryan Miller was off to a statistically horrendous start.
It didn't help matters that back-up Jhonas Enroth was relatively lights out in the early going. Enroth cooled off somewhat, but still finished with a higher save percentage than Miller. Enroth, despite his 166 pounds, still has a lot going for him, including youth, a cheaper contract and all the money the team ignorantly threw at Christian Ehrhoff and Ville Leino last off-season.
Miller's two years remaining at $6.25 million per just may have been rendered obsolete.
Good Fits: Any team out West looking for a number-one goalie
Projected Destination: Edmonton Oilers
Jonathan Bernier, Los Angeles Kings
Jonathan Bernier, currently of the Los Angeles Kings
Christian Petersen/Getty Images
The Los Angeles Kings didn't know what they had in Jonathan Quick that, one year after drafting the reigning Conn Smythe-trophy winner in 2005, L.A. took goalie Jonathan Bernier in the first round.
Fast-forward five years and, not surprisingly, Bernier is seeking a trade. However, playing behind a workhorse like Quick hasn't exactly allowed him many chances to prove himself. In any case, the Kings just locked up their starting, star goalie up until 2023.
Look for them to shop Bernier for spare parts to help them repeat as champions next spring.
Good Fits: Any team looking for a starting goalie and willing to take a chance on a blue-chip prospect ready for the spotlight
Projected Destination: Toronto Maple Leafs
Chris Stewart, St. Louis Blues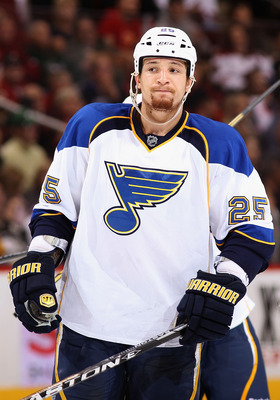 Chris Stewart, currently of the St. Louis Blues
Christian Petersen/Getty Images
To say Chris Stewart underperformed last year would be telling only half the story. In fact, on a team rife with top-six talent, he just wasn't getting enough optimal ice to get out of an early-season funk that placed him square in head coach Ken Hitchcock's dog house.
Still, Stewart is just two years removed from a 64-point breakout campaign with the Colorado Avalanche. On a team blessed with about as many holes as a donut, Stewart is the eventual Timbit ripe for the plucking by another team.
Good Fits: Any team desperate for size and scoring up front
Projected Destination: Phoenix Coyotes
Kyle Brodziak, Minnesota Wild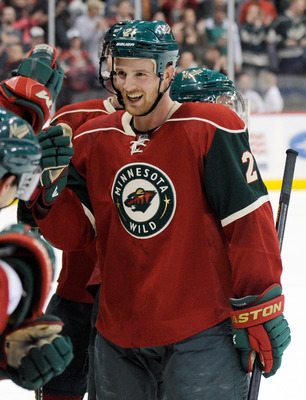 Kyle Brodziak, currently of the Minnesota Wild
Hannah Foslien/Getty Images
You know you're in trouble offensively when Kyle Brodziak is your team's second-leading goal scorer.
The fact that Dany Heatley was the one ahead of him and only had two more tallies can also only mean that Heater had a reeeeally bad year. Because, Brodziak, bless his heart, is not a top-six forward. Never was. Never will be.
As it happens, though, while Heatley did have a bad year, Brodziak also had an improbably decent season, statistically speaking. His 22 goals and 44 points were career highs and earned him a three-year, $8.5-million deal.
As such, the man they apparently call Brodz and most everyone else calls second rate is at his peak in terms of trade value. With Zach Parise signing on, someone has to go and Brodziak is him.
Good Fits: Any team looking for secondary scoring
Projected Destination: Anaheim Ducks
Wojtek Wolski, Washington Capitals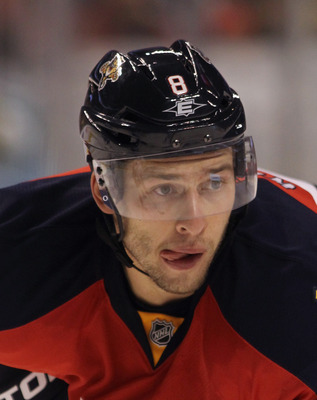 Wojtek Wolski, currently of the New York Rangers (then of the Florida Panthers)
Bruce Bennett/Getty Images
Yes, Wojtek Wolski just signed a one-year deal with the Washington Capitals for $600,000. And, yes, that generally would mean him getting traded is improbable to say the least, but few players have gone down the same career path as Wolski.
The team that drafted him, the Colorado Avalanche, gave up on him…right in the middle of his career season. The Phoenix Coyotes couldn't solve the enigma wrapped in a riddle that is Wolski and shipped him to the New York Rangers the next season.
His trade value went down with each subsequent deal to the point that the Florida Panthers got the once-top-line forward for a third-round pick and a minor-leaguer by the name of Michael Vernace. It got so bad for Wolski that not only didn't the Panthers extend a qualifying offer to the restricted free agent, but bottom-tier players like Jeff Halpern and Joey Crabb were signed for more this summer…by the very same Capitals.
Washington will be his fifth team in four years. It's quite likely there will be a sixth in five.
Good Fits: Any of the 25 teams that haven't yet had a go at this hopeless reclamation project
Projected Destination: Tampa Bay Lightning
Keep Reading