Big Ten Football Tweets of the Week: NCAA Football 13 Doesn't Care About Looks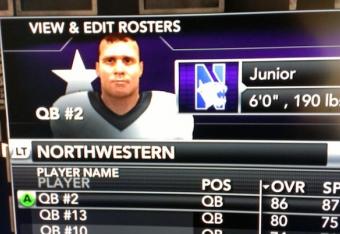 Also, Video Game Kain Colter needs Video Game Rogaine. Photo via Yahoo! Sports

Every Friday on the Big Ten Blog, we'll bring you the best Big Ten-related tweets of the week.
One of the great enduring frauds in college sports (apart from, y'know, amateurism as a whole) is EA Sports' continued insistence that the unnamed players in its collegiate sports games are not, in fact, using the likeness of any specific college players. The unnamed video game players just so happen to have the same team, number, eligibility, hometown, physical characteristics, and appearance as the real athletes, but since the video game versions are named things like "QB #15," that's totally legal. America!
At any rate, the expectations for physical resemblance are so great—especially in this day and age, with hyper-realistic graphics being available—it's actually a bit of a controversy among players when their video game counterparts don't look like the real thing. Like when Montee Ball noticed the video game version of sophomore teammate Melvin Gordon (who looks like this in real life):
hahaha they made u look so gross!!! @Melvingordon25 twitter.com/M_Ball28/statu…

— Montee Ball (@M_Ball28) July 10, 2012
It could be worse; at least EA figured out that Gordon is black and programmed accordingly. Northwestern's starting quarterback Kain Colter, though? Not so lucky.
Wow...so they made me white with red hair on NCAA #disrespectful

— Kain Colter (@KainColter_2) July 10, 2012
Yahoo! Sports has the comparison for Colter. It's...it's really not close.
The whole world is talking about the "Call Me Maybe" mascot controversy. As you're no doubt aware, several Big Ten mascots participated in a music video for the hit song, but Purdue Pete and Northwestern's Willie Wildcat were nowhere to be found. Purdue informed the Journal-Courier that it was simply unaware of the shoot until it was too late, and Northwestern also wants Carly Rae Jepsen fans to know it meant no disrespect.
Same story here; Athletic Dept not contacted. Would've loved for Willie to be in Mascot 'Call Me Maybe!' @BigTenNetwork on.jconline.com/MpbSUK

— Northwestern Sports (@NU_Sports) July 13, 2012
Good gesture from both schools, but this may be all the Big Ten needs to kick both out of the conference permanently. Jim Delany takes mascot music videos very seriously.
This tweet from former Nebraska tackle Yoshi Hardrick didn't survive until press time for obvious reasons, but one intrepid observer was kind enough to take a screenshot of Hardrick's boast: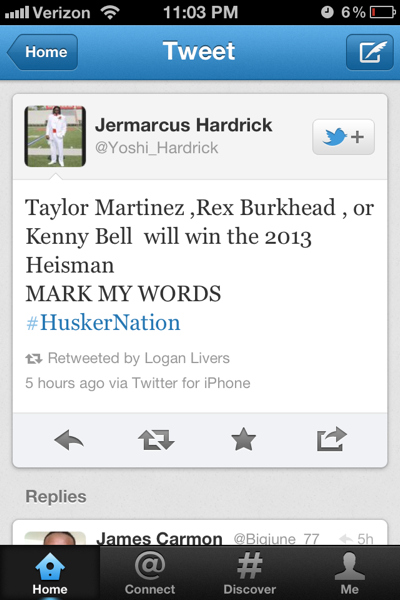 Now, we think all three players stand to have good-to-great seasons, but putting the words "Kenny Bell" and "win the 2013 Heisman" without a single "not" to be found is probably not the wisest of moves. Love the spirit though, Yoshi.
Incoming Minnesota athletic director Norwood Teague likes Minnesota's new, inexplicably matte helmets.
Love our new helmets, #gogophers twitter.com/GoldenGopherAD…

— Norwood Teague (@GoldenGopherAD) July 13, 2012
Word to Minnesota: #ALLMATTEEVERYTHING is not always a great look. Settle down with the matte. Shiny's fine.
Last, because the easy jokes go last, this otherwise uninteresting roster note from Tom Mulhern of the Wisconsin State-Journal:
Waunakee coach Pat Rice said walk-on K Jack Russell is in the mix for #Badgers kickoff job in the fall.

— Tom Mulhern (@TomMulhernWSJ) July 13, 2012
THE GUY'S NAME. IS JACK. RUSSELL. Hey, I think we have some highlights of him somewhere.
You're damn right I'm ending the week on a dog joke. Have a lovely weekend, friends.
This article is
What is the duplicate article?
Why is this article offensive?
Where is this article plagiarized from?
Why is this article poorly edited?