Michigan Football: 5 Most Glaring Weaknesses of Wolverines' 2012 Roster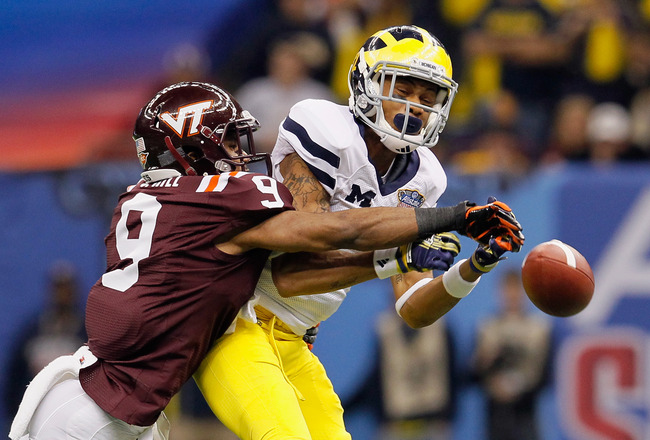 Kevin C. Cox/Getty Images
This 2012 Michigan team should be very good, as it will be favored by most to win the Big Ten. However, the team still has weaknesses and flaws that are worrisome.
What are those areas of concern? Some are obvious, while others are up for debate.
Here's a look at what I think are the five biggest areas of concern on this team, ranging from offense to defense to special teams.
5. Kick Returns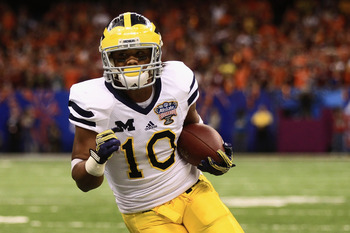 Matthew Stockman/Getty Images
It seems like kickoff returns have been a problem for Michigan ever since Steve Breaston left. I guess Darryl Stonum provided a spark at times, but it was somewhat brief.
In terms of average yards gained per kick return, Michigan was fourth-worst in the country last year, averaging only 18.4 yards per return.
Is it going to get better in 2012? Well, that question could be answered much more easily if we knew who was going to be returning kicks. There is seemingly an endless list of candidates.
We all know Jeremy Gallon will be returning punts, but will he play a role on kick returns too? Vincent Smith has been back there at times throughout his career, but can he claim the job for his own now that he is a senior? Justice Hayes and Thomas Rawls have both been spotted back there in practice, but they have never returned kicks in an actual game.
There is one guy who could be the wild card of this group that could potentially have a huge impact: Dennis Norfleet.
Even though he'll only be a true freshman, this guy has the speed to not only have an impact on kick returns, but to claim the position for the next four years. The general consensus seems to be that that was the exact reason he was recruited to Michigan.
I wouldn't be at all surprised if we see Norfleet returning kicks with regularity in 2012.
4. Tight Ends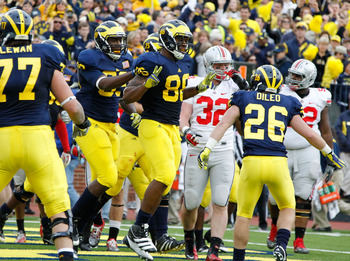 Gregory Shamus/Getty Images
Tight end looks like an extremely bleak group for Michigan in 2012. The only reason I don't have it higher on this list of concerns is because the team can afford to get away with poor tight end play.
It would be nice to have somebody emerge and claim the position as their own, though. As I've mentioned in many other articles, I think Brandon Moore will be the starter...but only by default.
Now a senior, Moore has just simply done nothing throughout his career. Granted, he has been playing behind Kevin Koger his entire career, but that sounds like an excuse.
Both freshmen will certainly earn a look, and it will be interesting to see if either of them can take advantage.
Mike Kwiatkowski is a dark-horse candidate to watch, but I wouldn't be surprised if he doesn't do anything either.
Tight end play could be pretty ugly in 2012, but the good news is that it won't last for long.
3. Offensive Line Depth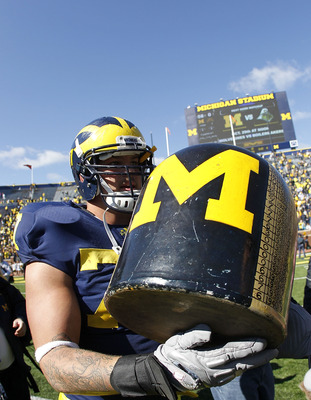 Leon Halip/Getty Images
I am not one bit worried about the starters on this offensive line. However, I am worried about the depth (or lack thereof) behind them.
If a starter or two goes down with injury, this line could be in big trouble. Excluding true or redshirt freshmen, Michigan only has five offensive linemen on scholarship. That is an unbelievably low number, and it's a big reason we are seeing the amazing offensive line haul in the 2013 recruiting class.
Chris Bryant, Jack Miller and Kyle Kalis will all be key backups here in 2012. Bryant and Miller are redshirt freshmen, while Kalis is a true freshman.
Some may not think it is fair to put depth at a position as a concern, but in reality, it is one of the most glaring and biggest weaknesses on this team.
2. Wide Receivers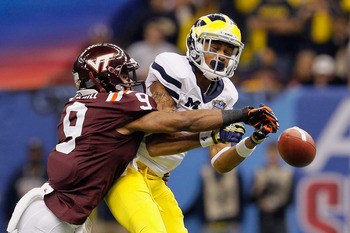 Kevin C. Cox/Getty Images
As recently as 2010, Michigan arguably had the best group of receivers in the Big Ten. So how could it have gone downhill so fast?
Well, Junior Hemingway graduated, Tay Odoms couldn't stay healthy and Darryl Stonum was kicked off the team. Roy Roundtree is the lone man left from that great receiving core, and even he regressed mightily in 2011.
He is crucial to Michigan's passing attack, as he must bounce back and have a solid senior season. Jeremy Gallon must continue to develop as well and build off of a strong sophomore season.
Those two are, without a doubt, Michigan's main weapons, but who is going to produce behind those two? It's really anyone's guess. Both Jeremy Jackson and Drew Dileo are guys who will likely play, but they aren't guys who are going to turn into superstars. I don't have much confidence in Jerald Robinson turning into the star everyone is hoping for.
That leaves the freshmen, Darboh and Chesson. I think we'll see both of them, but who knows how effective they'll be?
Nothing but questions surround this receiving core, as it is easily one of the biggest concerns on the team.
1. Defensive Line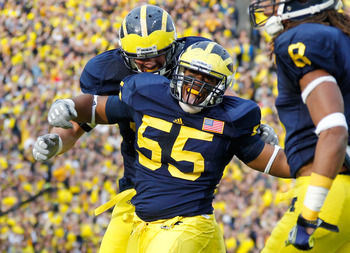 Gregory Shamus/Getty Images
To me, Michigan's defensive line is the biggest concern on the entire team. That's not good, seeing as it is crucial to at least have an adequate line in order to be a contender.
This line may end up being fine, but the real question is, how long will it take? We'll see just how close they are when they go up against arguably the best offensive line in the country in Alabama.
Will Campbell is the key to this line, as he has the potential to be a Mike Martin-like player. I don't want to say that Mike Martin was taken for granted, but I think fans will now realize just how special of a player he was. He constantly demanded double teams and sometimes even fought through those.
Campbell needs to produce, as there isn't much depth behind him. Michigan's situation at defensive tackle is similar to their situation on the offensive line in that they don't have much depth.
Starting next to Campbell at tackle will be Jibreel Black, who I am cautiously expecting big things from. Craig Roh will be starting at strong-side defensive end. I think he'll play like he has most of his career: solid, but not necessarily great.
Frank Clark and Brennen Beyer will battle to start at weak-side defensive end, but regardless, I think we'll see a lot of both of them. Many feel that Clark may be an absolute monster by season's end, and I'd have to agree with them.
Too many questions surround this unit heading into the season, though. Although Michigan's back seven may be solid, the defense will still struggle if the line gets pushed around. Fortunately, we will find out in Week 1 what this D-line is made of.
Keep Reading

Michigan Wolverines Football: Like this team?