Drew Brees Finally Gets Paid...Mostly Because the Saints Had No Other Choice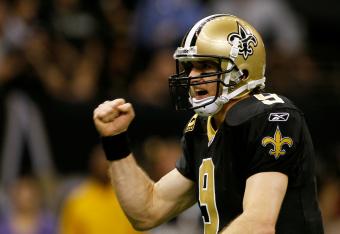 Chris Graythen/Getty Images
After a summer in which Drew Brees and the New Orleans Saints took turns leaking contract negotiation points to the media, which by the end was just downright annoying, the team and its franchise quarterback reportedly reached their inevitable conclusion today when they agreed to a five-year, $100 million deal, according to ESPN's Chris Mortensen.
I say "inevitable conclusion" because the Saints getting Brees under contract was just about the biggest no-brainer in the history of no-brainers. Yes, $40 million in 2012 is a whole lot of money, but who outside of Brees swings the fortunes of his team the way Brees does?
Matt Flynn showed the Green Bay Packers offense can be run by someone other than Aaron Rodgers. The New England Patriots won 11 games and barely missed the playoffs the year Tom Brady went down in Week 1.
The Saints? We have yet to see any evidence that this team could get along without its franchise signal-caller.
I mean, let's be serious here for a minute. Did anyone really think the Saints were going to hold their ground, take the hard line with Brees and go into the 2012 season with Chase Daniel as their starting quarterback?
Brees is the Saints. You can fault him for a lot of things, from his habit of having at least one road game a year where he suddenly decides to throw a bunch of balls to the opposite team, all the way to his clunky rhetoric throughout the entire Bountygate episode.
What you simply cannot deny is how much Brees means not only to his franchise, but to the city it plays in. After the Katrina catastrophe, New Orleans embraced Brees in a way that almost transcends football. And he has repaid the city tenfold, both by giving back to the community and by delivering an NFL championship to a recently downtrodden fanbase.
Of course, it helps that Brees won a decisive victory when arbitrator Stephen Burbank sided with Brees over the Saints and the league, essentially giving him the hammer in negotiations.
In the end, the Saints did the only thing they could—give Brees a boatload of money to ensure he's in New Orleans for several more years. He is, without question, one of the three best quarterbacks in a quarterback-driven league. Without him, the Saints would be lucky to win five games. With him, they are a Super Bowl contender.
That sounds outlandish, but it's the unvarnished truth.
This article is
What is the duplicate article?
Why is this article offensive?
Where is this article plagiarized from?
Why is this article poorly edited?